What is regarded as a dangerous occupation for life cover?

The work that you do has an impact on your risk profile. If you are a fisherman trawling fish in the North Sea or a soldier in Iraq you are far more at risk than the IT manager in a office building. It is only logical that those who are involved in life threatening activities daily, should pay higher insurance premiums for life and disability cover.
What are hazardous occupations for Life cover?
I approached Direct Life Insurer OUTsurance to enquire about dangerous occupations and how they approach the calculation of insurance premiums for these dangerous occupations.
While it seemed simple at the outset, after some discussion with the Life team at OUTsurance it seems that this is not such a simple question. I would like to quote from a response by Trevor Devitt from OUTsurance:
"We do not use a simple and standard table to list hazardous occupations which then leads to a decline in cover. Obviously there are some obvious ones, such as a mercenary. However in writing an article about it you have to consider that the appeal to readers is very limited because of the relatively low numbers of people who fit into the no-go categories…. [I guess it's like writing an article about tourism in upper Vladivostok. There are only 5 people who want to go there and who may therefore read the article.]"
Extensive range of Occupations
"Our approach is to consider an extensive range of occupations (our occupation table extends to tens of thousands of occupations). We then also consider the details of each one and may still offer cover to a person in a specific occupation which has a dangerous bent.
As an example, if you have an explosives expert, we may decline death and disability cover but offer critical illness cover. We would establish the exact nature of this person's work in order to do this. If the person is an academic expert or actually works in defusing explosive devices the decisions would differ. Similarly, a person who scuba dives in deep ocean waters as a hobby, or someone whose sole occupation is doing this, different decisions would apply.
As such I can't offer you a definitive list of absolute declines for occupation categories because the list includes some outlandish occupations which limits the appeal of an article."
Typical High Risk Occupations
The response from OUTsurance highlights an important aspect – it is best to refer to everyday high risk occupations which might result in more expensive premiums, rather that to name the most exclusive high risk occupations such as bomb disposal professionals, high rise building contractors etc.
The New York Times featured an interesting article with data provided by the Department of Labor on the most dangereous jobs in America: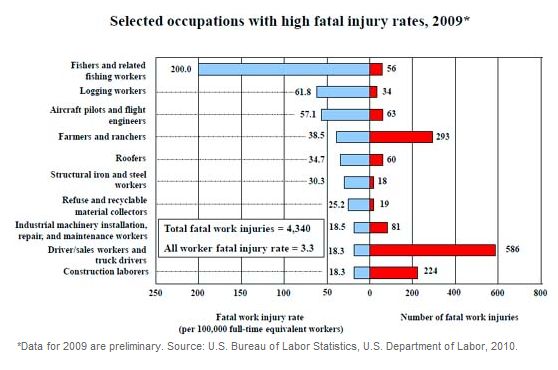 Conclusion and Advice
What do we need to know about life insurance when we are working in a dangerous environment? We would like to advise the following:
More attentions should be given to acquiring life insurance when performing dangerous jobs.
Gain info from several insurers and enquire whether there are perhaps insurers specializing in providing affordable insurance for your occupation.
Your financial needs analysis should focus on death, disability and critical illness cover.
Pay attention as well to cover that you might qualify for under your pension fund scheme and whether it might be possible to adjust this cover to benefit from the group cover at lower premiums.
It remains most important to focus on the terms and conditions of your life insurance policy  – and especially the requirement of disclosure. Remember that you need to disclose all the material facts  – and your occupation is a material fact.
Rather disclose too much  – your dependents would prefer to avoid challenging your life insurer in court when you are there no more!!
Also view: