Business owners must be alert to the threat of armed robbery at end of year!!

Crime has no specific calender, but the security companies and police services have warned that there is often a rise in cash-in-transit robberies and other armed robberies by end of year. Criminals are also seeking their own end of year bonuses and many of the criminals from beyond our northern borders are also targeting this time to fund those extra end of year transportation costs!
We have shared on the Arrive Alive website the Crime Report 2010/2011 and would like to share some information specific to armed robberies from this report:
What is Aggravated Robbery?
Robbery with aggravating circumstances includes the following subcategories of robbery:
➤ Carjacking;
➤ truck hijacking;
➤ robbery at residential premises (house robbery);
➤ robbery at non-residential premises (business robbery);
➤ cash-in-transit (CIT) robbery;
➤ bank robbery; and
➤ other aggravated robberies not mentioned elsewhere on this list, which are mainly aggravated
robberies occurring on the streets and in other public or open spaces. These are described as "street
robberies" in this report.
Robbery with aggravating circumstances disaggregated according to the percentage contribution of each subtrend in terms of raw figures"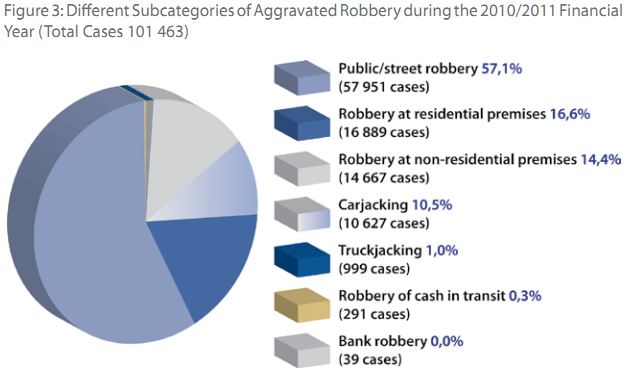 Factors contributing to reduction on aggravated robberies:
➤ Much higher visibility of the SAPS during 2010/2011 as a result of the 2010 World Cup and sustaining this enhanced profile since the event. Operational analysis at station level during 2010/2011 confirmed that police visibility at the right times (peak times of occurrence), at the right places and employing the right tactics (e.g. stop-and-search operations) could decrease the trio crimes significantly. High visibility has the following impact:
➣ Trio crimes are discouraged by police visibility in the traditional flashpoints of crime and at peak times of occurrence.
➣ It increases the risks run by robbers (by e.g. decreasing the reaction time of the police or shifting the robbers' operations to areas and times they are not familiar with). The question arises as to whether the highly visible and permanant deployment of police vehicles at some off-ramps in Gauteng did not e.g. block the escape routes of hijackers to such an extent that it had a major impact on carjackings.
➣ Informed policing based on proper flashpoint and peak time analysis could even displace specific crimes to localities where these can be combated more easily (planned displacement, usually to an area and time posing increased risk to the robbers and ensuring maximum police impact, e.g. with fewer exit and escape routes).
➤ The implementation of provincial operational centres in some provinces (erroneously dubbed as "war rooms") where improved, higher level linkage analysis and profiling can be done. This is of major value in terms of the following:
➣ Provincial assistance to stations.
➣ Clustering investigation teams and focusing on crime series (dockets dealing with the same suspects, targets and/or modus operandi).
➣ Identification of intelligence collection targets.
The above measures are important in order to ensure that the combating of Trio crimes is not only focused on the runners or foot soldiers committing these crimes, but also on the criminals at higher levels (e.g. the finger men, leaders and receivers). Some kinds of aggravated robbery are more organised than others.
Truck-hijacking, carjacking, CIT and bank robbery are much more organised than street robbery and house robbery. If transgressors involved in organised crime are arrested, this will usually have a much more immediate and visible impact on crime.
➤ It is also possible that the application of microdot technology in more and more vehicles is starting to pay off as far as carjackings are concerned.
We would like to alert our business owners to this threat and will provide some more information in a series of post on the blog.
Also view:
Does your alarm system meet the requirements of business insurance?