Large sums of money offered on auction for interesting insurable collectibles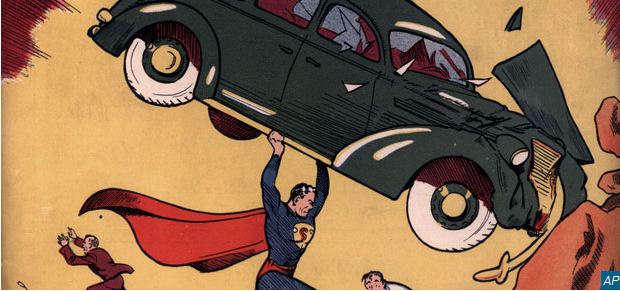 When is an item insurable? An insurable interest exists when an insured person derives a financial or other kind of benefit from the continuous existence of the insured object. A person has an insurable interest in something when loss-of or damage-to that thing would cause the person to suffer a financial loss or other kind of loss.
These items are often far more interesting than your everyday painting or newly purchased motor vehicle. Sometimes we find a rather unique characteristic or event that pushes the value of the item far above our usual market value.
The past week featured some interesting stories in the media of some old but rather Interesting collectibles sold at auctions around the world.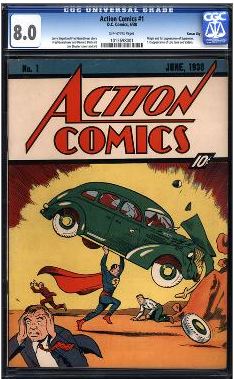 Super price offered for Superman comic
It was reported from Philadelphia that a rare and pristine copy of the first issue of Action Comics, famed for the first appearance of Superman, has set a record on Wednesday for the most money paid for a single comic book: $2.16m.
The issue, graded at 9.0, was auctioned starting November 11 online at comicconnect.com. The starting bid was just $1 but there was a reserve price of $900 000. Neither the name of the buyer nor seller was disclosed.
It's the first time a comic book has broken the $2m barrier. The issue was published in 1938 and cost just 10 cents.
"When we broke the record in 2010 by selling the Action Comics No 1, graded at 8.5, for $1.5m, I truly believed that this was a record that would stand for many years to come," said Stephen Fishler, CEO of ComicConnect.com and Metropolis Collectibles.
'Legendary'
The previous record set in March 2010 was followed by the sale of another copy for $1m. But neither of those issues was in as good a condition as the issue that sold on Wednesday, though it's pedigree of setting records was already documented. Twice before it set the record for the most expensive book ever, selling for $86 000 in 1992 and $150 000 in 1997.
But in 2000, it was stolen and thought lost until it was recovered in a storage shed in California in April this year.
About 100 copies of Action Comics No 1 are believed to be in existence, and only a handful of those in good condition. [Sapa]
Killer price for killer car
Another interesting item sold was the vintage British racing car at the centre of motorsport's most deadly accident. This vehicle was sold for a record-breaking price – the equivalent of about R10.6-million – at a British auction.
The 1953 Austin Healey 100 Special Test Car was involved in the 1955 Le Mans disaster which claimed the lives of French driver Pierre Levegh – and 83 spectators. It had lain untouched in an English barn for 42 years.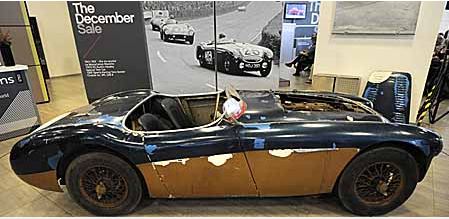 The car, driven by Englishman Lance Macklin during the ill-fated 1955 race, was shunted by Levegh's vehicle which then fire-balled into the crowd.
How did the accident happen?
Here's how it was described in a contemporary news report: "French driver Pierre Levegh's Mercedes-Benz 300SLR bumped a much slower Austin-Healy 3000 at over 150mph (about 240km/h) and went airborne, bouncing off an earthen bank. Careering end-over-end like a wounded animal, it leaped 20 feet into the air and crashed to the ground in flames breaking in two at the firewall whereupon the absolute worst began…"
The auctioned vehicle, which also competed in the 1953 24-hour race, was impounded by French authorities after the accident before being released back to the Donald Healey Motor Company 18 months later. It was then repaired and restored before being bought by Thursday's seller in 1969.
The car remained unrestored in the owner's barn until it was brought to auction at Mercedes-Benz World in Weybridge, south-east England. [Info from AFP]
Also view: