Cricket South Africa launches MiWay T20 Cricket Challenge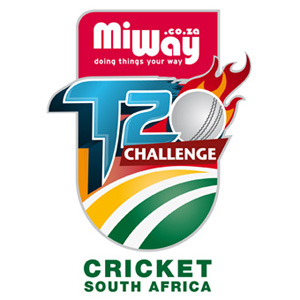 CSA on Monday announced MiWay Insurance as the title sponsor of the Miway T20 Challenge at the official launch of South Africa's most popular domestic competition.
CSA CEO Gerald Majola said he was delight to welcome MiWay to the South African cricket family. "The initial sponsorship period is for this season only," he commented, "but we will be aiming to sign a long-term deal with this particular product during the off-season.
"The MiWay T20 Challenge always attracts huge public interest and support and has a habit of going right down to the wire as the franchises battle for the prize of competing in the Nokia Champions' League at the start of next season.
"All six our franchises have qualified for the Champions' League in its brief history which shows just how competitive the MiWay T20 Challenge is going to be. And there are still places up for grabs in the Proteas' squad to be selected for the ICC World Twenty20 in Sri Lanka later this year."
The quality of this year's competition is reflected by the outstanding internationals on display such as Paul Collingwood (England), Brad Hogg (Australia) and Chris Gayle (West Indies). In addition those Proteas not involved in the Test series against New Zealand will be available for the majority of matches. This includes the likes of Albie Morkel, Faf du Plessis, Colin Ingram, Richard Levi, Johan Botha, Wayne Parnell and Rusty Theron.
There are also outstanding T20 specialists such as Loots Bosman, Roelof van der Merwe, Makhaya Ntini, Charl Langeveldt and Herschelle Gibbs.
MiWay CEO Renḗ Otto commented: "We are very excited about this sponsorship opportunity – we think it's an ideal match for MiWay as T20 offers a fun, unconventional approach to cricket, much like our brand does in the short-term insurance space.
"We love the challenge of taking on and challenging the status quo, and look forward to a thrilling T20 series!"
FRANCHISE SQUADS
Nashua Mobile Cape Cobras: Alistair Gray, Andrew Puttick, Charl Langeveldt, Dane Piedt, Dane Vilas, Francois Plaatjies, Herschelle Gibbs, Johann Louw, Justin Kemp, Mohammed Vallie,, Owais Shah, Qaasim Adams, Rory Kleinveldt, Stiaan van Zyl, Brad Hogg.
CSA contracted players: Dale Steyn, Graeme Smith, Jacques Kallis, JP Duminy, Mark Boucher, Robin Peterson, Vernon Philander.
NZ Tour players: Justin Ontong, Richard Levi.
Sunfoil Dolphins: Kyle Abbott, Ahmed Amla, Cameron Delport, Cody Chetty, Dane Paterson, Daryn Smit, David Miller, Imraan Khan, Keshav Maharaj, Mathew Hulett, Mthokozisi Shezi, Robbie Frylinck, Vaughn van Jaarsveld, Chris Gayle, 2nd overseas pro (still to be confirmed).
CSA contracted players: Hashim Amla, Imran Tahir, Loots Bosman.
Chevrolet Knights: Morne van Wyk, Aubrey Swanepoel, Dean Elgar (subject to fitness), Dillon du Preez, Jandre Coetzee, Johannes van der Wath, Malusi Siboto, Michael Erlank, Obus Pienaar, Quinton Friend, Reeza Hendricks, Rilee Rossouw, Ryan Bailey, Shadley van Wyk, Werner Coetsee.
CSA contracted player: Ryan McLaren.
Bizhub Highveld Lions: Aaron Phangiso, Chris Morris, Cliffe Deacon, Eddie Leie, Ethan O'Reilly, Gulam Bodi, Jean Symes, Jonathan Vandiar, Neil McKenzie, Quinton de Kock, Thami Tsolekile, Temba Bavuma, Zander de Bruyn, Dirk Nannes, Sohail Tanveer.
CSA contracted player: Alviro Petersen.
Nashua Titans: Martin van Jaarsveld, Alfonso Thomas, CJ de Villiers, David Wiese, Eden Links, Ethy Mbhalati, Farhaan Behardien, Hardus Viljoen, Heino Kuhn, Henry Davids, Mangaliso Mosehle, Paul Harris, Roelof van der Merwe, Rowan Richards, Shaun von Berg.
CSA contracted players: AB de Villiers, Albie Morkel, Morne Morkel.
NZ Tour players: Faf du Plessis, Jacques Rudolph, Marchant de Lange.
Chevrolet Warriors: Andrew Birch, Arno Jacobs, Atti Dyili, Basheer Walters, Craig Thyssen, David White, Davy Jacobs, Gurshwin Rabie, Jon-Jon Smuts, Justin Kreusch, Kelly Smuts, Lyall Meyer, Makhaya Ntini, Nicky Boje, Simon Harmer.
CSA contracted players: Ashwell Prince, Colin Ingram, Johan Botha, Lonwabo Tsotsobe, Rusty Theron, Wayne Parnell.
FIXTURES (matches in bold will be televised live on SuperSport)
)
MiWay T20 Challenge 2011 / 2012
DATE
HOME TEAM
vs
AWAY TEAM
STADIUM
VENUE
FEBRUARY 2012
Wed
15
D/N
Chevrolet Warriors
Nashua Mobile Cape Cobras
AXXESS St George's Cricket Stadium
Port Elizabeth
Fri
17
D/N
Chevrolet Warriors
Nashua Titans
Buffalo Park Cricket Stadium
East London
Fri
17
D/N
Chevrolet Knights
Nashua Mobile Cape Cobras
De Beers Diamond Oval
Kimberley
Fri
17
D/N
bizhub Highveld Lions
TNA Impi
Senwes Park
Potchefstroom
Sun
19
Day
Sunfoil Dolphins
TNA Impi
Pietermaritzburg Oval
Pietermaritzburg
Sun
19
Day
Nashua Titans
Chevrolet Knights
SuperSport Park
Centurion
Wed
22
D/N
Nashua Mobile Cape Cobras
TNA Impi
Boland Park
Paarl
Wed
22
D/N
Chevrolet Warriors
bizhub Highveld Lions
AXXESS St George's Cricket Stadium
Port Elizabeth
Wed
22
D/N
Chevrolet Knights
Sunfoil Dolphins
Chevrolet Park
Bloemfontein
Fri
24
D/N
Sunfoil Dolphins
Nashua Titans
Sahara Stadium Kingsmead
Durban
Fri
24
D/N
TNA Impi
Chevrolet Knights
Sahara Willowmoore Park
Benoni
Fri
24
D/N
bizhub Highveld Lions
Nashua Mobile Cape Cobras
Bidvest Wanderers Stadium
Johannesburg
Sun
26
Day
Nashua Mobile Cape Cobras
Sunfoil Dolphins
Boland Park
Paarl
Sun
26
Day
Chevrolet Knights
bizhub Highveld Lions
Chevrolet Park
Bloemfontein
Sun
26
Day
Nashua Titans
TNA Impi
SuperSport Park
Centurion
Wed
29
D/N
TNA Impi
Chevrolet Warriors
Sahara Willowmoore Park
Benoni
Wed
29
D/N
Chevrolet Knights
Nashua Titans
Chevrolet Park
Bloemfontein
March 2012
Fri
02
D/N
TNA Impi
Nashua Mobile Cape Cobras
Sahara Willowmoore Park
Benoni
Fri
02
D/N
Sunfoil Dolphins
Chevrolet Warriors
Sahara Stadium Kingsmead
Durban
Fri
02
D/N
Nashua Titans
bizhub Highveld Lions
SuperSport Park
Centurion
Sun
04
Day
Nashua Mobile Cape Cobras
Nashua Titans
Sahara Park Newlands
Cape Town
Sun
04
Day
Chevrolet Warriors
TNA Impi
Buffalo Park Cricket Stadium
East London
Sun
04
Day
Sunfoil Dolphins
bizhub Highveld Lions
Sahara Stadium Kingsmead
Durban
Wed
07
D/N
TNA Impi
Sunfoil Dolphins
Sahara Willowmoore Park
Benoni
Wed
07
D/N
bizhub Highveld Lions
Chevrolet Knights
Senwes Park
Potchefstroom
Fri
09
D/N
Nashua Mobile Cape Cobras
bizhub Highveld Lions
Sahara Park Newlands
Cape Town
Fri
09
D/N
Chevrolet Warriors
Chevrolet Knights
AXXESS St George's Cricket Stadium
Port Elizabeth
Fri
09
D/N
Nashua Titans
Sunfoil Dolphins
SuperSport Park
Centurion
Sun
11
Day
Nashua Mobile Cape Cobras
Chevrolet Knights
Boland Park
Paarl
Sun
11
Day
Chevrolet Warriors
Sunfoil Dolphins
Buffalo Park Cricket Stadium
East London
Sun
11
Day
bizhub Highveld Lions
Nashua Titans
Bidvest Wanderers Stadium
Johannesburg
Wed
14
D/N
Sunfoil Dolphins
Chevrolet Knights
Sahara Stadium Kingsmead
Durban
Wed
14
D/N
bizhub Highveld Lions
Chevrolet Warriors
Bidvest Wanderers Stadium
Johannesburg
Wed
14
D/N
TNA Impi
Nashua Titans
Sahara Willowmoore Park
Benoni
Fri
16
D/N
Nashua Mobile Cape Cobras
Chevrolet Warriors
Sahara Park Newlands
Cape Town
Fri
16
D/N
Chevrolet Knights
TNA Impi
de Beers Diamond Oval
Kimberley
Fri
16
D/N
bizhub Highveld Lions
Sunfoil Dolphins
Bidvest Wanderers Stadium
Johannesburg
Sun
18
Day
Chevrolet Knights
Chevrolet Warriors
de Beers Diamond Oval
Kimberley
Sun
18
Day
Nashua Titans
Nashua Mobile Cape Cobras
SuperSport Park
Centurion
Wed
21
Day
12:00
Sunfoil Dolphins
Nashua Mobile Cape Cobras
Sahara Stadium Kingsmead
Durban
Wed
21
Day
TNA Impi
bizhub Highveld Lions
Sahara Willowmoore Park
Benoni
Wed
21
Day
15:30
Nashua Titans
Chevrolet Warriors
SuperSport Park
Centurion
Sun
25
Day
2nd Place Qualifier
3rd Place Qualifier
T. B. C
T. B. C
Mon
26
D/N
Reserve Day (If Necessary)
Fri
30
D/N
1st Place Qualifier
2nd/3rd Place Qualifier
T. B. C
T. B. C
Sat
31
Day
Reserve Day (If Necessary)