New UIC brochure "High-Speed Rail: Fast Track to Sustainable Mobility" published for the 8th World Congress on High-Speed in Philadelphia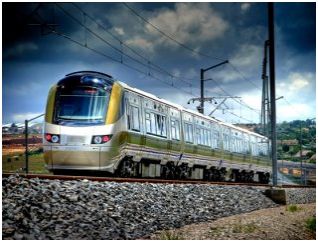 A comprehensive overview of high-speed rail developments across the world – focusing on technical, commercial and environmental challenges as well as economic and financial aspects connected with the introduction and operations of high-speed rail.
(Philadelphia, 11 July 2012) Under the title "High-Speed Rail – Fast Track to Sustainable Mobility", UIC, the worldwide railway trade association, has published a new brochure for the UIC HIGHSPEED world congress in Philadelphia that aims to present all aspects and challenges connected with the introduction and operations of high-speed rail systems.
The brochure firstly defines high-speed rail: a specific rail system that requires specific trains (high-speed train sets), specific dedicated lines and specific traffic management or signalling systems. Nevertheless this specific train system ensures an optimal compatibility and interoperability with the conventional rail system (this compatibility being one of the main advantages of the system).
Under the wording "High Speed Rail and Sustainability", the brochure describes how high-speed rail offers citizens and political decision-makers an effective tool to achieve a genuinely sustainable transport system. The main advantages of HSR for society as a whole are illustrated through figures on External Environment Costs (average costs of noise, accidents, air pollution, CO2 emissions and contribution to climate change, effect on nature and landscapes, urban effects, compared with the various transportation modes), as well as figures on energy efficiency, comparison of land use between modes, etc.
The new brochure provides a clear overview on technical conditions required for the implementation of high-speed rail: technical conditions regarding the design and construction of infrastructure, rolling stock, equipment for traffic management. It also highlights the specific constraints for high-speed rail operations, in particular in terms of traffic planning and density, train control systems, safety and security, etc.
Strong focus is placed on the strategic value of stations (in terms of railway operations and multimodality, business and revenue source, contribution to urban planning…) and design concepts for high-speed rail services.
The new UIC brochure also addresses the strategic aspects of financing high-speed rail systems and reducing operating costs.
It provides readers with an overview of the main high-speed rail systems currently in operation or under development in Europe, North and Latin America, Asia.
Finally, the new brochure describes UIC's main activities aiming to effectively promote the introduction or smooth operation of high-speed rail systems across the world, in particular through collecting statistics and data on high-speed, achieving a worldwide benchmark
between systems, communication on success stories and (commercial as well as social) advantages of this type of transportation (by organising regular world congresses such as UIC HIGHSPEED, information and training sessions on high-speed, publishing studies and reports connected to high-speed, etc.)
The brochure is only available in English at http://www.uic.org/spip.php?article608
For more information please contact or visit: highspeed@uic.org, www.uic.org/highspeed