Dealer confidence declines despite expected spike in new vehicle sales
Confidence in sales activity for new cars among South Africa's automotive dealers continued to decline during the fourth quarter of 2013.
This is according to results from the latest WesBank Vehicle sales Confidence Indicator (WVsCI)* for the fourth quarter of 2013, which showed dealer confidence dropping marginally from 5.65 to 5.58.
The results reflect levels last seen three years ago, in October 2010, and come on the back of the previous quarter's results, in which dealer confidence dropped the most in one single movement since the Indicator was launched in September 2007 (by 0.7% from 6.3 to 5.6).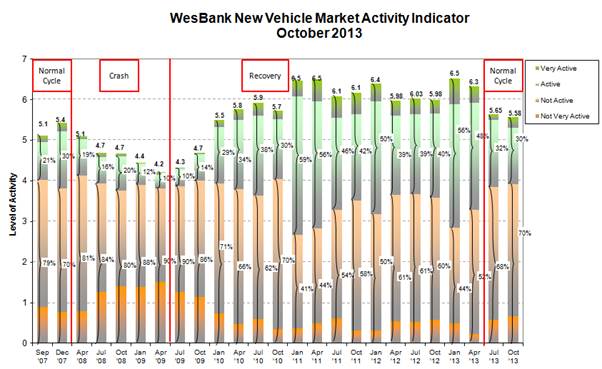 Cyril Zhungu, Executive Head of WesBank Motor Division, says that dealer confidence, in correlation to weakening new vehicle sales, is coming under pressure. "As with the last quarter's Index, dealer confidence is once again in line with confidence levels last seen before the 2008 crash and subsequent recovery, when the market was in a normal cycle. Dealers are, however, more confident in new vehicle sales over the next three months."
Zhungu says the results showed that 'seasonality' was a particularly strong positive factor in confidence levels expected over the next couple of months. "The months of November and December usually return excellent sales figures due to consumers pre-empting January price increases and subsequently bringing their car purchases forward. From a supply perspective, dealers also expect stock availability to return to normal levels after the recent industrial action. The launch of new models buoys the market against the backdrop of a low, stable interest rate environment, which continues to lend support to the market."
Some of the negative factors noted by the dealers include the weakening of the GDP growth rate as well as a softening in consumer demand for new cars.
"The GDP figures for the third quarter, released earlier this week, show that the country's economic growth slumped in the third quarter to 0.7%, which was the lowest since the 2009 recession, with the recent industrial action in the automotive industry contributing significantly to the decline in GDP growth. Therefore we see the economy and growth overall remaining a concern, especially as GDP forecasts are being continually adjusted downwards. Consumer demand as reflected by the number of monthly applications recorded has also reached a plateau, mainly due to inflation on new car prices, high household debt levels and the replacement cycle, which has bottomed."
Used car market
Confidence levels among used car dealers also declined, although when compared to new vehicle dealers, their confidence levels in general remain higher. Dealers surveyed in this sector of the market have again noted that activity in the used car market is beginning to improve. This is supported by WesBank's new to used ratio of vehicles financed, which has moved from 1.1 in the last quarter to 1.3 in the current quarter.
"Used car prices are currently in a state of deflation while new car prices are on the rise. This is largely due to the impact of the weaker rand/dollar exchange rate, which has had a direct impact on the prices of imported vehicles sold in the local market. This widening price gap between new cars versus used cars has resulted in an notable increase in activity in the used car market. We may, however, see a seasonal decrease in the used car market in the next three months as customers take advantage of new models and marketing incentives in the new car market."
In conclusion, Zhungu says, "WesBank's outlook for the remainder of 2013 is that the growth rate of new vehicle sales should moderate and fall in line with the expected GDP growth rate."
*The WesBank Vehicle sales Confidence Indicator (WVsCI) polls over 250 new car dealerships throughout South Africa on issues such as current and expected sales activity levels, as well as factors affecting purchasing decisions amongst buyers.
**see www.wesbank.co.za
About WesBank:
With over 40 years of experience WesBank has become the leader in asset-based finance solutions in South Africa. The company is focused on providing quality asset finance and fleet management solutions for a number of market sectors. WesBank's asset finance portfolio includes Aviation, Agriculture, Commercial and Company Vehicles, Plant and Office Equipment, Public Sector and Franchise finance solutions. Visit www.wesbank.co.za for more information.