mapIT: Yellow Pages App Provides Turn-By-Turn Navigation

Yellow Pages SA and mapIT take to the streets with free Turn-by-Turn Navigation with Voice Guidance for iOS and Android app users in South Africa
Johannesburg, South Africa (21 February 2014) – Yellow Pages SA app received a significant update recently, adding free turn-by-turn navigation with voice guidance. Yellow Pages SA has been available for iOS and Android devices for several years now but this enhancement helps consumers find local South African businesses with free navigation on the latest TomTom map data.
"This incredible new feature is a testament to what happens when the right people come together and focus their expertise towards a common goal. By partnering with mapIT we have been able to not just make our Yellow Pages App better but to create a superior user experience that truly reflects our new 'Local Reliable Results' positioning," said Thabo Seopa, CEO of Trudon.
With the latest update you will find great new features such as:
– New GPS Turn-by-Turn navigation so you can drive right to the business of your choice
– New "Map" tab to discover new businesses via a map view
– User accounts that are synced with your web profile
– Fresh new look and design features
– Share listings via your favourite social media platforms
– Sync your Yellow Pages web profile with the app
– Improved search result quality and accuracy to region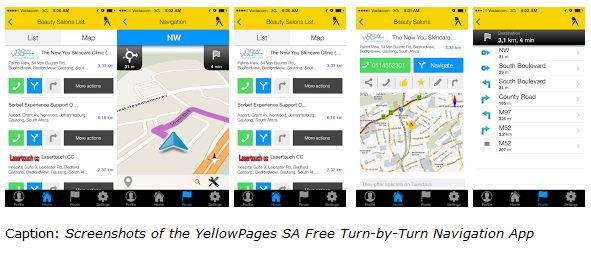 The Yellow Pages SA app has already been voted one of the top apps in South Africa by AppBrain.
Yellow Pages SA, which is owned by Trudon, partnered with mapIT in utilising deCarta's  Xplorer V9 Turn-by-Turn navigation technology including TomTom's quality map data. deCarta's Xplorer V9 is a white-label navigation application which can be branded as needed, or as core libraries which can be quickly integrated into other applications to add mapping and navigation.
"With Yellow Pages being the go-to guide for South Africans when looking up businesses, mapIT is pleased to be able to add another dimension to this firm favourite with deCarta's Xplorer V9 navigation technology," said Etienne Louw, Managing Director, mapIT.
About Trudon
Trudon (Pty) Ltd (formerly known as TDS Directory Operations (Pty) Ltd) is the market leading company in local commercial search in Southern Africa.
It has local and international share-holding. Trudon is the owner and publisher of the Yellow Pages, the Phone Book, Trudon Mobile, Leisure Pages and the operator assisted 10-11-8 business enquiries. The information is also published online at www.yellowpages.co.za.
About mapIT
mapIT, a division of TomTom Africa, offers businesses high quality digital maps with accurate and extensive coverage of Africa and across the globe. Furthermore they offer this map data on the world's foremost Location Based Services (LBS) platform, deCarta. mapIT are an all-encompassing digital mapping company. Working together with partners mapIT establishes innovative and comprehensive suites of digital mapping platforms to position itself as the leading international enabler of accurate location-based platforms throughout Africa.
For more information visit http://www.mapit.co.za
About deCarta
deCarta is the leading independent, global LBS technology company. It provides specialized geospatial technologies for online mapping, routing, navigation, geocoding, local search and geo-data integration and processing. The company's platform is used by leading high volume LBS applications and services in the mobile, internet, enterprise fleet and automotive markets where scalability, flexibility and reliability are vital.
deCarta's customers and technology partners include Samsung, Inrix, T-Mobile, FullPower MotionX GPS Drive, Appello, Ford, General Motors OnStar, Cybit, Wireless Matrix, MapIT, eMapgo, Nokia, Telstra/Sensis, TomTom, WHERE/eBay. deCarta is privately held and headquartered in San Jose, California with international offices in Germany, and China.
For further information, please visit www.decarta.com
About TomTom
Founded in 1991, TomTom (TOM2) is a leading provider of navigation and location-based products and services.
TomTom maps, traffic information and navigation technology power automotive in-dash systems, mobile devices, web based applications and government and business solutions.
TomTom also designs and manufactures its own location-based products including portable navigation devices and fleet management solutions, as well as GPS-enabled sports watches.
Headquartered in Amsterdam, TomTom has 3,500 employees worldwide and sells its products in over 35 countries.
For further information, please visit www.tomtom.com