Hino Joins Pinkdrive's Fight Against Breast Cancer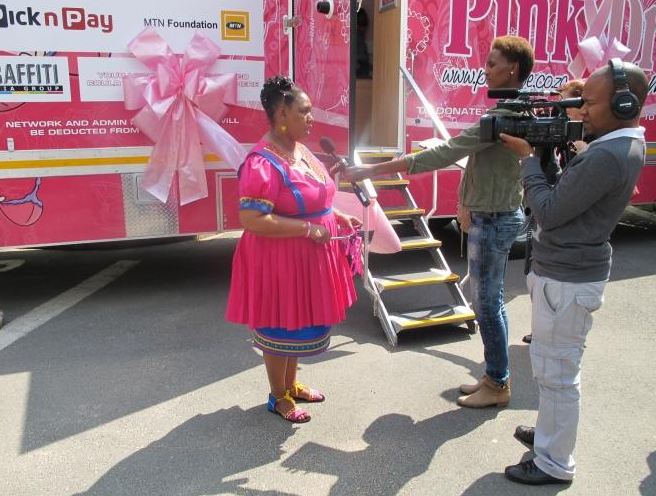 A specially-equipped Hino 500-Series 1626 chassis cab fitted with a box body has joined the fleet of vehicles operated by the PinkDrive charitable organisation for its fight against breast cancer in South Africa. The box body is fitted out with very specialised equipment for carrying out mammographic screening and is valued at approximately R10-million.
"This is our second mobile mammography unit while we also have a truck-mounted educational unit that traverse the country along with three educational cars," explained the founder and director of PinkDrive, Noelene Kotschan,
"The mobile mammography units travel to semi-urban and urban areas with the objective of enabling various disadvantaged communities access to education, physical examination and how to do breast self-examination in the fight against cancer. We have already provided over 5 000 free mammograms, done over 54 000 clinical breast examinations, educated over 79 000 people and distributed over 90 000 items of educational material," added Ms Kotschan.
The fact that BIDVest is a major sponsor of this project resulted in the group's McCarthy automotive retailer being called on to supply the vehicle. In the end it was Hino Selby that undertook the project, which included lengthening a long-wheelbase 1626 chassis cab and coordinating the construction and fitment of the box body by Elite with MWS supplying specialised components. The expensive medical equipment is fitted in three portioned areas in the air conditioned body.
The Hino tows a big generating set so that the unit is self-sufficient.
The handover of the Hino-based unit took place in Johannesburg recently and the high profile PinkDrive and its projects occupy in the eyes of the government was evidenced by the attendance at the function of First Lady Tobeka Madiba-Zuma, Deputy Minister of Health Dr Gwen Ramokgopa and Deputy Minister of Women, Children and People with Disabilities, Ms Hendrietta Bogopane-Zulu and the MEC of Health for Gauteng, Hope Papo.