Police arrest 2 suspects for dealing in suspected stolen copper wire at Kimberley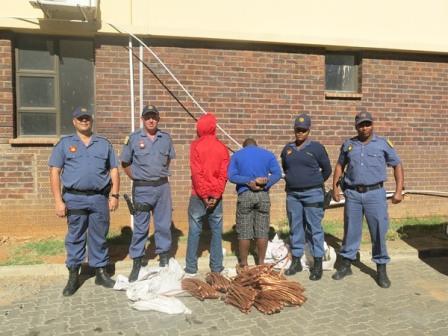 The Public Order Police members in Kimberley arrested two suspects for dealing in suspected stolen property (Copper Wire) at a business premises in Sussman Road-Kimberley.
The incident occurred on Friday 2014-05-16 at about 09h20 am. Police received a "tip-off" about suspects that were busy trading with suspected stolen copper wire. The information was followed and two male suspects, aged between 24 and 33, were arrested. The two were found in possession of the suspected stolen as well as an undisclosed large amount of cash.
A copper wire weighing at about 118 kilograms was seized. The value of the copper wire is estimated at about R7200-00. A vehicle that is suspected to have been used in the commission of the crime was also confiscated.
The suspects are expected to appear before the Kimberley Magistrates' Court on Monday 2014-05-19.