Two suspects arrested swiftly after a housebreaking at Phoenix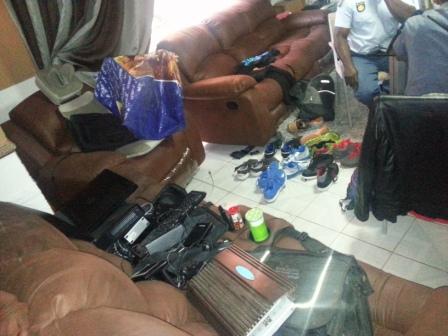 Phoenix SAPS members made a breakthrough when they arrested two suspects minutes after they broke into a house at Phoenix area yesterday. The members recovered items that were taken from the house.
The arrested suspects aged 13 and 18 years are due to appear in the Phoenix Magistrates' Court tomorrow, Friday, 30 May 2014.
On Wednesday, 28 May 2014 the victim had locked his premises at Theomore Drive, Stanmore in Phoenix at about 06:00 and proceeded to work. At approximately 14:00, the victim received a report from his neighbour that his premises were broken into.
The members of SAPS Phoenix were contacted and on their way to the scene, they were informed by members of the community that the suspects in this case ran through the park.
A description of the suspects was given to the members who then spotted the suspects running across the Phoenix Highway. The members chased the suspects and they were chased and caught at Ridgecroft.
The suspects were found in possession of two BMW nap bags, sneakers, computer equipment, clothing and jewellery to the value of R100 000.
Provincial Commissioner Lieutenant General Mmamonnye Ngobeni commended the quick response by the members that led to the arrest and the recovery of stolen items. "The members will work around the clock to establish if the arrested suspects are not linked to other housebreakings or house robberies in the area.
We also thank the members of the community for working together with police in the fight against crime," she said.
Also view:
Tips for increased Safety Awareness and Preventing House Robberies