Comedy Shuckle Tickets Selling Fast at Pick n Pay Knysna Oyster Festival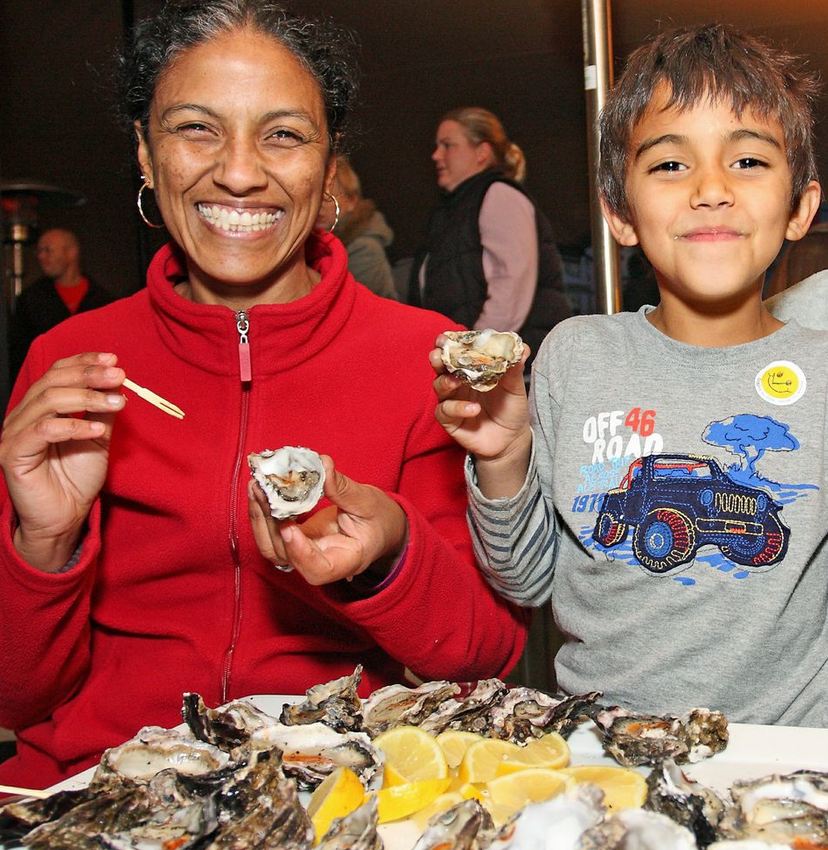 Undoubtedly one of the Festival highlights, this year's Pick n Pay Knysna Oyster Festival Shuckle – with comedy on the side – will be hosted by SA's favourite funnymen, Kurt Schoonraad and Stuart Taylor on Thursday, 10 July. Come and see them in action, and watch – or even enter – the oyster eating or shucking competitions!
Last year Patrick Sibeko won first place for the third year in a row when he shucked 26 oysters in just two minutes and two seconds! Locals Eben Strydom and Wayne Rhode took top honours for shucking and eating 14 oysters in only one minute!
To enter: If you think you have what it takes to top them in either the shucking or eating competitions, email picca@cyberperk.co.za. Entry to both competitions is free. Entry forms are also available at Knysna Tourism, located at 40 Main Street.
To attend: R100 per person – includes six oysters
Tickets: Online http://pnptickets.co.za/ / Knysna Tourism, 40 Main St
Date: Thursday, 10 July 2014
Time: The event starts at 6pm and ends at 10pm, with live music continuing until 11pm
Kurt Schoonrad:
Mad, zany, lively and manic are among the many words that are used to describe comedian Kurt Schoonraad. Hailing from Mitchell's Plain, Kurt is Cape Town's favourite comedian and his earthy humour makes him a real South African boykie in every way.
Stuart Taylor:
Stuart Taylor is probably best known to South Africans as the presenter of SABC 3's hit travel show, 'Going Nowhere Slowly'. His theatre production 'Learner Husband' played to critical acclaim and in 2012 Stuart toured the country with his latest solo offerings.
For more information about this event, contact Picca de Bruin on 082 571 2462 or email picca@cyberperk.co.za. For general Festival information, including the complete Festival Programme, visitwww.pnpoysterfestival.co.za or contact Knysna Tourism at 044 382 5510.
More on 2014 Pick n Pay Knysna Oyster Festival
The 2014 Pick n Pay Knysna Oyster Festival offers a packed programme of more than 100 events from 4 to 13 July 2014. Highlights include the Knysna Wine Festival on 7 and 8 July, when up to 50 of South Africa's best wines will be on offer; The Pick n Pay Knysna Oyster Festival Flavours of Knysna served with Tabasco® gourmet evening on 9 July, where local Restaurants will compete for cash prizes with their best-dressed oyster recipes; and The Pick n Pay Knysna Oyster Festival Shuckle comedy evening on 10 July, when the much-anticipated oyster shucking and eating competitions take place. In addition, the Pick n Pay Women's Walk, a fun, 5-km walk for the whole family, will set off on Sunday 13 July. The walks, which take place around the country, raise funds for Pinkdrive, an organisation providing free breast cancer screening and awareness.