Caution is required to protect from "immobilizer" and "signal jamming" thieves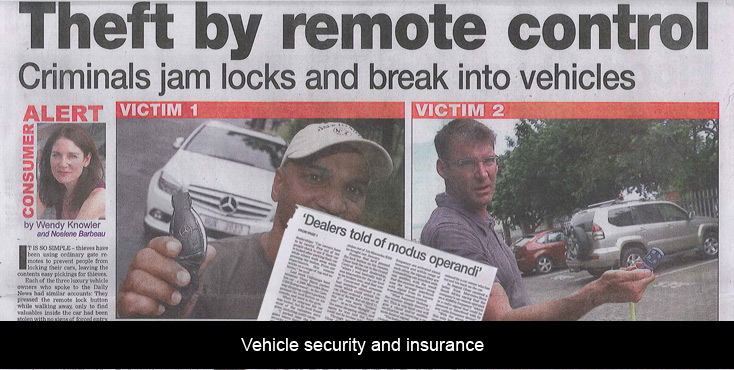 Many emails are doing the rounds warning consumers against a wide variety of threats. Many of these are far from the truth – sometimes even bordering on the absurd.
One such alert worth discussing is the warning to check that your car is securely locked once you leave the car. We often leave our cars simply clicking the immobilizer button on the key and trusting this security system to have been activated. Few are waiting and checking to see that that vehilces are locked!
The Arrive Alive website received several emails from vehicle owners in the past few years complaining about theft from their vehicles when on holiday. It is interesting to note that several of these reported incidents occurred at the Shell Ultra City at Middelburg.
I would like to refer to 2 examples:
Example 1: Reported incident in 2010
"I would like you to send out this article to all Insurer X clients. This happened to me while coming back from holiday on 7 May 2010.
We stopped at the Shell Ultra City at Middleburg. While the men went into the shop for refreshments, our ladies played with the baby on the grass right in front of our vehicles.(yet not hearing or noticing anything) The men were away only about 4 minutes, as we planned to get going right after them getting the goods from the shop.
When we got back into our vehicles, I noticed that my handbag (with all my personal documents & goods / purse – all my cards, cash cell phone), were missing. My bag was under the passenger seat foot space…hardly visible. Yet in that short period they just took a chance and accessed our vehicle in search of any valuables.
Luckily my petrol card was in the vehicle ashtray (I've put it in there after filling up, to be easily accessible for tollgates) I don't normally do this, but maybe that day it was meant to be our saving grace, as this enabled us to fuel up, and pay for tollgates to get back home as my bank cards and cash were gone. I also stopped all my cards immediately – so even if they dumped my bag and cards in a dustbin, where we could have found it, it would have been to no use then.
No sign of a break in at all. The Middleburg police came out to the scene and opened a case docket. They informed us, that this was the how many'eth case that week, and that these crooks actually targets vehicles out of the reach of the filling station camera's – that are normally placed in the vacinity of the fuel pumps and shop entrances.(so if possible – rather pick a parking there)
I am also a Insurer X client – yet I could not claim for the loss I have suffered – As Insurer X said I needed to specify these items, and it should have been locked away in an enclosed boot compartment, as they do not cover any loose items inside the vehicle(no matter if packed for holiday), even if the vehicle was locked.
Needless to say: After purchasing a new cell phone, (Sim swap done). New bag and purse, re applying for an ID & card license, etc. It came to a total of nearly R3500, 00. Not to mention the inconvenience or cost to apply for personal documents (getting temporary ones etc), or having bank cards replaced (at cost) and re-activated to enable you to access your funds again.
Please take note of this, and be very careful. If I can prevent anyone the trauma this has caused me, or the predicament it could have caused by being stuck without cash, then at least it did not happen in vain.
Regards"
Example 2: Reported Incident in 2011
" I wish to report that I had an incident of theft from my motor vehicle on 2 January 2011 around 17:00 at the Ultra City Middelburg.
We stopped with our white KIA Sportage, Reg nr YFF…GP to use the facilities and on return at the vehicle the back door was open and our digital camera to the value of about R7000-00 was stolen. It happened in a matter of a few minutes.
We made enquiries around but no one saw anything. I always lock the car and am sure I did before I left to the ladies room. The police officials who attended to the incident informed us that the criminals use a device that prevents the vehicle from locking by use of the remote control. We are sure that is what happened.
This however means that the insurance company did not approve our claim as there was no visible damage of a breaking into the vehicle.
I am very disappointed with this incident and will think twice before stopping at such facility again, and if nature calls and I need to stop I will not leave my vehicle unattended ever again when visiting such facilities.
I did not note any Security Officials at the Ultra City, but am sure there must have been. I am sure that security is increased and suspicious persons are being monitored during peak times, but it seems not to be enough if one considers that a theft from a vehicle can occur during a very busy time.
I must mention that this was not a good way of ending our holiday and beginning the new year.
I trust that this information will assist in assuring general security at the Ultra City.
All of the best for 2011 and I appreciate your assistance.
Signal jamming theft with remote controls
Earlier this week a road safety friend emailed an extract from the Daily News and a consumer alert on exactly this modus operandi of gaining access to vehicles and stealing property within these vehicles.
From an insurance view it is important to know that personal belongings left inside the car will not be covered by your car insurance policy!
It is alleged that gate remotes are used to deactivate the immobilizer of vehicles. Vehicle security experts have confirmed that remote controls can be jammed or their signals interfered with.
We would like to provide the following safety suggestions:
Advice to Vehicle owners to avoid theft from their vehicles
•        Be alert and cautious to where you park your vehicle.
•        It is best to park where there are many people around and in the vicinity of security cameras.
•        Be on the lookout for people who are wandering around for no apparent reason.
•        If you are spending time in a restaurant and it is possible – find a seat within view of your vehicle.
•        Do not rush away from your vehicle without checking whether your vehicle is indeed secure.
•        Wait for the "beeb" from the immobilizer – or even better – see that your doors are locked.
•        Close all the windows of your vehicle
•        It is best not to leave items such as Ipods, cellular phones, GPS devices, laptops etc within your car for all to see!
Also view: