Artists at KKNK are aware of the need to insure fine art!

This past week I had the privilege of attending the KKNK Arts Festival in Oudtshoorn. Not much of a talented bloke myself , I could enjoy and share in the talent of those much more creative. Apart from the theatre and music productions to enjoy …and the usual "roosterbrood" and liquid refreshments, this was also an opportunity to reflect on some amazing artwork, paintings and sculptures on display!
I visited a friend and well-known artist Niel Jonker at his exhibition and share a lengthy conversation on his art. South African landscape artist Niël Jonker paints direct from nature, submitting to the rigors of natural processes. What he however seems to enjoy most are the bronze sculptures reflecting his artistic and creative abilities.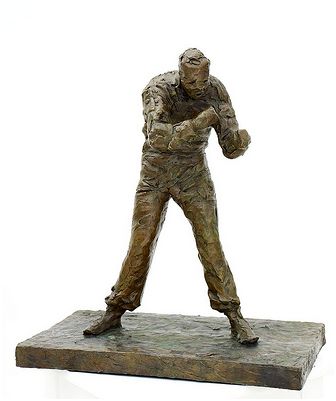 Niel Jonker's new bronze, unveiled this April at the Klein Karoo Nasinale Kunstefees is titled 'Fighter on the Roof'. The third life-size figure leans on the youthful image of Nelson Mandela sparring on top of a Johannesburg roof during the first round of the treason trial.
We were able to share thoughts on the market for fine art – and I expressed my intention to provide more info on Insurance Chat about those aspects often neglected by the purchasers of fine art.
Strong Marker in Fine Art despite challenging economy
There is a strong market at present in South Africa for Fine Art. I would like to quote a recent media release:
"For those who doubt that this is sustainable it is interesting to see that at the auction in November 2010 at Strauss & Co featured eleven works selling for over R1m, a Stern selling for R11.7m, a Pierneef for R7.5m and records set for Wenning and Sumner," says Gordon Massie, South Africa's leading international expert in the true value of art and managing director of Artinsure.
"This unprecedented fever has swept through the spring auctions and shows that art is undoubtedly a most sought after investment asset but the danger of underinsurance for existing art owners climbs with these rapidly escalating values."
The "Why?" and "How?" of Art Insurance
It is too often only those serious professional buyers in the higher end of the market who are aware of the need to insure their art  – and many first time buyers are uninformed of the "Why?"and "How?" of insuring fine art….
On Insurance Chat we will discuss the finer detail of insuring both photographic materials and fine art.
What can be covered by Insurance of Fine Art?
Insurance of Art covers a much wider spectrum than paintings and sculptures. Art insurers will cover a wide variety of insurable interests, such as:
Jewellery
Clocks
Metalware
Numismatics
Militaria
Objets d'art
Musical instruments
Objects of virtue
Books
Porcelain, pottery, ceramics, glass, jade, etc.
Carpets
Pictures
Antique and period furniture
Paintings, sketches, prints
Gold, Silver and precious metals
Philatelic
Scientific instruments
Sporting memorabilia
Statues and sculptures
Political memorabilia
We will discuss the finer details of insuring fine art in a series of blog posts.