Insurance companies are confronted by some HUGE environmental risks

Recent environmental disasters have placed severe pressure on both insurers and re-insurers. It has been reported that there was about $300bn of insured property in the four states most affected by the earthquake in Japan. The earthquake and tsunami damage in Japan, flooding in Australia and tornados in the US all contributed to a bad year for the global re-insurers!
South Africa has also experienced some flooding but were spared many of the more threatening environmental disasters.
Car Insurance and Environmental Hazards
Fatal crash report statistics reveal that only approximately 5% of fatal crashes can be blamed on environmental hazards. These would include flooding, wind, falling trees etc. Animals also pose a significant road hazard to the South African driver.
Not only are there many missing gates and fences in the rural areas, but many antelope such as the kudu are well known to jump fences at night. Driving in South Africa you are likely to find road signs warning of cattle, sheep, kudus, tortoises and even hippo!
Sometimes you might even encounter the largest of animals in the game reserves!
A visitor to the Arrive Alive website shared some fascinating photos of an elephant flipping a vehicle at the Pilanesberg game reserve. It has been reported that a randy elephant bull flipped the Volkswagen Passat of Mr John Summers of Rustenburg.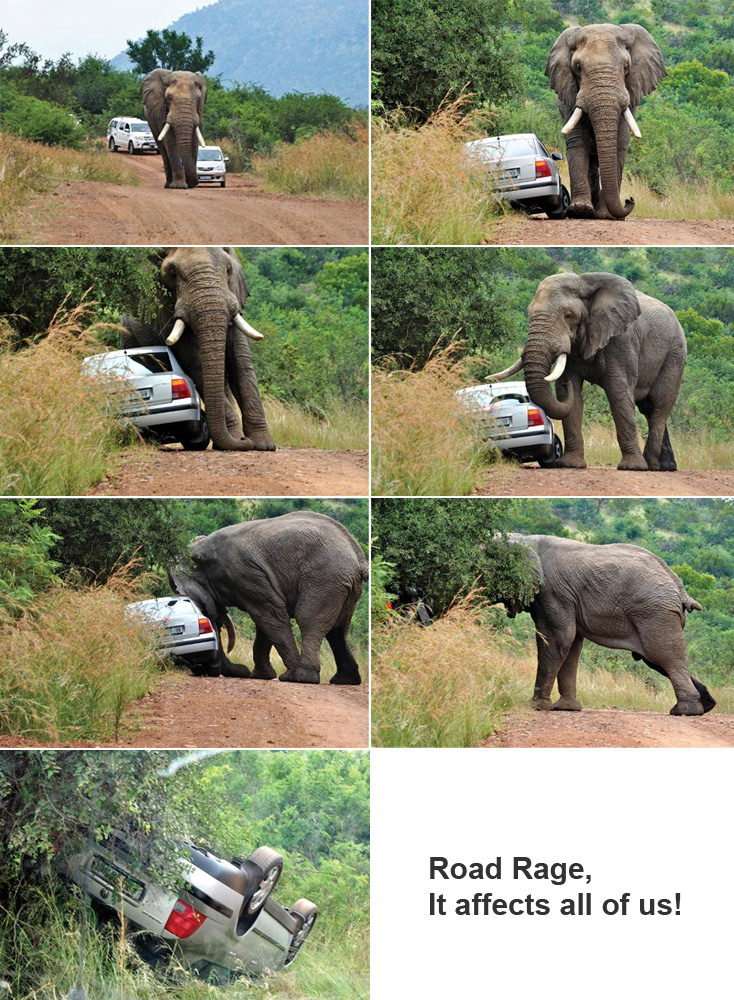 Also view:
Guide to safety and driving on safari / driving in the nature reserve
Road Safety for foreigners travelling in South Africa