Know how to avoid wet weather crashes and vehicle insurance claims!

With winter in full swing, rainy conditions can be expected on a regular basis. ER24 paramedics are attending to an increased amount of preventable motor vehicle collisions associated with driving in wet and rainy conditions.
Technology installed into modern day vehicles has improved the way in which the vehicle adapts, and may even assist the driver when driving in wet weather conditions. Even then, negligence on the part of the driver may result in a severe collision causing bodily harm.
Most of the collisions associated with wet weather driving are frontal impacts caused by delayed braking or an inadequate following distance. The second highest cause is collisions associated with total loss of control over the vehicle during high speed.
Drivers are advised to consider the following precautions when dealing with adverse driving conditions like those associated with severe rain and wet roads.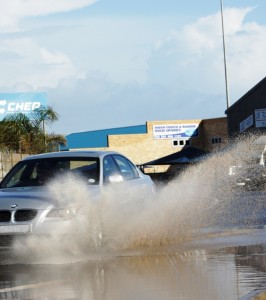 Vehicle related safety checks:
Ensure that your vehicle's wiper blades and windshield surface condition is in an acceptable condition.
Your vehicles tires should also be checked to ensure that it has adequate tread to allow water to escape between the tire's rubber and road surface thus allowing the wheels to grip on the road.
Remember to turn on the vehicles head lights to increase visibility in poor lighting conditions.
Adaptive driving in wet weather conditions:
A 2007 study done by the UK Transport Research Laboratory had shown that a vehicle's stopping distance increases dramatically when driving on a wet surface. In dry weather conditions a normal sedan traveling at 60km/h has a total stopping distance of 32.4 meters. A similar vehicle's stopping distance increases to 48.5 meters when applying brakes on a wet road surface. The increase in distance is caused by the effect of skidding on a wet surface.
Both of the above distances were measured with a total reaction time of 11 meters before the driver applied brakes. Considering that visibility in rainy conditions can be decreased dramatically, drivers are advised to increase their following distance by at least 10 meters.
With rainy and adverse weather conditions to be expected for some months still, ER24 would like to advise drivers to be extra cautious and observant of other vehicles and road surface conditions. Check the condition of the vehicle's wear and tear parts, especially those designed to assist the driver in rainy conditions.
Andre Visser
ER24
Also view:
Driving in Heavy Rains
Ombudsman says your car insurance might not cover engine damage from driving through water!!