Is your young or learner driver insured to drive a vehicle of any engine size?

Are you covered when your learner driver drives your vehicle? Have you confirmed that this cover will be for any vehicle, or are there perhaps exclusions you are not aware of?!
We would like to raise a specific example which raises a few alarm bells with those who merely accept that they are covered.
Actual Scenario:
A Free State vehicle owner approached a financial advisor to confirm whether his son, a licensed learner driver, is covered in the event of an accident with the double cab bakkie whilst accompanied by a licensed driver.
Written confirmation was requested from the Insurer Auto & General and we would like to reveal the contents of the letter received.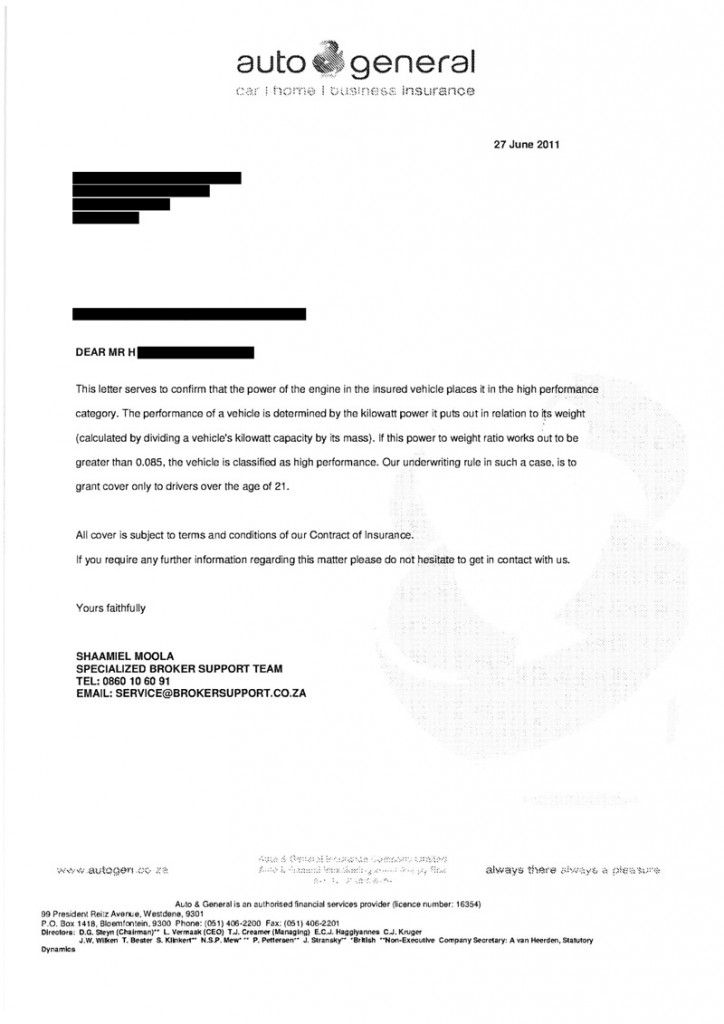 Many vehicle owner might not be so dilligent to find out more, and might merely accept that their learner driver is insured to drive a vehicle of any size. If this exclusion has been stipulated in the insurance policy they might be in for a nasty surprise when the insurance claim is rejected!
We also referred this to Outsurance to enquire about possible exclusions, and would like to share the response received:
"We do not have any exclusions or restrictions that apply to age requirements. As long as the driver is legally licensed to drive the car, we are happy to provide cover. There is an important aspect to consider though and it relates to the regular driver. A few scenarios apply:
•             If the car is bought for the learner driver's use then this person must be noted as the regular driver. The premium takes account of the age and driving experience.
•             If the learner driver will use the parent's car on an ad hoc basis, the parent will be noted as the regular driver and the learner driver will be allowed to drive the car. In such instances, if the learner driver is under the age of 25 and NOT the regular driver an additional excess applies.
It's important for clients to check with their insurer whether they cover learner drivers and what the premium and excess implications are if a learner driver uses the car and is involved in an accident.
Conclusion and Advice
It is important for vehicle owners to recognize that insurance is not a "One Size Fits All"  – and that insurers have different terms and conditions. What applies to your neighbour and his insurance policy does not necessarily apply to you!
More Important – The duty to confirm that you are covered rests with you! We would like to urge vehicle owners to confirm with their insurers that they are covered when they have a learner or young driver at home. Ask your insurer to provide this confirmation in writing and abide by the stipulations, terms and conditions of your policy.