Will Insurance Telematics settle the eternal debate of who is the best driver?

For as long as men and women have been driving there has been the debate about who is the best driver! We can only imagine that before the days of cars there would have been a debate of who is the best rider / driver on horses, carts and coaches!
This debate has always been a rather hotly contested one – and we would like to propose in this post that advanced technology such as insurance telematics might be able to provide some scientific reasoning and clarity to clear much of the uncertainty!
Driving ability always important for Car Insurance
It is important for us to recognize that driving ability is most important for Car Insurers – not only on who the best driver might be  – but also the safest driver or the driver most likely to submit insurance claims.
Not only do actuaries calculate the risks according to age groups, but also according to gender. Earlier this year the European Court has found that it is discriminatory to differentiate in insurance premiums based on gender alone  – but we may expect that insurers might still rely on the different accident data between the genders to calculate risks and insurance premiums payable.
What cannot be disputed is that there are some rather identifiable differences in the accident claims received from men and women. We have discussed this on the Car Insurance Blog in a post titled "How do Car Insurance Claims by men and women differ?". I would like to quote:
The types of accidents men and women have and the insurance claims differ significantly
Male motorists are more likely than female motorists to have a head- on collision, drive their car up or down an embankment or hit a crash barrier.
Other interesting findings include:
– Women tend to be in more accidents at slower speeds, where cars are close together.
– Men have more high-speed accidents where it is easy to lose control.
– Research suggests the way men and women drive is different.
– Men drive faster and more aggressively than women, while women are more easily distracted than men behind the wheel of car.
Vehicle related claims differ as well
– Women are more likely to have their car broken into and have something inside stolen – They are more likely to leave expensive items like their handbag or sunglasses on show than men.
– Men are more likely to have their car stolen outright.
– Men's cars are also more likely to catch fire than women's and they're more likely to drive through a flood.
– Men are also more likely than women to claim for fuel contamination.
We would like to share the list of claims often received from both genders:
Types of claims more common among women:
– Hitting another vehicle in the rear
– Hitting another vehicle from a minor road
– Reversed into another vehicle
– Collision on roundabout
– Collision in car park
– Theft from vehicle
– Hitting a wall
– Hitting a lamp post
– Collision at traffic light junction
– Hitting a cyclist
Types of claims more common among men:
– Changing lanes and hitting another vehicle
– Driving up or down an embankment
– Vehicle stolen
– Hitting a crash barrier
– Hitting an animal
– Head of collision with another vehicle
– Hitting a tree
– Driven through flood
– Vehicle caught fire
– Fuel contamination
Is the safest driver necessarily the best driver?
This is where the debate gets more interesting. We have argued on the Car Insurance Blog that this is not necessarily true – as the driving habits, distances driven and exposure to risks might vary significantly.
We have compared this to the swimmer at sea – where the person only swimming in the shallow water might be the safest, but not a better swimmer than the bloke who takes on the big waves deeper in the sea.
The same applies to the driver only driving short distances and never taking on the congested traffic  and long distance travels.
This has been recognized by Insurers such as Hollard rewarding those drivers driving shorter distances with the Pay As You Drive insurance Product.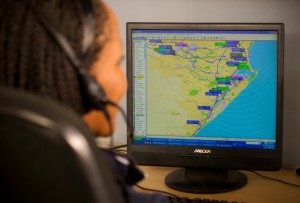 Driver Ratings and Insurance Telematics
Advances in fleet management and logistics technology have opened the door to the application in the insurance industry of what is now known as "Insurance Telematics". With Insurance telematics we can now have a scientific basis to calculate driver risks.
In the fleet management industry companies such as DigiCore and Eqstra have lead the way in compiling driver ratings and informing fleet owners of who the best and worst drivers are. More recently all the prominent major insurance companies have embarked on product design that includes insurance telematics and the scientific measurement of driving behaviour.
For more on these products view:
Hollard and Pay As You Drive  – see "Pay As You Drive"
Outsurance and Safe_Driver@Out  – see "Outsurance activates technology to reward safe driving behaviour"
Discovery and Vitality Drive – see "Drivers have an IQ, EQ and now with car insurance also a DQ"
MiWay and MiDrivestyle http://www.miway.co.za/midrivestyle
How will we measure who the best drivers are?
The same fundamentals used in driver ratings in the fleet management industry are now also available to insurance companies. In the section "Vehicle Telematics, Accident Investigation and Fleet Management" we find a description of the capabilities of the Ctrack system. This provides important insights to what is measured.
The Ctrack system is designed to deliver the following information:
GPS positioning information reflected by Latitude and Longitude, Date and Time and recorded at various intervals (Standard interval settings are at two minute intervals however this can vary from customer to customer due to resultant costs);
Direction information;
Vehicle status (idling, parked, ignition off, driving, etc);
Speed information; (And on certain models of Ctrack – Engine Rev information)
Indications of harsh braking or improper acceleration.
The Ctrack system is designed to operate in the following tolerances:
date and time reporting – better than 5 seconds;
position reporting – better than 30 metres;
speed reporting – better than 1% variance from actual;
harsh braking – better than 5 m/s/s;
virtual odometer – better than 5% variance from actual.
This data will reveal not only driving that will increase vehicle maintenance costs – but also poor driving that could increase the risk of accidents.
Many of these insurers are now able to provide a monthly report with a "driver rating" or "points for driving behaviour". This could settle the debate in many households and in companies of who the best driver is.
This might be of special value in companies where both male and female drivers are driving similar distances and under the same conditions – such as pharmaceutical companies with their sales representatives.
We might foresee that in future companies could have a monthly , quarterly or yearly reward not only for the best rep – but also for the best driver!!
Also view:
Can Insurance Telematics fill the missing link for effective traffic enforcement?