Art experts warn about Frans Claerhout art forgery scam

Art Insurance Fraud is on the rise and art owners need to be alert to fraudsters targeting their pockets. We would like to share an alert received from Art Insurance experts Artinsure.
A group of forged art works purported to be by Frans Claerhout have been identified. These forgeries are being brought to market via South African internet auction sites and have sold quite well. Based on the latest report, investigators have discovered more than 30 Claerhout forgeries.
Although forgery has existed for decades in South Africa, it has become more frequent over the past few years, and the problem is not unique to South Africa. It is a worldwide industry dilemma; a reflection of how art crimes have become global in nature and often very sophisticated.
The modus operandi of these Claerhout forgers is consistent with the methods employed by many forgery syndicates:
1) They establish a credible provenance for the work.
2) They build buyer confidence in the work.
3) They allow the buyer to believe that he/she will be able to beat the market.
4) They focus their efforts on investor greed rather than targeting serious collectors.
These images illustrate the building of provenance and confidence in the Claerhout works currently available on line via three internet auction sites. They also show the very clear wet paint of a work alleged to have been painted in 2002.
We have also investigated works done on boards only produced in 2007. A year after Claerhout died.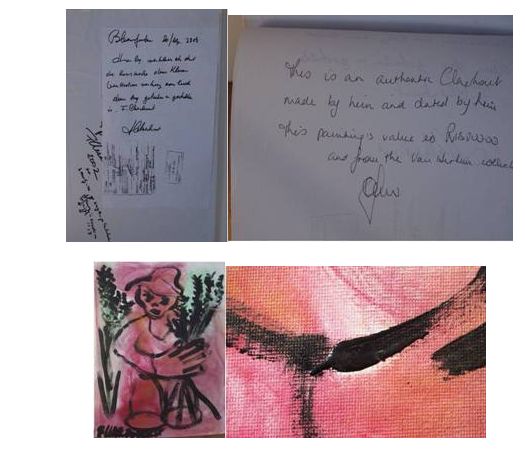 The provenance and greed factors can lead the buyer to be oblivious to some obvious indications that the works are forgeries. This is why art buyers should always consult a market professional to point out possible dangers and to minimise the risk of obtaining a forgery. Buying art through other channels could lead to disappointment.
[Info provided by Artinsure]