Discovery Eagles victorious in wheelchair basketball finals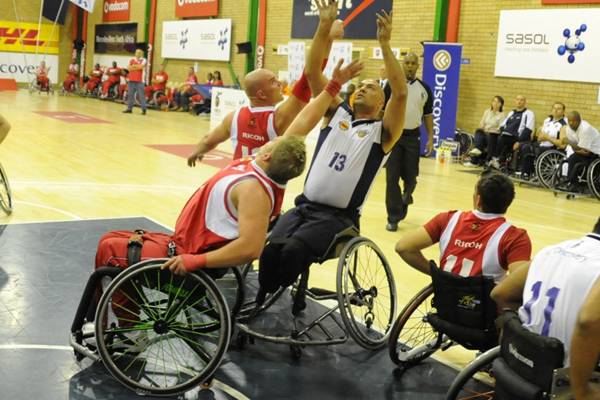 The Discovery Eagles beat the Puma's 64 to 53 in the Supersport Wheelchair Basketball Series final on Saturday at the Mandeville Sports and Social club in Johannesburg. This year marked the 14th year of the series, which the Discovery Eagles has participated since the event's inception.
The nail-biting match proved to be a tough one between two strong and hungry teams. Discovery Sponsorship Manager Sandile Mkari says the final was fast and hard. "Spectators were not disappointed – the game was an exciting clash between the two phenomenal teams made up of some of this country's top players.
"We are proud of Discovery Eagles' achievement. Winning the Supersport Wheelchair Basketball Series and beating a strong team such as the Puma's is no small feat. We would like to congratulate the players on their commitment and endurance and thank the supporters for their continuous motivation and help," says Mkari.
In recognition of excellence in wheelchair basketball, Viv Sierra, Coach of the Discovery Eagles was named Coach of the Year.
Mkari says the Discovery Eagles are no strangers to the finals and have made at least eight appearances amongst the top two teams over the past 14 years. "In 2005 they walked off with top honours against the Bladerunners," he says.
The Pumas won the tournament for the first five years of its existence, but this was the first time they had reached the finals since then. In 2010, the Eagles were placed at the top of the log in the first two rounds, with the Pumas overtaking in the third round. In the semi finals, Discovery Eagles played the Bladerunners in a Best of 3 series and went on to win the first two games.
The Supersport Wheelchair Basketball Series took the form of a Round Robin and participants played the first round in two pools consisting of five teams each. The second round consisted of a playoff for ninth and tenth and seventh and eighth positions and then concluded as a TOP 6 round robin playoff. Round three was a playoff for fifth and sixth position and was then played as a TOP 4 round robin to determine the semi-finalists. The best of three semi-finals were then played to determine the Bronze and Gold playoffs.
Wheelchair basketball is played according to the same rules as conventional basketball except for a classification system whereby each player is given a point according to his ability. This can be anywhere between 1 and 4.5, with an amputee being a 4.5 and a paraplegic as low as a 1. Total points on the court at any given time may not exceed 14.