Big Smiles as our best pointsmen and women are announced and rewarded!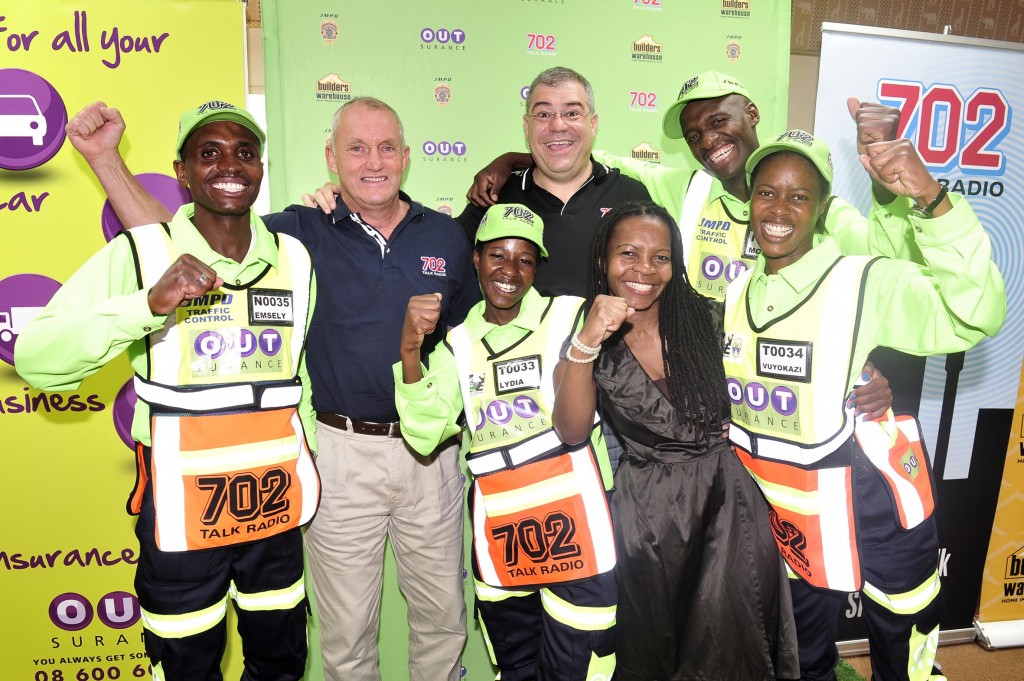 When the traffic lights are out and you are sitting in congested traffic there is no better site than a OUTsurance pointsmen passing by in his scooter to the intersection! Everyone who has been stuck in traffic appreciates the efforts of these men and women who control these interesections with professionalism and their big friendly smiles!
But who are the best of the best?
"The 702 OUTsurance pointsmen and women have made a significant difference in the lives of Joburg's motorists," said 702 trafficologist, Aki Anastasiou. "Many of these pointsmen and women go beyond the call of duty and these awards aim to recognise their contribution."
702 listeners have been asked to nominate their favourite pointspeople since February 2011 and each month, a winner has been selected. The winners have each received a R5 000 Builders Warehouse voucher, and the successful nominator received a R1 000 Builders Warehouse voucher for their efforts.
"We were specifically looking for those special stories where a pointsman has saved the day for a motorist. Being late for a big meeting or missing a flight or perhaps missing a special family moment are all real consequences of traffic congestion and we know that the pointsmen have been saviours many many times, " said OUTsurance's Peter Cronje. "We've received wonderful nominations and, rewarding the best of these each month has been awesome."
The overall winner, Moses Moipolai, had one of the best stories. Moses was the May 2011 winner and he was a knight in shining armour for Kamogelo Motshidi, who nominated him.
Kamogelo was driving to her first day at her first job, when her car broke down in an intersection on the Old Potch Road. "All the other motorists were hooting and throwing their hands in the air, and as a new driver I was thrown into a total panic," she said.
Fortunately for her, Moses was on duty at the nearest intersection. With a smile on his face, he approached her and offered to help move the car out of the road, to help ease the congestion.
"Since then, every day that I drive past Moses we hoot or wave at him and without fail he smiles back at us. He is a shining example of great service," said Kamogelo.
Moses wins R40 000 in Builders Warehouse vouchers.
Emsely Mukwevho was named the runner up in the annual competition and he wins R25 000 in Builders Warehouse vouchers. Emsely was September's winner, for impressing sales rep, Craig La Vita. Craig had noticed his cool-headedness even in some difficult situations and appreciated his unwavering professionalism.
Third place was shared between Lydia Petja and Vuyokazi Xhalabile who man the intersection at Main and Botha Avenue in Irene. They were June's winners, nominated by Sian Watts who noticed the remarkable effect the pointsmen had on easing congestion in the area in general. Sian was particularly struck by the friendliness of Lydia and Vuyokazi at this important intersection. The pair will share R15 000 in Builders Warehouse vouchers.
"The 702 OUTsurance pointsman project has had a busy year," said Talk Radio 702 station manager, Pheladi Gwangwa. "We've strengthened our operations in Joburg, we started recognising the pointsmen and women through the OUTshine awards, we launched in Tshwane and all pointsmen have been trained by JMPD to be peace officers."
"It's fitting to end the year with this celebration of the great work that the pointsmen and women are doing."
For more information on the OUTshine awards, or the 702 OUTsurance Pointsman project, visitwww.702.co.za.