Charities Pocket Prize Money at Ctrack Annual Golf Day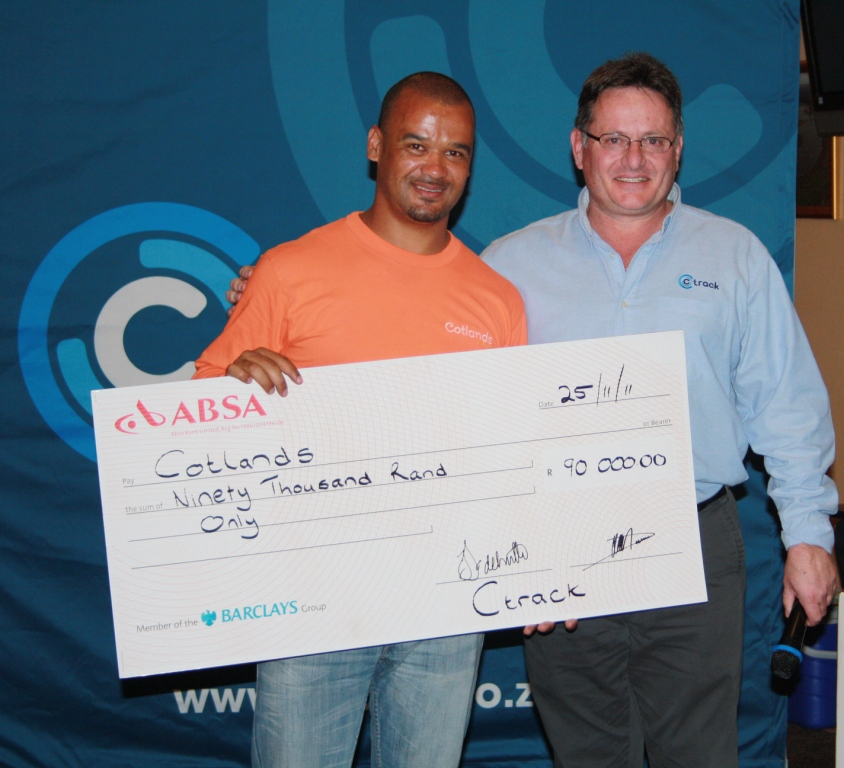 Charities were the overall winners at the recent Ctrack Annual Charity Golf Day, where a record amount of R 205 000 was raised
The Ctrack Annual Charity Golf Day, which took place on Friday, 25 November at the Centurion Golf Course, set its sights on raising a record amount of money for its two chosen charities, Cotlands and the SANParks' 'Save the Rhino' campaign – and they did just that. A record amount of R205 000 was raised by the field of 128 players, both on and off the course, and cheques were handed over to the two charities at the end of the day.
"Both of these charities are very close to the 'Ctrack heart', and we are constantly impressed with the work being done by the two organisations, often in very difficult and adverse circumstances," says Mark Rousseau, Chief Operating Officer of DigiCore Holdings. "Our annual charity golf day affords us the opportunity to interact with our customers and partners in a more social environment, but with a strong sense of social conscience.
"Among the field of 128 players, while the standard of golf might not match what is currently happening at Sun City, the ability by our players to dig deep into their pockets and give generously to our chosen charities is way above par!
"We have been supporting Cotlands for the past seven years through our charity golf days. With this year's contribution of R115 000, the total amount we have donated to the charity is R1-million, which is an incredible achievement. I would like to thank all our customers, partners and suppliers who have contributed so generously over the years to enable us to reach this figure," says Rousseau.
"The funding we have received from DigiCore Ctrack over the years has made an enormous difference to Cotlands as a sustainable organisation. We have adopted a positioning of hero archetypes and we acknowledge our donors as heroic too," comments Roy Bingham, marketing and PR manager of Cotlands. "The funds raised by Ctrack go a long way to enabling Cotlands to shape tomorrow's heroes, because it is our firm belief that children who have heroes become heroes."
Cotlands is a non-profit organisation that has been providing for young children for more than seven decades. Originally founded in 1936 in Johannesburg as a sanctuary for unmarried mothers and their babies, Cotlands is now active in five provinces and serves more than 8 000 beneficiaries through a range of vital community services and projects.
SANParks is currently involved in an ongoing battle to stop the poaching of rhinos in the Kruger National Park in particular, and in other parks across the country. The rangers require sophisticated equipment, training and anti-poaching patrols in order to outsmart the poachers and the R90 000 from Ctrack will be put to good use by the organisation in its efforts to 'Save the Rhino'.
"We would like to thank everyone involved in yet another very successful charity golf day. The monies raised will go a long way to assist those who really need our help," concludes Rousseau.
Ctrack, a division of the JSE-listed Digicore Holdings Ltd, is the country's most technologically advanced personal tracking, vehicle monitoring, stolen vehicle recovery and fleet management system. Ctrack has established itself as the market leader in fleet management solutions as a result of continued and leading-edge research and development since its inception in 1985.