Vodacom and Celebrities united in raising 50 000 meals for local charities.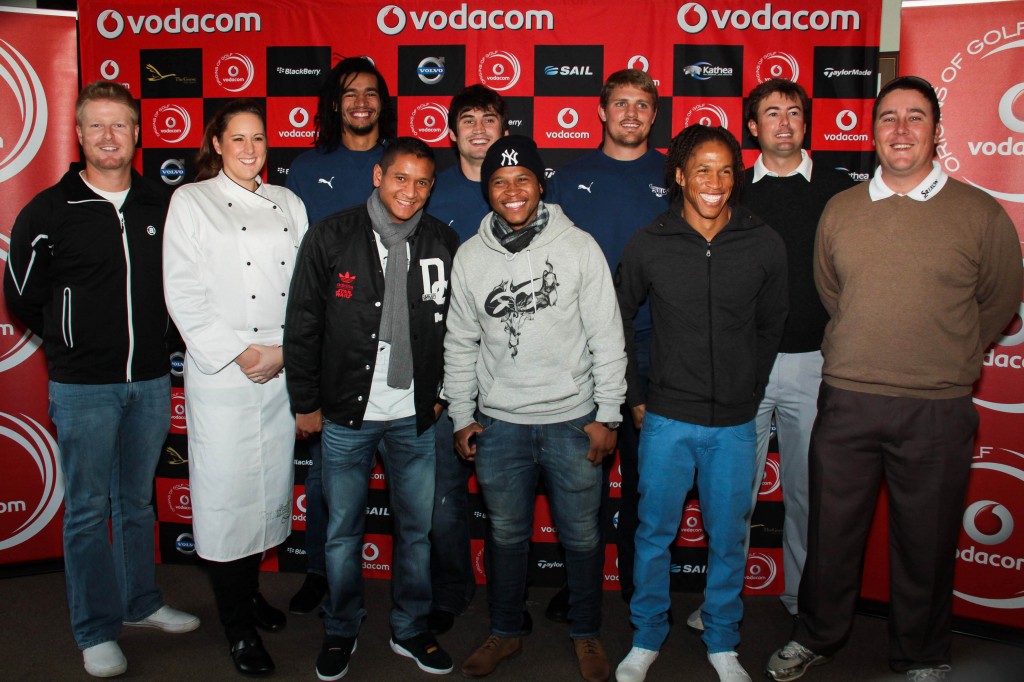 The Pretoria Country Club hosted a celebrity-studded charity event featuring players from Vodacom-sponsored teams Kaizer Chiefs, Orlando Pirates, the Vodacom Bulls as well as professional golfers playing in the Vodacom Origins of Golf Tour.
Vodacom and its guests Frik Kirsten, Lionel Cronje, Fudge Mabeta, Daine Klate, Josta Dladla, Jake Roos, Jaco Ahlers, Jacques Blaauw and celebrity chef Jodi-Ann Pearton were united in a common cause to help others in need by competing in an action-packed, entertaining and fun event aimed at raising 50 000 meals for local charities.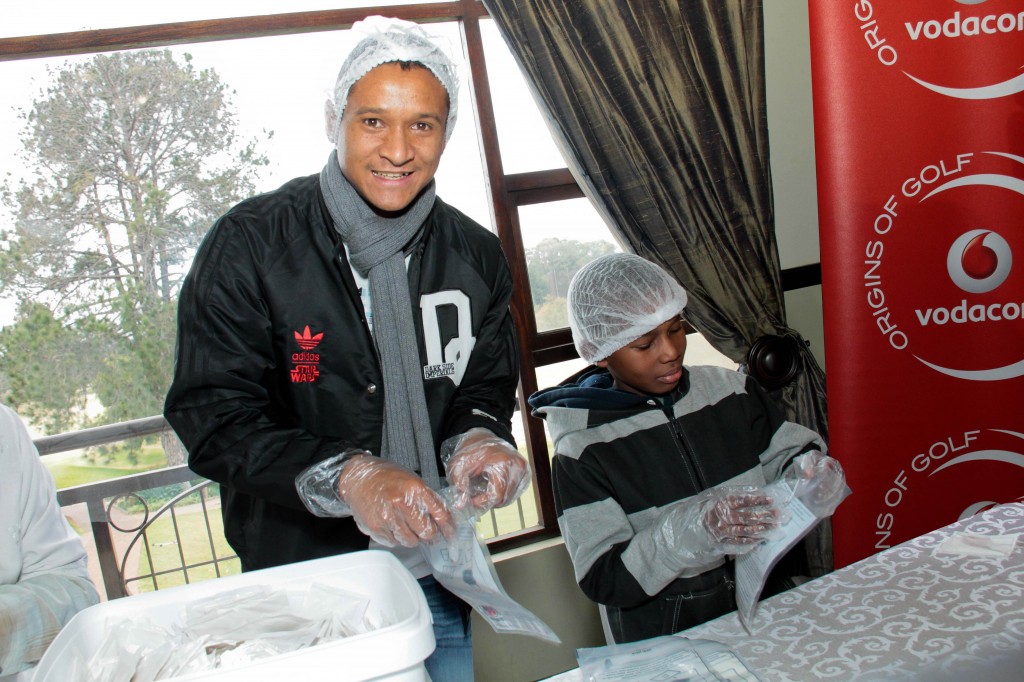 This event tied in with the Vodacom Origins of Golf Birdies for Kiddies Campaign that donates packaged meals to five charities namely African Children's Feeding Scheme (ACFS), NOAH, Women and Men Against Child Abuse (WMACA), New Beginningz and Ndlovu Care Group.
The challenge consisted of the team of 14 people to package as many meals as they can in less than 1 hour. Award-winning chef and Chairperson of the SA Chefs Association Gauteng Regional Committee Jodi-Ann Pearton oversaw the event.
American-born lock Fudge Mabeta and his team mates were quick off the mark, showing off their speed and efficiency in packaging an impressive 3500 meals.
"What a rewarding experience knowing that our efforts resulted in a valuable contribution towards those in need. Thank you to Vodacom and Stop Hunger Now who will distribute the food to the Birdies for Kiddies Campaign charities."
Moving onto the PCC course, the sports celebrities were invited to partake in several activities in an attempt to raise 40 000 meals for the day.
It was Lionel Cronje that was the hero of the day, hitting over 175m on the driving range, as well as hitting a mini rugby ball an additional 100 meters. All 9 celebrities managed to balance clubs on the palms of their hands as well as complete other fun challenge's such as balancing a ball on their cell phone for 15 seconds.
The total amount raised on the driving range amounted to over 35 000 meals, resulting in a total meal count raised to 42 500.
Launched in 2008, the Birdies for Kiddies Campaign has raised more than R10 million for its charities and this year intends to raise 700 000 meals for African Children's Feeding Scheme (ACFS), NOAH, Women and Men Against Child Abuse (WMACA), New Beginningz and Ndlovu Care Group.
The next stop on the Vodacom Origins of Golf Series is at De Zalze (Western Cape) from July 25th to 27th.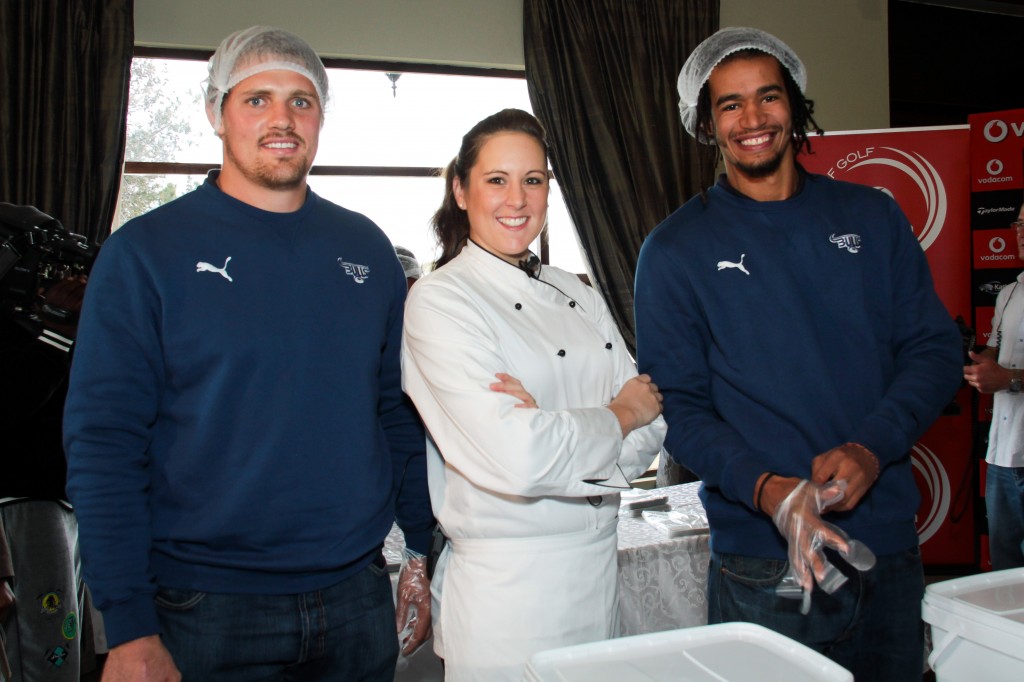 More information on Stop Hunger Now:
Stop Hunger Now is an international hunger relief organisation that was established in 1998 that co-ordinates the distribution of food and other life-saving aid around the world. The organisation is driven by a vision of a world without hunger in our lifetime and a mission to provide food to the most destitute and hungry in the most effective, sustainable and efficient manner. The meals packed consist of rice, soya, dehydrated vegetable mix and a fortification pack of 21 essential minerals and vitamins specifically formulated to combat malnutrition.
More information on SAIL :
SAIL is a wholly owned subsidiary of Marc Group Limited which has been operating for the past 13 years in the sport and entertainment fields. Operating throughout South Africa, SAIL plans to expand into Africa.
SAIL, a commercial agency with a staff complement of 60, boasts an impressive client portfolio including Vodacom, Investec, Cricket South Africa, Sports Science Institute, Chelsea FC and the Alfred Dunhill Championships. SAIL has successfully partnered with Vodacom for a number of years on sponsorship properties, which they either manage or co-own including the Vodacom Challenge, Vodacom Blue Bulls and the Vodacom Origins of Golf tour. Although not strictly a consulting agency, SAIL does consult with rights holders and advise them from a commercial perspective.