Mandela Day: Prisoners sew school uniforms and harvested fresh vegetables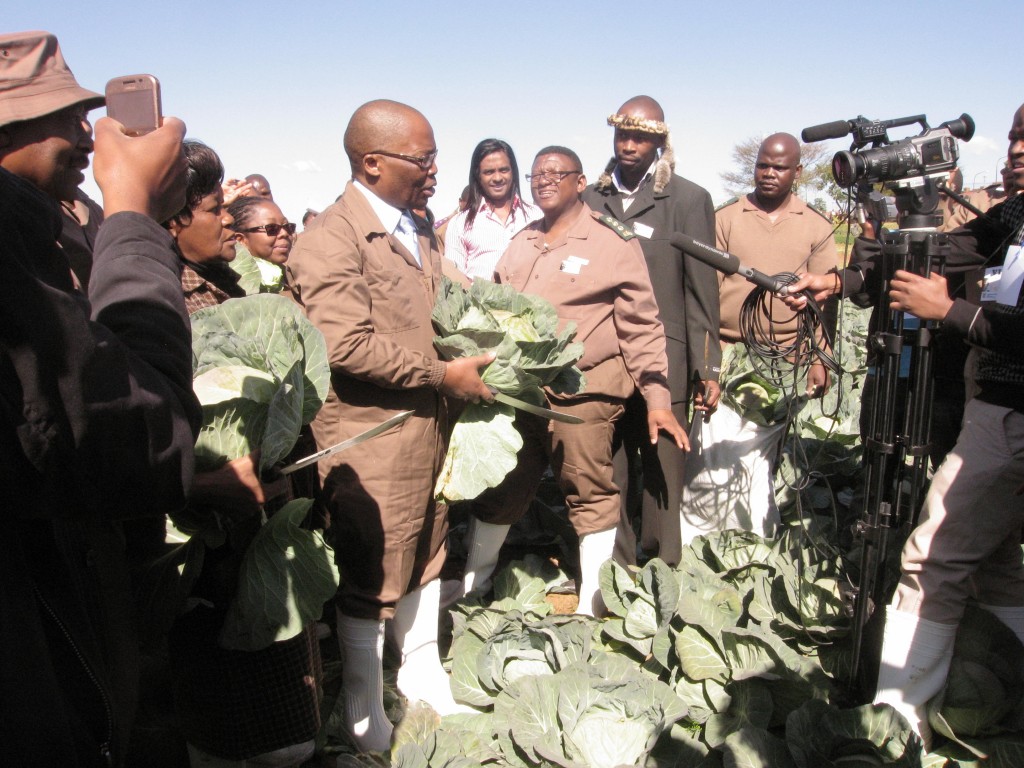 As part of the 2012 Nelson Mandela International Day commemorations, earlier today (Monday, 16 July 2012) Correctional Services Minister Sibusiso Ndebele and offenders ploughed back into the Ezakheni Combined School at Donkerhoek near Piet Retief in Mpumalanga Province.
During the opening of Ezakheni School on 6 November 2011 by President Jacob Zuma, the Department of Correctional Services (DCS) pledged one hectare of land to provide fresh vegetables for the school. Since implementation of this project during February this year, 2,178 kilograms of five types of fresh vegetables, planted and cultivated by offenders, were donated to the school between April and 2 July.
Before joining learners at Ezakheni School, Minister Ndebele spent 67 minutes with offenders at the Piet Retief Correctional Services Centre harvesting fresh vegetables from a garden started by offenders, firstly to develop their own skills but also for them to contribute towards poverty alleviation and fighting hunger. The vegetables from this garden are donated to needy families in this community.
The following items were also donated to the school:
• 900 grey trousers (Manufactured by offenders from Witbank Correctional Centre);
• 900 white shirts (Manufactured by offenders from Mogwase Correctional Centre); and
• 834 dozen of eggs (from Losperfontein Correctional Centre).
The Minister highlighted that DCS is increasing the number of offenders ploughing back into society. "This week, we join the rest of the country in celebrating our international icon, and our own Madiba, by setting aside time, rolling up our sleeves and dedicating 67 minutes to working to uplift our communities. On Wednesday, 18 July, Madiba turns 94; we salute him and honour him through this contribution by DCS to poverty alleviation as part of the 2012 Nelson Mandela International Day commemorations. President Mandela spent his prime years fighting against poverty, hunger and unemployment. Long live Madiba, long live.
"DCS, in its quest to transform the lives of offenders, has, amongst other things, committed to increasing the number of offenders ploughing back into society. We believe that offenders must use their skills to plough back to the very communities they have wronged. Offender labour must be used to improve the conditions of those disadvantaged.
"We applaud DCS for stepping in when a need was identified in this community of Donkerhoek. We believe that by contributing to the lives of learners, we are not only making a contribution towards their education but, we are also contributing towards breaking the cycle of crime. We want these learners to learn that crime does not pay and, therefore, through our contribution, we want to mitigate some of the challenges they experience. That is why, today, we are donating uniforms so that they too can feel good about going to school. A child must look forward to school, and not be hampered by the fact that his or her parents cannot afford uniform. As Africans, we need to go back to our basics, where my child is your child and your child is my child. It is the community's responsibility to bring up children.
"The material used to produce the shirts we are donating is as a result of a partnership with Sun City, where they provide us with material which we can recycle and make the shirts. This partnership is an affirmation that correction is a societal responsibility, and, therefore, the private sector must also make a meaningful contribution to offender rehabilitation.
"As much as we are donating uniforms today, we are, in the same breath, also showcasing offender skills. We are not only responsible for ensuring that offenders are behind bars, but we also train and empower them to turn their lives around and return to their communities as better human beings.
"The work we do to assist our communities must be sustained by nurturing the spirit of Vuk'uzenzele. We cannot depend only on government for everything; we must also teach our people to do things for themselves. You do not need a Degree in Agriculture to start a food garden," the Minister said.