Motorcycle Response Unit with Paramedics launched on Gauteng Highways

"Angels on wheels" now a vital part of daily life for Gautengers
Successful paramedic motorcycle response unit trial results in deployment of traffic-proof unit in Johannesburg, Pretoria and surrounds
Johannesburg, Tuesday, 17 July 2012 Gauteng's rush hour traffic is legendary and every day large numbers of commuters are frustrated by it. Heavy traffic can, however, have more serious consequences. It can mean the difference between life and death by delaying emergency response vehicles attempting to get to the scene of a medical emergency.
Addressing this challenge, Netcare 911 today announced the launch of an expanded Motorcycle Response Unit (MRU) service for Gauteng, which will soon also be made available in the Western Cape and KwaZulu-Natal. Speaking at the official launch of this innovative service, Tumi Nkosi, Managing Director of Netcare 911 said that the MRU concept proved a success during a trial with one MRU that started late last year.
"If you have seen a Netcare 911-branded motorcycle with a blaring siren in the Sandton central business district in recent months, you would have witnessed our trial in motion. During this pilot phase we found the MRU invaluable in time-critical cases such as those where patients suffered a stroke, heart attack or near drowning," Nkosi said. "The Motorcycle Response Unit achieved improved response times in these areas and was on average 40% faster, especially in instances where traffic was gridlocked."
"The considerable success of the trial supported our initial research, which highlighted the effectiveness of emergency response motorcycles in busy cities such as Hong Kong. The introduction of a full MRU service in the urban centres of Gauteng was therefore the next logical step."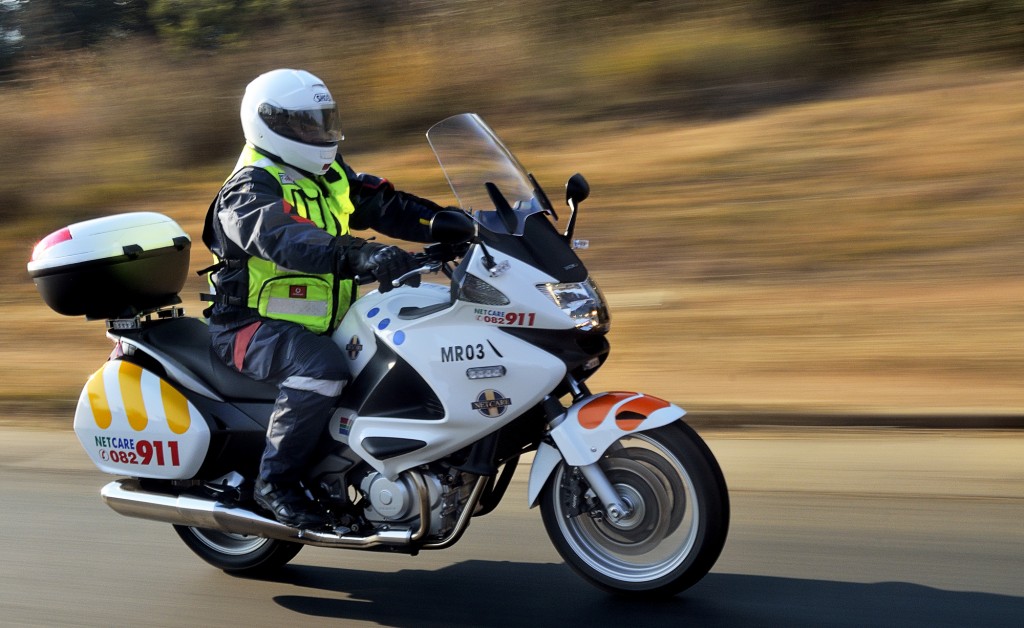 The Motorcycle Response Unit, which was launched at Netcare's head office in Sandton today, consists of a team of five qualified emergency medical care professionals who will service the greater Johannesburg and Pretoria CBDs and surrounding areas. The MRUs will form part of Netcare 911's extensive fleet of motor vehicles, which includes ambulances, emergency response vehicles and patient transport services vehicles. The motorcycle response unit is not meant to replace these services but will supplement them. These paramedics can get to the scene of the emergency quickly and start emergency medical care while support vehicles such as an ambulance are underway, according to Nkosi.
He explained that emergency medical personnel often refer to the first 60 minutes following an emergency as the "golden hour". This is the window of opportunity where appropriate pre-hospital emergency medical care can significantly impact the outcome of a case. The sooner emergency medical care can start, the better the outcome is likely to be for the patient.
Nkosi said the "angels on wheels", as he calls the MRU riders, are a special breed. Specially trained Advanced Life Support (ALS) and Intermediate Life Support (ILS) personnel ride the motorcycles. He pointed out that all the riders have had at least three years' experience both as emergency medical personnel and as motorcycle riders. They have also received additional training on how to respond to a medical emergency by travelling on a motorcycle.
Peter Feurstein, Netcare 911 Operations Director, said: "The motorcycle we have chosen to use is the Honda NT700, which through the trial has proven to provide outstanding performance and all round handling as well as having the necessary carrying space for the first responder medical kit, which consists of a full range of life saving equipment. This includes an automated external defibrillator (AED), a portable device used to restart a heart that has stopped beating. The motorcycles are all fitted with emergency lights and siren, ensuring that other road users are adequately warned of the presence of MRUs when travelling to respond to a medical emergency."
The motorcycle helmets are fitted with a Bluetooth communication device, allowing the riders to stay in constant verbal communication with the Netcare 911 Emergency Operations Centre. Feurstein notes that the riders also carry panic buttons to help ensure their safety.
Feurstein says he is heartened by the initiative: "In our urban settings, we believe that the MRU will lead to a statistically significant reduction in response times, and that its clinical impact will be considerable. Netcare 911 remains committed to saving lives," he concluded.