Rescue Efforts To Help Stranded People Near Nottingham Road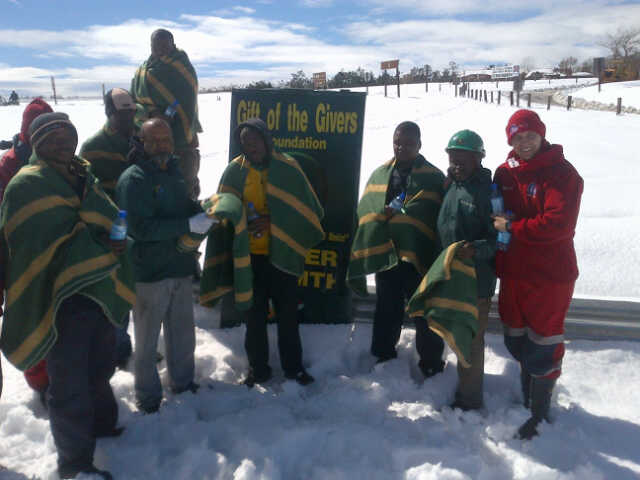 Also view: Road Safety and Driving in bitterly cold, snow and Ice
Info from Arrive Alive:
Road users have asked for assistance in finding information on road closures on the road to Durban. We would like to advise the following.
For live traffic and alternative routes view the route planner:
http://www.arrivealive.co.za/routeplanner.aspx
For N3 Traffic and Road Conditions – www.n3tc.co.za
Also note the number to call:  0800 63 4357
For Road Closures and latest news also follow on Twitter @TrafficSA and @_ArriveAlive
[NOTTINGHAM ROAD, KZN – 08 AUGUST 2012 AT 12H00]
ER24 paramedics from Pietermaritzburg were able to team up with the Gift Of The Givers and the SAPS Search and Rescue and SAPS Dive Unit to help assist with motorists and truckers that had been stuck in the snow over night near Nottingham Road.
ER24 paramedics that had been stuck in the snow along with the other motorists after trying to get to a family in distress near Mooi River informed the rescue team that there could be over one hundred motorists or more that were stranded on the N3.
The Gift of the Givers loaded over two hundred blankets, bottled water and soup into a 4×4 and joined the team of emergency staff from ER24 and SAPS that were waiting at Howick. The teams set off in 4×4 to the location where the motorists had been stranded. Once on scene the rescue teams set off handing out water and blankets and made sure that people stayed calm and that ensured them that they were in good hands. No medical emergencies were reported and everybody seemed to be in high spirits.
It is unclear how long the roads would be closed for but all necessary authorities are making the best efforts to make sure that everybody is staying warm and that medical assistances is nearby if needed.
Derrick Bank, ER24