Oval Track Champion finds grip with Gabriel Shocks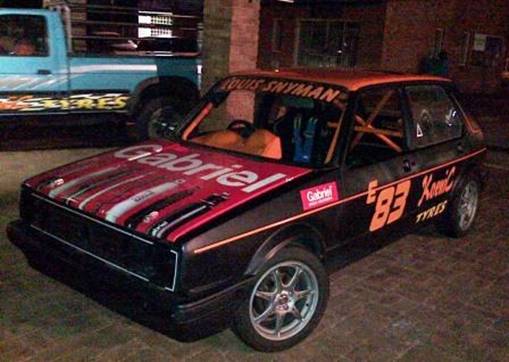 The national "Stock Rod" division Oval Track racing champion Louis Snyman, who was crowned 2012 champion, could not have made it without the genuine parts and equipment he received from sponsors.
Snyman of Koenic Wheels in Polokwane competed in his VW Citi golf 1600 in twelve races before being crowned overall champion. After every race he and Willie Blignaut, chief mechanic, worked on the suspension set up for the following race. This included stripping down the car and replacing the worn parts, from brake pads to oil filter and suspension parts to develop the car for the next race.
"In all 12 races we had to replace most parts of the car except for the Gabriel shock absorbers which have done wonders and made my ride solid and comfortable," said Snyman.
"I fitted the Golf with a set of Gabriel Gas Ryder shocks at the beginning of the 2012 season. I was expecting to replace them after a few races, considering the punishment they were taking, but my ride was smooth the entire year. They stood the test of time," he said.
The Stock Rod Ovals ultimate class is where slick tyres are allowed (R1500 each) and rotary engines rule. Top-of-the range brake calipers amount to R30 000. Complete cars will set the owners back close to R300 000 and a further R100 000 for the equipment to keep them on par with the best in the country.
"The Gabriel shocks are amazing. They last longer than any other shock I've used. This can be attributed to the shocks being designed and manufactured in South Africa to meet our specific environment and harsh road conditions," said Snyman. "I highly recommend them."
About Gabriel:
Gabriel is a division of Control Instruments Automotive, a wholly owned subsidiary of the JSE listed Control Instruments Group. Control Instruments Automotive holds the manufacturing and distribution rights to the Gabriel range of shocks, struts and cartridge products for Sub-Saharan Africa.
Gabriel is now in its 77th year in South Africa. The company manufactures shock absorbers for most vehicles.
Gabriel was originally imported into SA in 1935. During that time, the company has introduced a number of world-first designs that were subsequently manufactured in plants worldwide. It was also the first shock absorber company to advertise on TV.
Gabriel Safari HDP Shock Manufactured In South Africa For Heavy Duty Performance Requirements
Shock Absorbers and Safety on the Road
Shock Absorbers and Safe Driving