Do you look at your life in time, or kilometres? IMPERIAL launches new ad campaign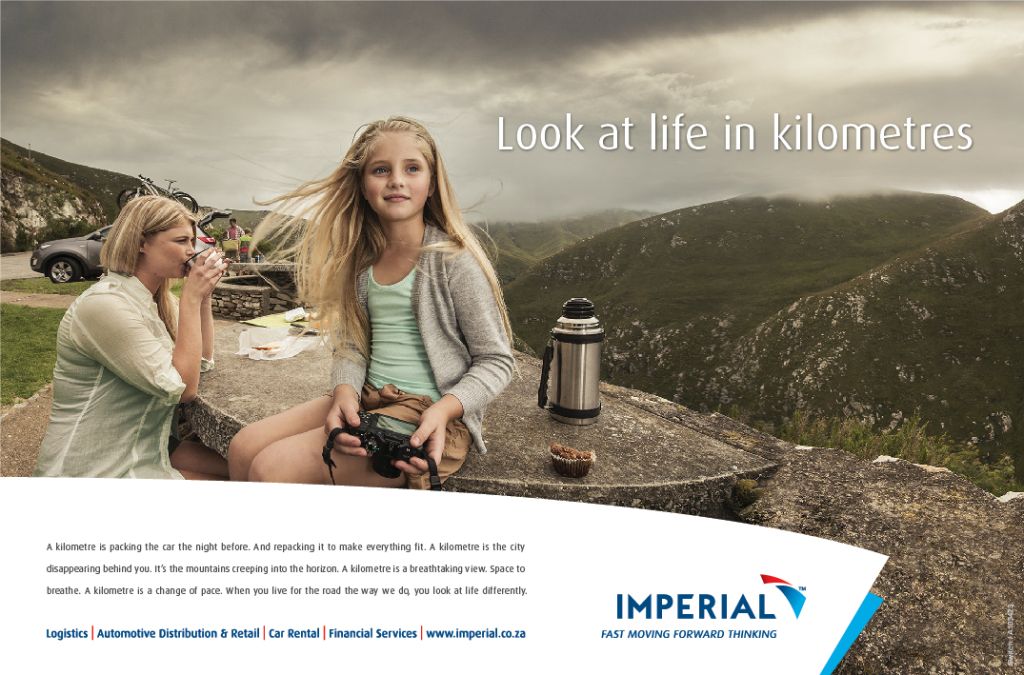 This is the question IMPERIAL is posing with their new advertising campaign that launched on Sunday 14 April. This question makes perfect sense, coming from IMPERIAL, whose logistics, car rental and vehicle retail and distribution services have everything to do with kilometres.
But when most people look at life, they see it in a timeline. What IMPERIAL is doing is challenging its audience to rather consider life as a journey filled with memories and experiences. The campaign highlights memorable kilometres and moments on the road which the audience can relate to, prompting them to 'look at life in kilometres'.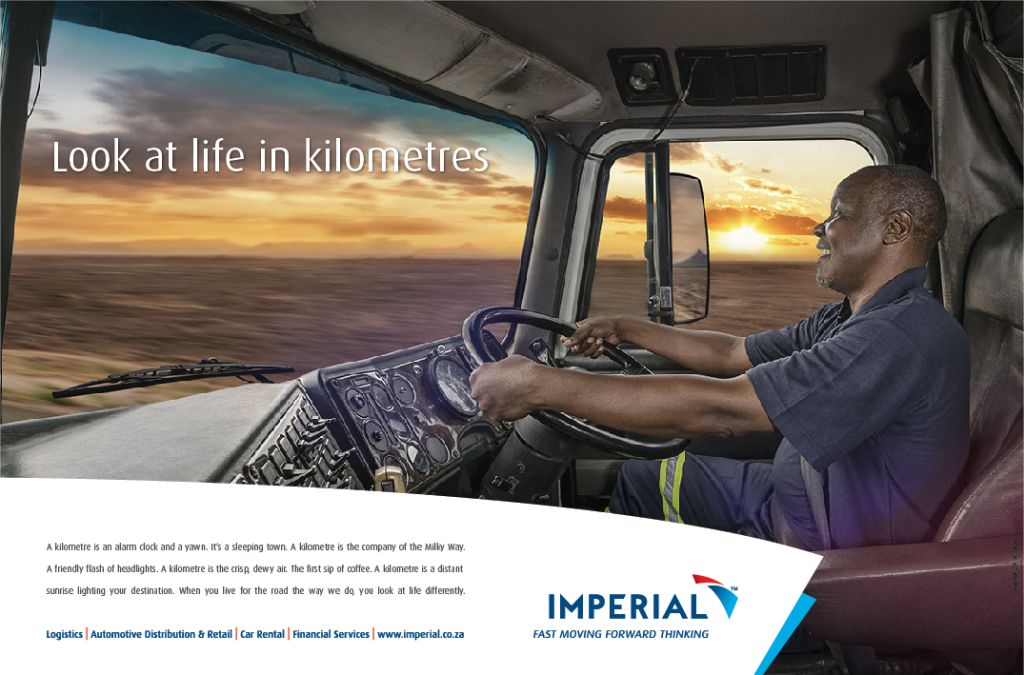 "Our business is all about mobility. We move businesses, products and, more importantly, people, travelling millions of kilometres in the process, all while enabling our customers to add memorable kilometres to their own lives," according to Dawn Nathan-Jones, head of the IMPERIAL Brand Council.
"Most of us will probably cover around three million kilometres in our respective lifetimes. That's a lot of moving, travelling and living," says Robert Havik, strategic director for Switch, IMPERIAL's advertising agency.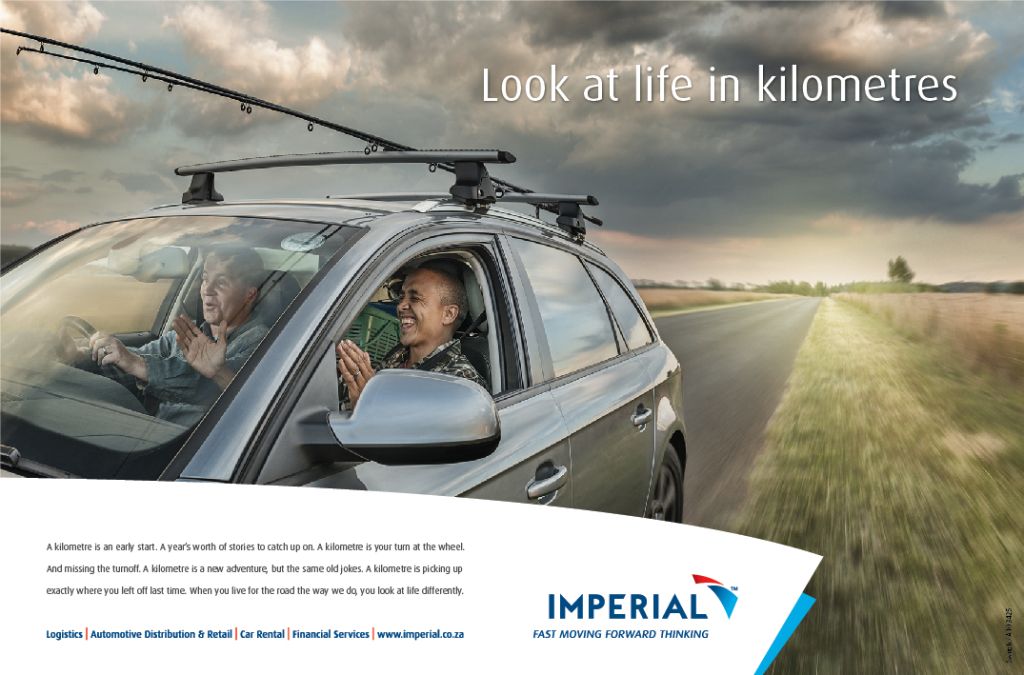 The ad campaign, directed by Alan Irvin and photographed by Michael Lewis, consists of a 45-second TV commercial, three 30-second radio ads, four print ads and a host of outdoor and airport billboards. The campaign was shot over a four-day road trip, starting in PE, through George, Graaff Reinet and Bloemfontein, ending in Jo'burg. "What better way to experience 'life in kilometres' than to shoot on a road trip," mentions Niki Cronje, Group Marketing for the IMPERIAL group.
IMPERIAL staff number around 50 000 across all its operations. The advertising campaign is meant to provide a sense of direction and instil pride among employees. Staff also had the opportunity to connect with fellow employees from other companies within the group through the internal leg of the advertising campaign, where they posted what they thought a kilometre meant to them.
"This campaign gives IMPERIAL an identity by creating a face, a personality and a soul for one of South Africa's largest groups, which began its journey as a motor dealer in downtown Johannesburg in 1948," says Cronje. "We're thrilled with the outcome."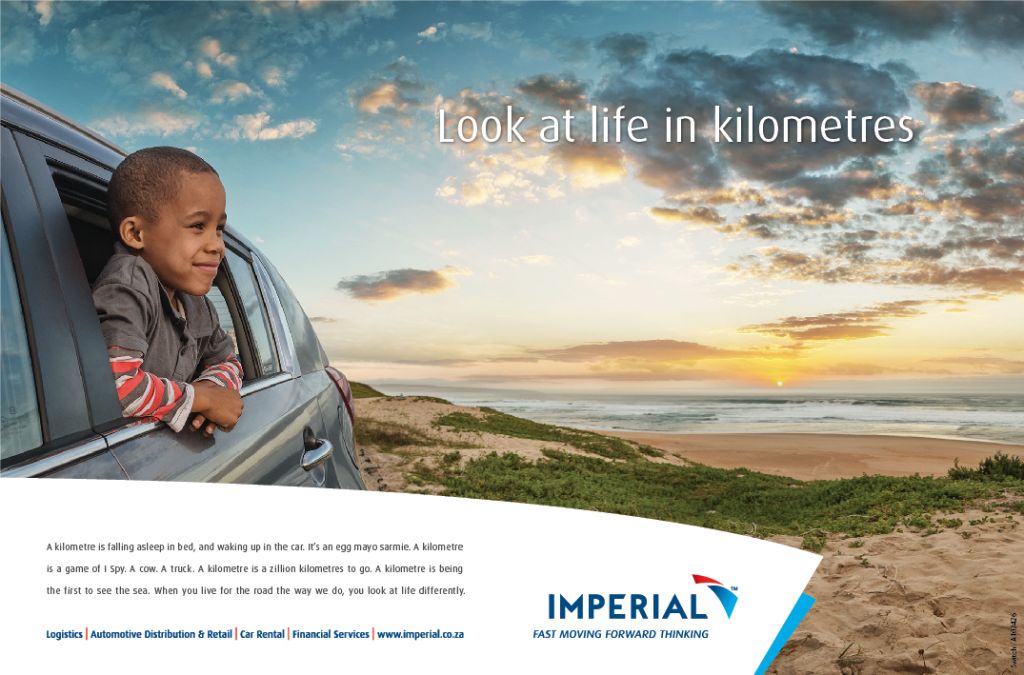 More about IMPERIAL Holdings
The IMPERIAL group is a prominent third-party logistics provider in southern Africa, and owns and has access to more than 7,500 trucks and operates from more than 968 locations in 14 countries. It also has over 250 new and used vehicle dealerships and provides product handling and storage in facilities exceeding 750,000m2.
In 2009, IMPERIAL reviewed its brand architecture in an effort to redefine its reputation as a large, decentralised, diverse, entrepreneurial group to a "fast moving, forward thinking" group of companies with a core focus: moving people.
To further unify the group and show the backing of an established business, its 145 companies now use 'We are IMPERIAL' in their own marketing initiatives.
In November 2011, IMPERIAL put its weight and geographic footprint behind road safety with the I-Pledge initiative. The initiative, which calls on road users to take responsibility for improving their own behaviour, has amassed more than 124,000 pledges.
IMPERIAL is a diversified industrial services and retail group with activities spanning logistics, car rental and tourism, distributorships, automotive retail and related financial services. Employing 47,000 people, IMPERIAL operates in South Africa, Africa, Europe and Australia and is listed on the Johannesburg Stock Exchange.  www.imperial.co.za / www.ipledge.co.za