Meet the only female driver in the Top Gear line-up of pro race drivers -Diane Dugmore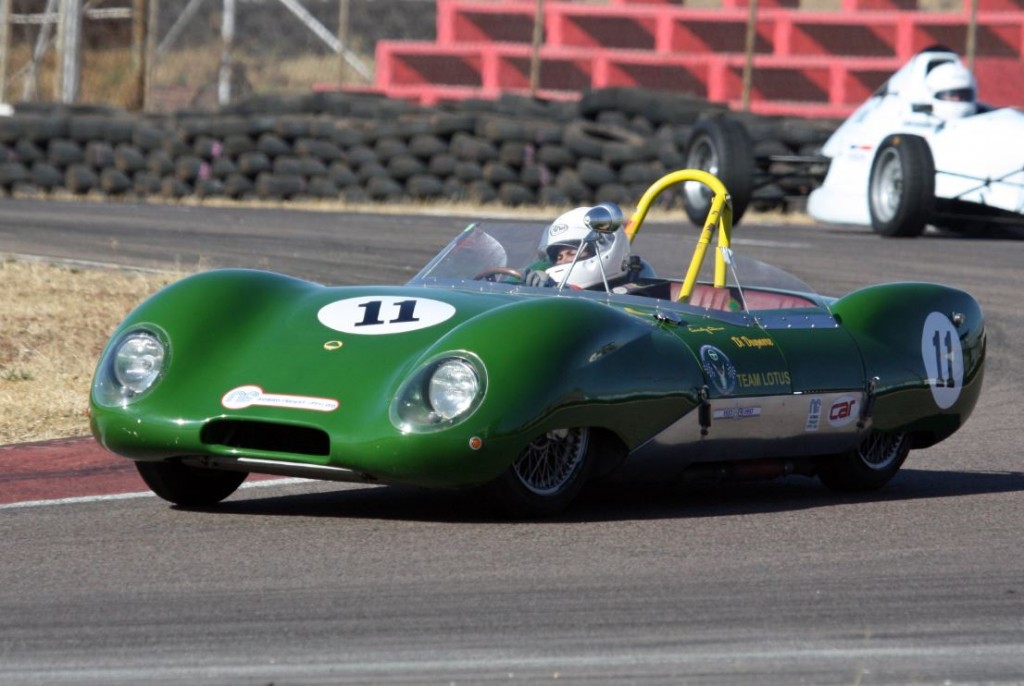 THE ONLY FEMALE DRIVER FOR THE FRANSCHHOEK MOTOR MUSUEM WHO IS'NT AFRAID TO PUT THE METAL TO THE GROUND AT THIS YEAR'S TOP GEAR FESTIVAL
1) Who is Diane Dugmore?
I grew up on a farm in the Northern Cape with a father and brothers that were always tinkering on old cars. As the youngest, I was constantly trying to 'keep up with the boys' so I was happy to be the spanner hand!
Attending boarding school (in Kimberley) from an early age made an independent person out of me, ready to face any challenge head on.
I moved down to Cape Town after school to study Radiotherapy and have been here ever since.  Dave and I have been together for over 30 years now.  No children, only cars!
2) Age: 49 ++(50 in July!)
3) Favourite meal: Lamb potjie
4) Home town – Salt Lake – Northern Cape
5) How did you enter into the racing fraternity
Our neighbour introduced Dave to Historic racing some time ago. It is a very long day at the track as a spectator, so I soon realised that I needed to be involved to be there for the long haul. My first car was Dave's Varsity runabout, an Austin Healey Sprite that was race prepared for me. Still my favourite today! The Sprite ran in MarqueCars with a 1275cc motor that proved to be reliable for many seasons and gave me the passion I have for racing today.
6) What are some of your most memorable race awards and accolades that you have received?
A number of regional race awards with my most memorable being winning Index of Performance for Marque Cars in 2006 International "Piper Series".
7) What car do you drive on a day to day basis ?
Lotus Elise   (makes commuting a pleasure!)
8) A therapeutic radiographer to a motor car racer – how did this happen?
Life is all about balance… work hard, play hard, embrace all that it has to offer!
9) What race -car are you currently racing and why?
Our Historic Single Seater Series allows me to race the Lotus Eleven that you will see at the Top Gear Festival in Durban in June.  This historic car was very competitive in its time and is still a delight to see on the track today.
Our local club racing (WPMC) sees me in the Sports & GT class in a Lotus 23 Replica. This also has a Historic Passport, making it a period correct car. The Austin Healey Sprite sits in the wings waiting for the occasional Historic racing event.
10) There must a whole lot of adrenaline rushing through you at the start of every race. How do you prepare for a race and what's the last thought before you hit the accelerator in any race?
"Stay focussed!"  "Drive like you stole it!"
11) Tell us about your first Street Circuit event/ race.
The Top Gear Festival will be my first Street Circuit event.  I have watched a street race in Copenhagen and thought "Whew, this is tight!  No room for error here."
12) You obviously have a lot of innate driving talent. Who's been helping you as far as coaching you on your driving skills?
Growing up on a farm and learning to drive as soon as you could reach those pedals possibly has a lot to do with it.  Attending an advanced driving school gave me some confidence and interaction with our fellow competitors the rest. I'm quite sure there is still a lot of room for improvement!
13) How have you broken the general stereotype that the motorsport industry and cars are for boys only?
The boys' are happy to embrace anyone interested in the same thing that they are. The HP under the bonnet is the leveller…
14) Have you had your fair share of burns and crashes? Which was the most memorable that stands as a highlight for you?
I was hoping to forget this one.  The 2012 Knysna Hill Climb saw me crash the Lotus 23 into the side of the mountain in very wet conditions.  I was absolutely fine, picking up pieces of the car before anyone else got to the scene, but the car was rather badly damaged and has taken close to a year to put back together.
15) What does your family think of you burning rubber on the track?
My nieces and nephews are quite impressed, but my mom would rather I didn't tell her when I'm out racing.
16) What can we expect from you at this year's Top Gear Festival?
The spectators will be treated to not only seeing these historic vehicles in action but will also be treated to an exciting spectacle between two very evenly matched 750cc cars which raced in the late 50's, Moretti vs Lotus.
17) What advice do you have for young people – not necessarily aspiring drivers, but maybe more general advice about pursuing your passion and going after your goal
Nothing is impossible!  Pursue you dreams.  Be passionate about what you do and make things happen.
*Check out Top Gear Festival SA on Facebook (http://www.facebook.com/topgearfest); Twitter(@topgearfestsa) and our website www.topgearfestival.co.za