2013 Pick n Pay Knysna Oyster Festival hopes to raise even more for local charities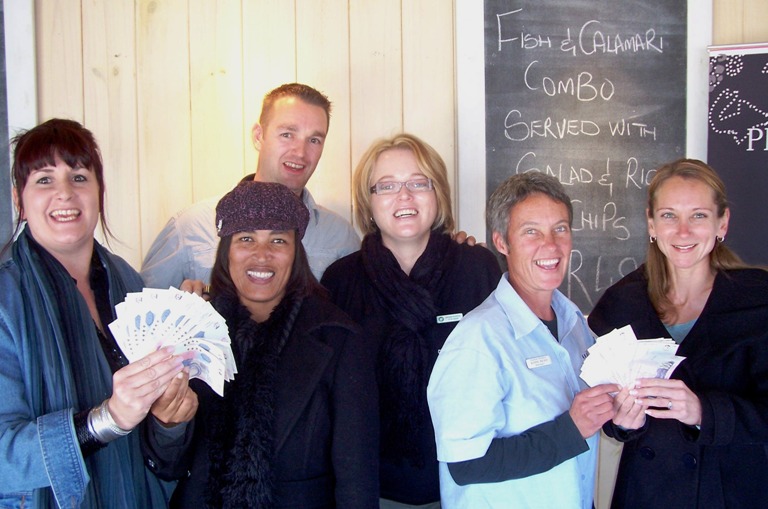 The Pick n Pay Knysna Oyster Festival is very proud of its profound social contribution. In the last five years it has managed to add R6,9 million to the coffers of local charities, it raised almost R1,5 million for these organisations in 2012, and it organisers are confident of bettering this amount this year.
Festival Manager Nicci Rousseau-Schmidt explained the effect this financial injection has on local non-profit organisations. "Many of our beneficiaries are sorely dependent on the support it receives via donations from the community. Without these donations many of them will have to close their doors, leaving the much need good work they do, undone."
Two of the biggest contributors are the Pick n Pay Weekend Argus Rotary Knysna Cycle Tour and the Pick n Pay Cape Times Knysna Forest Marathon and Half Marathon. "In 2012 Knysna Rotary were able to contribute R550 000 to supporting various charitable projects like providing tertiary educational bursaries for local students, supporting e-Pap and various soup kitchens," said Nicci. "And the Knysna Marathon Club donated R540 942 to beneficiaries including Loeriehof Old Age Home, Youth for Christ, NSRI, Epilepsy SA, FAMSA, Red Cross, Knysna Bambanani, the Sea Scouts, Stepping Stones, Knysna Secondary School and ASWD Development events."
"Other organisations that benefited directly from the 2012 Pick n Pay Knysna Oyster Festival include Knysna Hospice, Animal Welfare, the NG Church, Knysna Bowling Club, Sinethemba, Child Welfare, Mountain Rescue, Knysna High School, HERO (Restoring Knysna's Traumatised Children), CANSA and the Let's Play Sports Clinic. Sports development entries to some of our races were provided for and, with the Pink Drive, we were able to provide free testing for breast cancer in the communities of Rheenendal and Karatara."
"A variety of events held in Hornlee and the northern areas raised a staggering R213 500 – over and above the official tally of R1460 408 touted in the media."
"We hope to make an even bigger impact on our local charitable organisations with this year's festival," Nicci concluded. "So join us for the best ten days of your winter from 28 June to 7 July – and help us to make a real difference in the lives of many."
For more information about the Pick n Pay Knysna Oyster Festival, contact Knysna Tourism on 044 382 5510, visit www.pnpoysterfestival.co.za or, if you have a smart phone, be sure to get the innovative 2013 Festival App for the complete programme, mobile news and on-the-go information. To get it, go to Google Play or Apple iTunes, or simply scan the barcode on the festival website. For a full list of 2012 or 2013 beneficiaries, please contact Nicci at headoyster@oysterfestival.co.za.
Additional info
The 2013 Pick n Pay Knysna Oyster Festival offers a full programme of more than 100 events from 28 June – 07 July. Not to be missed highlights include the Knysna Wine Festival on 01 & 02 July – where up to 50 of South Africa's best wines will be on offer, the Pick n Pay Flavours of Knysna gourmet evening on 03 July – where Knysna Restaurants will compete for cash prizes with their best oyster recipes, and the Tabasco® Oyster Shuckle – on Fire with Nik Rabinowitz on 04 July – where the Oyster Shucking and Oyster Eating competitions will be held. Plus, the Pick n Pay Women's Walk will take place on Sunday 7 July, a 5km fun walk to raise funds for the PinkDrive, an organisation that provides free breast cancer screening and health education. Tickets for these events are available for purchase on www.pnptickets.co.za.