Gabriel Pitts special planes at Top Gear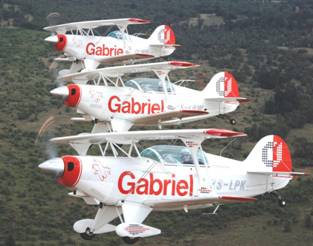 Visitors to the Top Gear show in Durban on Saturday the 15th June and Sunday the 16th will be treated to an aerobatic display by the Gabriel Pitts Special planes led by Scully Levine, the well-known pilot with over 25 years air show experience.
He is a senior captain with South African Airways and has logged about 25 000 hours flying everything from light single prop aircraft to the largest airliners such as the Boeing 747 and Airbus A340. He has flown over 1500 displays in a wide variety of aircraft.
The aerobatic display will run twice each day and will include some breathtaking moves that will keep the crowd mesmerised. It is entertainment for the entire family.
Gabriel will be running a number of competitions at the Top Gear event including free tickets to the event and a flip in one of the Pitts Special planes. Go to Gabriel's Facebook page www.facebook.com/gabrielshocks and "Like" the page and enter. Visitors can also enter at the show.
Visitors to the show will also qualify to have their shocks tested free of charge at one of four fitment centres in the Durban area where Gabriel's newly-introduced mobile suspension testing units are installed, a first for South Africa. Customers purchasing Gabriel shock absorbers at these fitment centres will receive a 50% discount on the fitment of the shocks and free wheel alignment, valued at just under R1000.
About Gabriel:
Gabriel is a division of Control Instruments Automotive, a wholly owned subsidiary of the JSE listed Control Instruments Group.  Control Instruments Automotive holds the manufacturing and distribution rights to the Gabriel range of shocks, struts and cartridge products for Sub-Saharan Africa.
Gabriel is now in its 77th year in South Africa. The company manufactures shock absorbers for most vehicles.
Gabriel was originally imported into SA in 1935.  During that time, the company has introduced a number of world-first designs that were subsequently manufactured in plants worldwide.  It was also the first shock absorber company to advertise on TV.
Also view:
Gabriel Safari HDP Shock Manufactured In South Africa For Heavy Duty Performance Requirements
Shock Absorbers and Safety on the Road
Shock Absorbers and Safe Driving
4×4 Vehicle and Off-Road Driving Safety