Find those specials but don't advertise to burglars what is on the menu at your home!!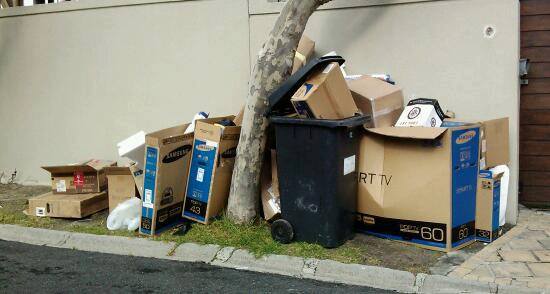 Friends of mine have a website FindSpecials where they share information about specials to be found at a variety of retail stores. We often share information in discussions on what people have been searching for and especially whether the consumer is very brand loyal when it comes to consumer electronics. It appears that there is always a huge demand for the latest in electronics such as plasma and LED Screens and many are searching for the more prominent brands such as Samsung, Telefunken, Sony, LG etc.
Unfortunately not only those with money in their pockets are brand conscious! Our criminals are well aware that there is a good market to off-load the latest quality brands in technology to other customers who don't mind where the goods come from -as long as they can get it at a bargain! It is important that consumers do not "advertise" to these criminals what they have bought and what can be found inside their homes!
I have recently come across the above photo shared by the Harlyn Neighbourwood Watch on a facebook page to warn residents about what they leave on the pavement! It is clear from this photos that the latest in television and sound is available at this residence!
To avoid claims to your insurers for home and household insurance it is best to:
– Only take these valuables out of your vehicle when out of sight from those walking the streets.
– If not needed for delivery at your home, do not provide to the retailer details of your home address.
– Store boxes safely away inside your premises/ garage/ storing room or if you need to do away with them, rather cut into small pieces and put them in black bin bags for rubbish removal.
– Only put bags for rubbish removal outside on the day of scheduled removal
– Best advice is not to have items displaying purchase of valuable items on your pavement!
The best advice to protect yourself from burglaries at your home is to increase your safety and risk awareness! Take the time to consider what might attract burglars to your home – and avoid those invitations!!
Also view:
Tips for increased Safety Awareness and Preventing House Robberies