Black middle class drives growth in vehicle market despite restraints brought about by labour action
Sales Performance Summary – Total by Market Segment (NAAMSA flash includes Namibia, Lesotho, Swaziland & Botswana):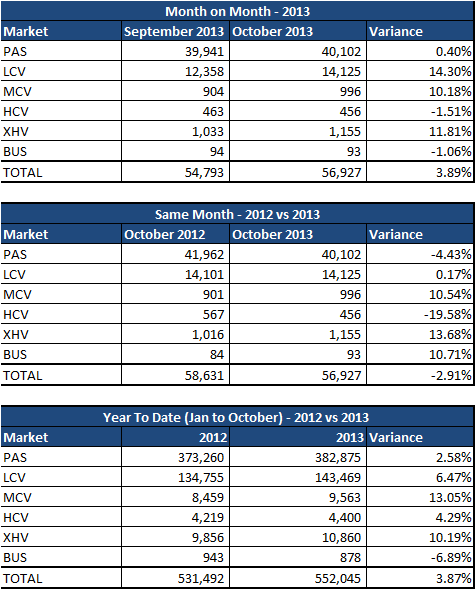 Sales Performance Summary – Exports: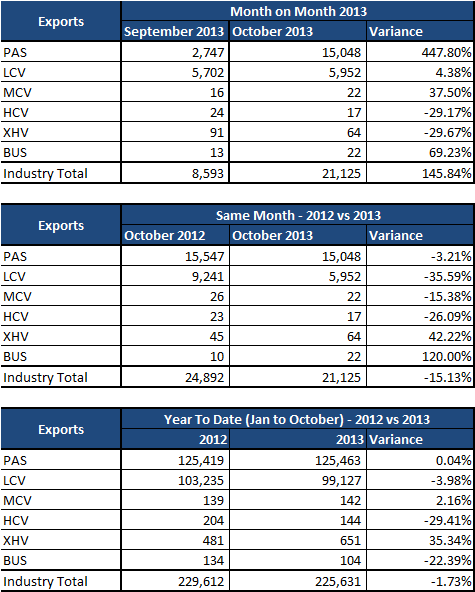 Sales Performance Summary – AMH: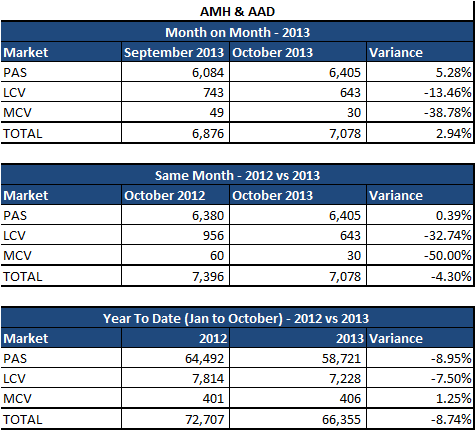 General Comments on October 2013 NAAMSA sales:
The month of October 2013 experienced 3.89% more sales than September 2013. The lower percentage increase was expected following the recent automotive industry labour strike.
Month on Month all goods types experienced positive growth apart from Heavy Commercial Vehicles and Busses. Passenger vehicles recorded an increase of only 0.40%; Light Commercial Vehicles grew by 14.30%, Medium Commercial by 10.18% and Extra Heavy Commercial Vehicles grew by 11.81% Month on Month.
Year on Year monthly comparison shows a decrease of -2.91% in October 2013 compared to October 2012. The average sales per day in October 2013 (2,108) were less than October 2012 (2,142).
Year to Date (January – October 2013) sales grew 3.87% in 2013 compared to the same period last year. This equates to 20,553 more vehicles sold for the ten months (10 months) of 2013 compared to 2012.
The main contributors to this year's growth were Light Commercial, Medium Commercial and Extra Heavy Commercial Vehicles, with growth of 6.47%, 13.05% and 10.19% respectively. Year to Date growth for Passenger was 2.58% and Heavy Commercial Vehicles was 4.29% up. Only Busses had negative growth but this was in small volumes.
The average number of sales for October since 2010 has been 51,400 (excl October 2013) and on average October has ranked as the best month since 2010. October 2013 has in fact surpassed the average number of sales, (56,927 to 46,401), and has ranked the 2nd best month this year, and 5th best out the last 82 months (January 2007 to October 2013).
General Macro and Industry Comments:
The Unemployment Rate surprisingly fell to pre-recessionary levels in spite of the industrial action occurring in the automotive industry. In the 3rd quarter's Quarterly Labour Force Survey (QLFS) it was reported that the rate fell to 24.7% down from the previous quarters 25.6%. The results of Q3:2013 reflect that the labour force sits at 18,638 million. The increase in employment has stemmed from the trade, public and finance sectors (Stats SA). This growth in formal sector employment is positive – however with subdued economic growth, slowdown in consumer spending and impotent domestic output it does not provide positive indications of sustainable job creation.
September's Private Sector Credit Extension (PSCE) showed a YoY decline to 7.55% as many had forecast. This was a slowdown from August's 8.11%.  This slowdown has been driven by the fact that household credit growth slowed for a 10th consecutive month, posting its lowest rate of growth since July 2012. This had been anticipated as vehicle sales had slowed for a second consecutive month Year on Year (Standard Bank Research). This is an indication that Household Debt to Income levels are at high levels (75.8% in Q2:2013) which have eaten into the consumer purchasing power. This is one of the reasons why the market appetite for credit seems to be slowing with consumer spending reducing as the consumer comes to grips with the higher cost of living (food, fuel and general inflationary pressures).
Headline annual inflation rate (CPI) for all urban areas in September 2013 was 6.0% YoY (0.4% down from the previous month's 6.4%) creeping back into the Reserve Bank's inflationary target band (3% to 6%). The risks to inflationary increases resides in fuel, international food costs, the exchange rate and a continuation of the above inflation wage settlements that have been seen.

The transport inflationary index moderated month on month to 6.9% y/y from the 8.5% YoY experienced in August. There was a 5c/l cut in fuel prices at the beginning of September this assisted in lowering the overall CPI figure as transport's contribution to CPI being the 2nd largest contributor to CPI (16.43%).

Rating agencies Moody's and Standard & Poor's have expressed their concerns in the rising debt servicing costs but were heartened by government's commitment curb spending in the recent Medium Term Budget Policy Statement (MTBPS).
Fuel prices have risen by 25.4% in petrol (inland) and risen by 22.6% in diesel (inland) since Jan 2012 to October 2013. Further, the price of fuel in the country has gone up by 261.3% in petrol and up by 401.4% in diesel since Jan 2001. (Dept. of Energy). Motorists may have some reprieve in November as the Department of Energy suggested that a 20c/l cut was on the cards.
The Rand has strengthened against major currencies over the past two months on the back of a four (4) year low, against the Dollar. The strengthening has been seen partly due to the American Reserve Bank's (Fed) decision to continue its purchasing of assets in its quantitative easing programme for the short term.
Comments on Vehicle Sales Outlook:
Vehicle sales volumes may still be boosted by the following factors:

The Prime Interest Rate remains at its lowest for over three decades, and continues to play a major part maintaining the South African consumer's appetite for debt despite pressures put to bear by high Debt to Disposable income levels.
Vehicle Price Inflation (VPI) for Q3:2013 has so far remained below CPI.

However the Rand's fragility put pressure on prices of imports. This will have a negative knock-on effect on Vehicle Price Inflation (VPI) in the new cars space.  New cars have increased q/q to 4.14% compared to the 3.0% in Q2:2013.
In contrast VPI for used car prices has decreased to -3.09% from -2.5% in Q1 of 2013.
The industry is currently still experiencing the impact of the replacement cycle. This refers to the vehicle purchasing cycle. The cycle is approximately 5 years. 2007 was a massive year in the industry with 623,850 new vehicles financed. At the end of a 5 year term most maintenance/service plans have come to an end and consumers risk large cash outlays in the event of damage to their cars. In light of that, and with intentions of recouping some value from a depreciating asset consumers tend to purchase newer more cost effective vehicles.
The following factors are expected to provide subduing effects on vehicle sales numbers:

Meagre economic growth, 2013 GDP is expected to come in at 2.1% down from 2.3% (Standard Bank Research).
The labour disputes that have halted production in the industry in August and September will take a few months to correct the level of stock and exports.
The volatility in the exchange rate provides the risk of increase in food, energy and transport costs, and will have a negative impact on consumers' Disposable Income.
Household Debt to Disposal Income remains high at 75.8% (Q2 of 2013 latest available update).
Standard Bank VAF Stats:
For the period January to September 2013 Standard Bank experienced positive growth of 33.2% in applications compared to the same period in 2012.
The average contract term has risen from 63.7 months to 67.1 months (Jan 2012 to Sept 2013) whereas the Average Term the account is retained is 40 months.
The percentage of deposits to total applications has been decreasing, while the percentage of applications with residuals values to total applications trend is increasing consistently over the past two years. This indicates that the consumer is attempting to ensure that the monthly repayment is kept at a minimum.

The % of applications with deposit has decreased from 37.5% to 29.0% and the % of applications with RV's has increased from 8.9% to 15.5% (Jan 2012 to Sept 2013).
Other general topics of interest:
Labour and Government Programmes

In view of the seven week long strike that impacted the automotive component and manufacturing sectors, car manufacturers will be unlikely to meet the expected production and sales figures projected at the beginning of 2013, as they play catch up on stock shortages caused by the strike action.
Trade and Industry Minister Rob Davies announced the launch of a R63 million Automotive Supply Chain Competitiveness Initiative. The Department of Trade and Industry (DTI), vehicle manufacturers and organised labour have committed to work together to ensure the long-term stability in the South Africa's automotive industry. Key Stakeholders have committed to work towards ensuring the long-term competitiveness of the sector, including deepening the value chain, ensuring the long-term stability of supply and productivity.
Government Employment & Car Sales

With the redistribution of wealth occurring in the non-white race groups, we see that African's contribution to the total vehicles owned in South Africa has grown considerably from 23.8% in 2004 to 43.8% in 2013. Historically Disadvantaged race groups in general have grown by 120.2% from 2004 to 2013. These Historically Disadvantaged race groups contributed 60.8% of the total number of vehicles on the road in 2013; this has grown from 38.6% in 2004.  (All Media and Products Survey 2013)
Public Sector employment has increased by 3% in its contribution to the total employed population since 2008. With such growth the Private Sector's contribution to the employed still sits above two thirds but the percentage contribution of Private Sector to the employed population has decreased by 2% since 2008. (Gov. spending source: Trading Economics and Stats SA).
Approximately 70% of the Public Sector's employed are African, and with the Public Sector driving employment in recent times it can be deduced that those employed in the Public Sector have contributed to the sales growth seen in the motor industry.
This growth could be seen to be driven by the Black Middle Class. Young African females and males have increased their importance in the vehicle market such that they are key drivers in the industry. This trend can be seen in Standard Bank's composition of vehicle contracts. Standard Bank Vehicle and Asset Finance book shows that Africans make up 59.5% of the book, and younger Africans (18 to 35 year age group) make up 18.7% of the total book.
[ Comments on NAAMSA New Vehicle Sales Report – October 2013 by Sydney Soundy – Head of Standard Bank Vehicle Asset Finance]