Correctional Services Minister says electronic monitoring will ensure prompt assistance for victims of domestic violence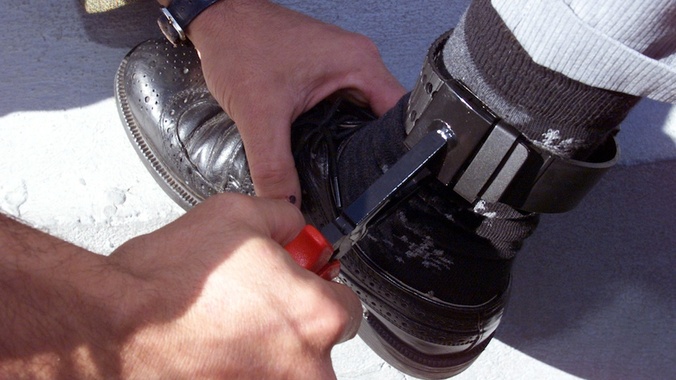 Correctional Services Minister Sibusiso Ndebele says electronic monitoring of offenders will ensure prompt assistance for victims of domestic violence.
Addressing the Department of Correctional Services (DCS) campaign on the 16 days of activism on no violence against women, children and people with disabilities at the Johannesburg Correctional Centre today (27th November), the Minister said: "Our founding President, Nelson Mandela, points out, 'There can be no keener revelation of a society's soul than the way in which it treats its children.' For President Mandela, 'we owe our children – the most vulnerable citizens in any society a life free from violence and fear.' To this end, this campaign is not just to place a moratorium on violence against women, and children during the 16 days. The 16-day period provides us an opportunity, as a collective, to focus on devising ways, and means, of tackling the challenge of gender-based, and child-directed, violence, and to re-commit ourselves to eradicating this scourge. This requires a collective response, from non-governmental organisations (NGOs), civil society, business, the religious community and organised labour, as we are all partners towards finding a solution. The campaign also allows us to build on the increased public vigilance, and general awareness, generated over past years. This year's DCS programme is being held under the theme: 'Vikela Mzansi – Kwanele! Correctional Services and Communities United in Preventing Violence against Women and Children'.
"Through electronic monitoring of offenders, we want to protect victims of domestic violence. Should the domestic violence perpetrator start drinking and displaying violent tendencies, the partner could just press a button so that help could be dispatched before anything happens. Victims of domestic violence can be given a receiver that alerts them when the perpetrator comes within a set distance of them. The device acts as a panic button that can be used to alert officials of impending danger. The electronic monitoring GPS device keeps Correctional Services aware of the movements of offenders' 24-hours-a-day, and triggers an alarm at the control room once an offender enters a restricted zone. It also acts as a cellphone, enabling officials to contact offenders. The device also helps in monitoring repeat offenders, as it enables the police to know whether a tagged offender was near the scene of a crime.
"Between April and September 2013, of South Africa's total sentenced offender population, 19,026 inmates (approximately 18%) were serving sentences for sexual-related crimes. Through the campaign, DCS will raise awareness of rehabilitation programmes geared towards changing the behaviour of offenders convicted of crimes of violence against women and children. A series of activities are being undertaken in the 243 correctional centres across the country, to create awareness on the scourge of violence against women and children as well as the need for correctional services to stand together, with communities, to contribute towards ending the violence. Offenders, victims, correctional officials, communities and various other stakeholders will participate in these activities. These include our Victim-Offender Dialogues, as well as programmes geared towards enhancing offenders' development and facilitation of their reintegration back into communities as changed persons. This process embraces the 5Rs – Regret, Remorse, Reconciliation, Rehabilitation and Reintegration. We must all play our part in ensuring that those who are incarcerated emerge as better citizens for a safer South Africa.
"Other interventions include:
Ensuring safe custody towards zero escape of perpetrators of women and child abuse;
Strengthening gender education, and rehabilitation of women and child abusers, in our care;
Inspiring current offenders, and parolees, to speak out and campaign against this social ill;
Continuing to place victims of women, and child, abuse at the centre of our rehabilitation, electronic monitoring and other efforts;
Mobilising, and empowering, officials as activists against the scourge of women and child abuse; and
Sparing neither effort, nor strength, to raise awareness of the negative effects of gender-based violence, drug and substance abuse.
"All forms of violence, whether perpetrated in the public or private sphere, are a violation of human rights and human dignity. This period provides every South African with a unique opportunity for introspection. We hope that it will result in a new resolve to change attitudes and behaviour. We re-commit to servicing the victims, and survivors, of violence with sensitivity, as well as the necessary determination to punish the perpetrators of violence in the home, in communities and the workplace.
"As DCS, we will be counted among millions of South Africans, and peace-loving peoples of the world, in saying 'Enough is Enough of Women and Child Abuse'. We reiterate the principles for a safer, and human rights-based, society. We join the nation in saying the abuse of women, and children, is a threat to our hard-earned freedom. As we march towards our third decade of freedom, we must intensify our zero tolerance to women, and child, abuse. Again we say, VIKELA MZANSI – KWANELE!" the Minister said.