Première of Brave Miss World at Ster Kinekor's around South Africa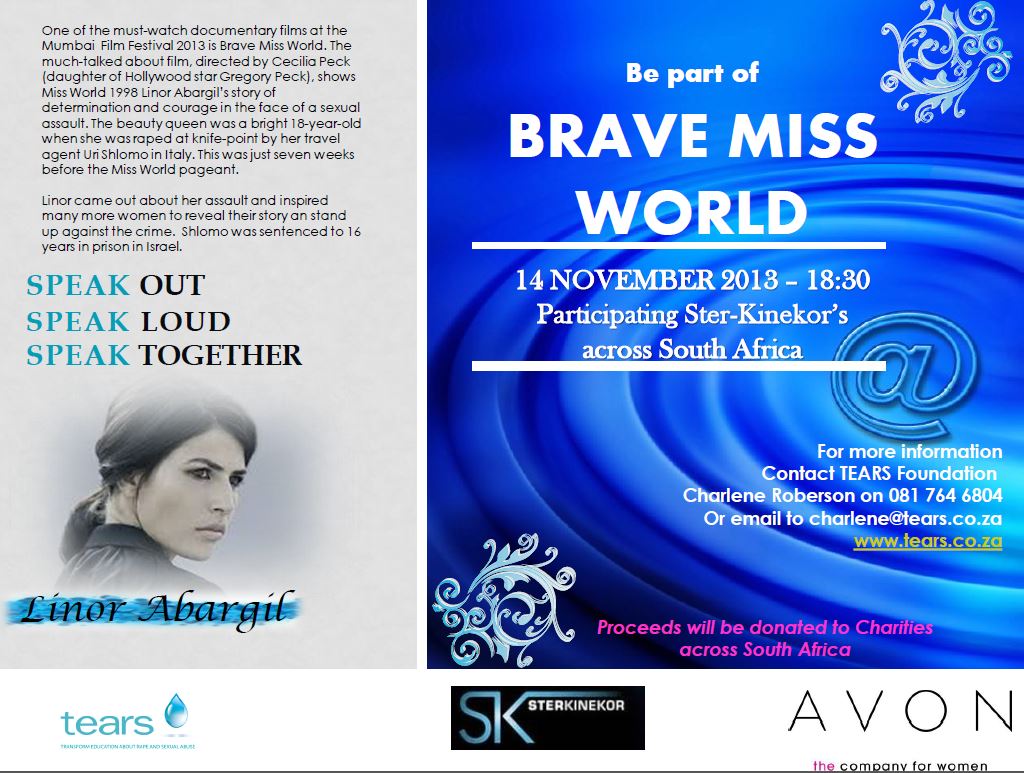 Ster-Kinekor will be partnering with  TEARS  (www.tears.co.za) to bring the South African premier of the documentary BRAVE NEW WORLD to South African screens. This poignant drama that focuses on rape will have numerous premieres throughout November at Ster-Kinekor cinemas in South Africa.
These screenings will be sold to Charities to raise funds and awareness on this issue. These screening will also be to maximize exposure.
Première of Brave Miss World at Ster Kinekor's around South Africa
2013 must-see
Brave Miss World, the much-talked about film, directed by Cecilia Peck (daughter of Hollywood star Gregory Peck tells the tale of Linor Abargil tied up and raped at knifepoint. Linor managed to escape! She's passionate to find other victims of the same rapist, and make a documentary about how to speak out!
Oh, and she was crowned "Miss World" just seven weeks after being raped.
Cecilia Peck's BRAVE MISS WORLD follows Linor's decision to speak out about her rape after ten years, and gives voice to her ongoing process of healing.
Nation Wide – 14thNovember 2013 – Ster Kinekor's across South Africa has combined forces with Tears  (www.tears.co.za), Avon (www.avon.co.za) and local service providers such as Life Line Vaal, Durban and Zululand,  Grip in Mpumalanga  etc. (See more details below)
Avon is committed to its program to end Violence against Women in South Africa. Since 2008, the company has been selling Empowerment products to raise funds towards this cause. TEARS is one of Avon's Strategic partnerships to ensure greater awareness and help for victims. Avon has donated one purse to each attendee of the Brave miss world premier nationwide.
The story follows Linor's journey as she meets with other survivors around the world and her journey as she tries to turn a personal tragedy into global awareness.
Linor spends her time touring the world, looking for people who need inspiration, edification and freedom from their darkest nightmares. She encourages people across the globe, bringing back the beauty that once was.
Abargil even met with actress Joan Collins, who exclusively divulged the details of her alleged own rape for the first time on camera, according to Peck. Collins said she was a 17-year-old virgin when she was drugged by a "famous star" and raped on his couch. But she ended up marrying him, leaving viewers to assume that this is Maxwell Reed, Collins's first husband.
Abargil also meets with actress Fran Drescher, who was raped at age 27—along with her friend—when armed robbers broke into her house and tied up her husband. "We just did what we were told," Drescher said while tearing up. "But the detective told us that we had done everything right because we lived."
It is shocking to hear the details of the rapes of these big stars. But perhaps even more heart-wrenching are the stories of seemingly typical women and girls whom Abargil interviewed, which are interspersed throughout the film.
Abargil encourages survivors to speak out and not let their rape define who they are. As proved in the film, it seems like once one victim of rape comes forward, others follow 10-fold.
"Speaking is the best medicine you can give yourself," she says. "You cannot keep the pain inside; it will become bigger until it eats you alive. You need to take the bad out of your system, look at it, and deal with it. Otherwise, you carry it on your back for the rest of your life."
This is the true story of Miss World 1998, speaking out and encouraging others to do the same!
This is a sensitive and compassionate portrayal of the global issue that not only destroys the survivor mentally and physically and also denies them a life of dignity.
Mara Glennie founder of Tears says believe that rape and sexual abuse can be continually decreased in our country though working together hence their initiative to invite 15 national service providers to each host a premier event they plan to continue to work together to bring about the awareness of preventing and dramatically reducing rape and sexual violence in South Africa.
Tears recently launched a nationally accessible helpline *120*7355# that connects rape and sexual abuse victims to a service provider within their immediate vicinity for assistance. This is a first of its kind in South Africa and the world. This innovative concept was nominated as one of the 5 top innovations by 2 entities, Accenture & South African (SAIF).
See trailer: http://www.bollywoodlife.com/news-gossip/mumbai-film-festival-2013-must-see-brave-miss-world-film-on-rape-survivor-linor-abargil-watch-trailer/
IF you want to see this must view please contact Tears Foundation
Mara Glennie Email: mara@tears.co.za
We look forward to partnering and making these screenings a success.
Clive fisher
Ster-Kinekor Theaters