Ctrack unveils South African Police Service sponsorship promoting sport and fitness within the service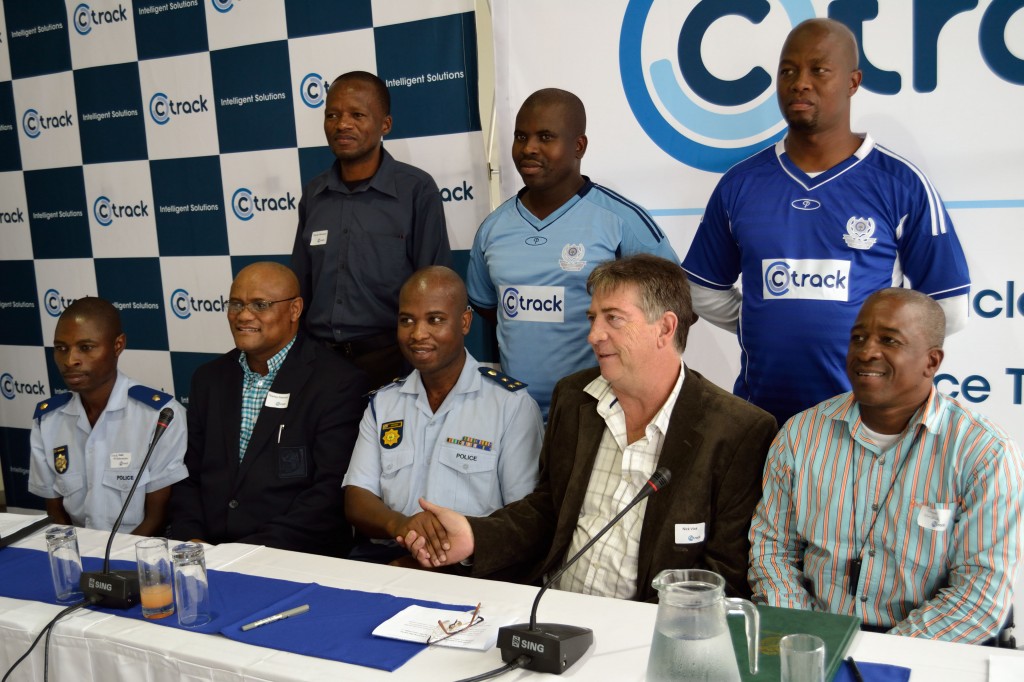 With its growing sports engagements and commitment to the development in various fields it operates in, Ctrack, is now the new sponsor for the South African Police Service Head Office soccer teams. In a joint announcement, Ctrack and the SAPS Head Office Football Association unveiled the new sponsorship at Ctrack's Pretoria offices.
"Ctrack would like to show their involvement in other sporting codes like soccer and to create a healthy and relaxed atmosphere for our hardworking police men and woman," says Nick Vlok, CEO of DigiCore, supplier of Ctrack.
SAPS depends on the physical health of its members to deliver on its core business and in line with supporting a "healthy mind on a healthy body" the sponsorship will further promote a healthy life style increasing the activeness of the members of the police force and thereby minimising illnesses like Body Mass Index, cholesterol and high blood pressure.
Ctrack will support the SAPS Head Office League, an affiliate of SAFA (South African Football Association), with 23 soccer kits, 270 medals and 3 trophies.
The current Soccer League feeds into a Provincial Soccer Team which participates in a National Police Tournament organised on an annual basis by the South African Police Service Soccer Federation (SAPSFA). "Our National Soccer Team also participates in Regional Games and plays internationally with other policing agencies," says Brigadier Moses Makubo, Division HRU. "We appreciate and welcome Ctrack's sponsorship to contribute positively in promoting soccer within the SAPS."
"We are delighted to be involved with this project as its part of our commitment to champion working with the SAPS. We are already the associate sponsor to the Titans cricket team and we are taking steps necessary to see our involvement in sports grow even further", says Vlok.  . During the National Championships the Provincial Soccer Teams become integrally involved in community work and schools. "We too are involved with schools through our bus safety programme that has been operational for two years", concludes Vlok.
The first game will take place on 5 March 2014 at the Union Buildings facilities. Games, from league games to competition matches and the national championships, can be watched and attended by members of the public.
About DigiCore and Ctrack
Ctrack is part of JSE-listed DigiCore Holdings and specialises in vehicle tracking, fleet management solutions and insurance telematics for a global client base. With more than 28 years of innovation, technical and implementation experience, Ctrack is recognised as a world-leading provider of advanced machine-to-machine communication and telematics solutions that adds value to this global base of customers with mobile assets.
Ctrack's end-to-end research, design, development, manufacturing, sales and support of customised solutions for customers is serviced by a global network of staff and team members in more than 50 countries. The company's technology and electronic division designs and develops a robust range of asset management and monitoring systems using GPS satellite positioning, GSM cellular communication systems and other advanced communication and sensory technologies. The result is innovative and advanced machine-to-machine communication that provide Ctrack customers with 24x7x365 information and monitoring of their mobile assets that help them to achieve operational efficiencies and cost reduction targets.
Operations span six continents, with over 1,000 employees and more than 750,000 systems sold.