Imagine South Africa today as a village in which 100 adults live…This is what it might look like!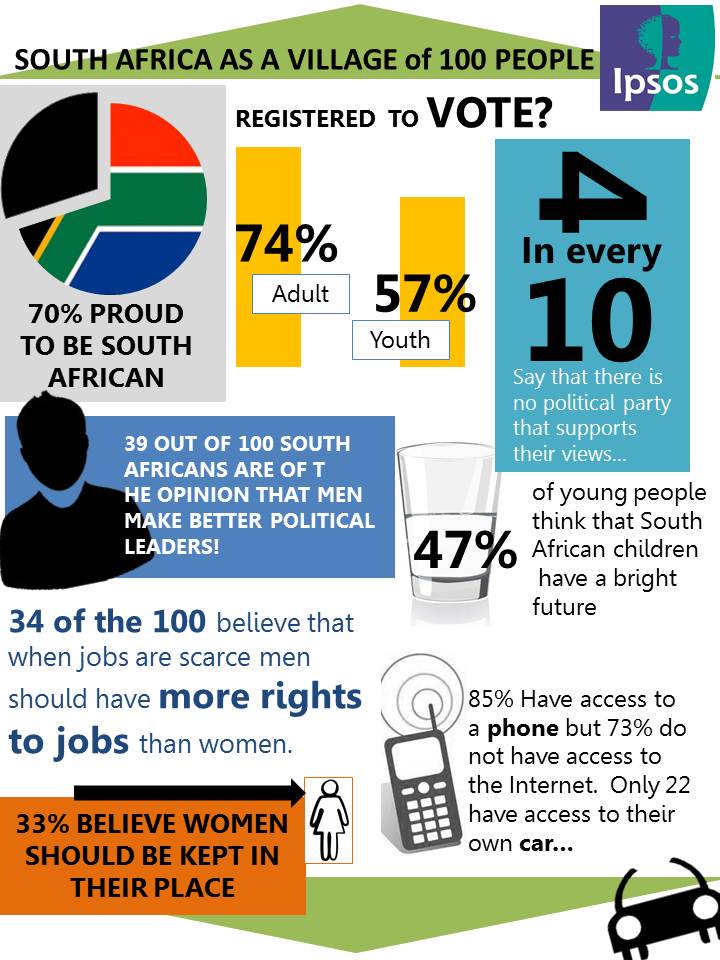 Imagine South Africa today as a village in which 100 adults live.  In this village, almost 7 out of every 10 people (69 out of 100) are proud to be South African.  This feeling is shared by women (36 out of 52) and men (33 out of 48). Young people of 18-24 years old (including the "Born Frees" are marginally more proud to be South African (71%).
The people of the village are going to vote for a new government soon and almost three quarters of them (74 out of 100) are registered to vote. However, in spite of marketing efforts to convince young people that they should also register to vote, only 57% (that is less than 6 in every ten young people) are registered.  There might be a number of reasons for this attitude, but in the rest of the world governments are also struggling to convince young people that voting will be to their advantage.
An opinion shared by almost half (48 out of 100) of the villagers – young and old – are saying that things are going in the wrong direction in South Africa.  Looking ahead to the coming election, four in every ten (40 out of 100) say there is no political party that represents their views.  They are rather overwhelmed with the plethora of parties and almost half (49 out of 100) of young and old say that political parties with support of 5% or less cannot be effective and should merge with larger parties.
A view that is still very prevalent in the South African village is that men make better political leaders than women do! 39 out of the 100 villagers are of this opinion – 21 of them men and 18 women.  It is also very interesting that young people in South Africa are not necessarily more in favour of gender equality than their parents and 42% of the 18-24 age group would rather put their trust in a male political leader – as opposed to a female leader.
Looking ahead, this relative despondency about politics is also mirrored in other views on the future: only 44 out of the 100 villagers think that their children have a bright future ahead of them. Optimism is usually associated with youth and in this case 47% (less than half) of young people think that South African children have a bright future lying ahead.
Of the 100 villagers 52 are women and 48 are men. Twenty-one of the women (40% of women) receive a grant from the government, but only 13% of the men do.  One of the main reasons for this discrepancy is because almost two-thirds of the women (33 out of 52 / 64%) live in a household where there are children to be looked after.  Only 22 men (46% of the 48 men) have kids in the house.  This is firmly supported by a widely held belief of 30 out of the 100 villagers that a woman's place is in the house – equal numbers of men and women share this view.
Although there is no big differences in education between males and females, in the village 2 men and 2 women have university degrees and about four in every ten have completed matric, a quarter of villagers (26 out of 100) say that a boy has more rights to education than a girl.  This opinion definitely spills over to the workplace and a much larger proportion of males than females in the village work:
| | | |
| --- | --- | --- |
| | % of women working | % of men working |
| Working full-time of part-time | 30 | 41 |
| Student | 10 | 15 |
| Retired | 12 | 10 |
| Housewife | 8 | – |
| Unemployed | 40 | 34 |
This situation is also supported by a view of 34 of the 100 villagers believe that when jobs are scarce men should have more rights to jobs than women. This view is shared by 31% of women, 37% of men, but also by a third of the youth (35%).  Youth unemployment is again one of the issues that all governments in the whole world are confronted with, but the view that men have more rights to a job is definitely supported by the demographics in the village – not only are a third of men (see below) in the younger age groups (as opposed to a quarter of women), but the statistics of youth unemployment make sobering reading: 17% of young people work (either full-time or part-time); 33% of them are students; 1% are housewives and a staggering 49% are unemployed.
| | | |
| --- | --- | --- |
| | % of women | % of men |
| 15-17 | 4 | 4 |
| 18-24 | 20 | 29 |
| 25-34 | 23 | 21 |
| 35-49 | 26 | 24 |
| 50+ | 27 | 22 |
The competition for employment can directly contribute to the opinion of a third of villagers (33 out of 100) that "South African women should be kept in their place".[1]
Technology can possibly be seen as an "equaliser" and 85 out of the 100 villagers – equal proportions of men and women have access to a cellphone, but, the more sophisticated technology, like access to the internet is still more accessible for males than for females.   In total 73% of the women and 69% of the men have no access to the internet.
| | | |
| --- | --- | --- |
| | % of women with internet access | % of men with internetaccess |
| Via cell | 23 | 27 |
| @ work | 8 | 9 |
| @ home | 5 | 7 |
In general cars are still a luxury in the South African village and only 22 people in the village have their own cars – of then 10 are female and 12 male.
Technical detail:
A total of 3564 personal face-to-face interviews were conducted with randomly selected adult South Africans. The interviews were done in the homes and home languages of respondents.  Trained quantitative fieldworkers from all population groups were responsible for the interviewing, which took place from 22 October to 21 November 2013.  This methodology ensured that the results are representative of the views of the universe and that findings can be weighted and projected to the universe – i.e. adult South Africans.
Interviews were done using CAPI (Computer Assisted Personal Interviewing) and all results were collated and analysed in an aggregate format to protect the identity and confidentiality of respondents.
All sample surveys are subject to a margin of error, determined by sample size, sampling methodology and response rate. The sample error for the sample as a whole at a 95% confidence level is a maximum of 1,67.
About Ipsos
Ipsos is an independent market research company controlled and managed by research professionals. Founded in France in 1975, Ipsos has grown into a worldwide research group with a strong presence in all key markets. Ipsos ranks third in the global research industry.
With offices in 86 countries, Ipsos delivers insightful expertise across six research specializations: advertising, customer loyalty, marketing, media, public affairs research, and survey management.
Ipsos researchers assess market potential and interpret market trends. They develop and build brands. They help clients build long-term relationships with their customers. They test advertising and study audience responses to various media and they measure public opinion around the globe.
Ipsos has been listed on the Paris Stock Exchange since 1999 and generated global revenues of €1,712,4 million (2 274 M$) in 2013.
Visit www.ipsos.co.za to learn more about Ipsos' offerings and capabilities.
[1] This view is shared by 34% of males, 32% of females and 36% of the youth.