What are some of the significant challenges for a businessman moving to Australia?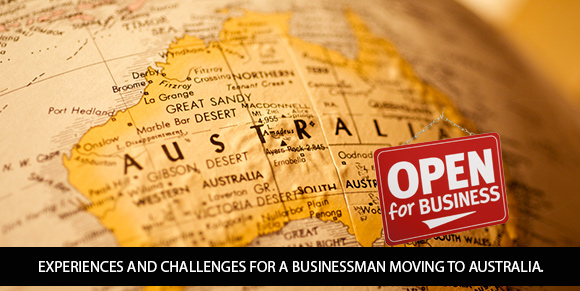 We recently shared some information on how insurers make information available to clients on weather conditions that might threaten their lives, businesses, homes and vehicles. We also reflected on insurers in other countries such as Australia where hazards such as bush and veld fires are more prevalent and an insurer such as Youi have strategies in place to assist the victims in a timely and professional manner.
We can learn from the experiences not only from insurers in foreign countries but also from the individuals and families leaving South Africa behind and relocating to those countries!
Have you ever considered closing your business in South Africa, moving to a foreign country and then starting a business there?! This is definitely not something for the faint hearted and something to consider with caution and after doing lots of research!
My friend Terry did just that! Having sold his business in Bloemfontein he relocated/ emigrated to Australia and are now running a business there! We decided to approach Terry and gain some insights on what some of the significant challenges might have been for him.
When did you emigrate to Australia?
We migrated in 2009
Before you moved to Australia – what did you do to enquire about the businesses opportunities available in Australia?
I went to business brokers and checked online for businesses for sale in my area.
What industry are you operating in –Would you describe this as food retail – for how long in Australia now and how long was your experience in South Africa in this field?
Dominos Pizza and yes it's food retail. It's now 5 years and I've been in this field in SA for 12 yrs.
What were your biggest fears about doing business in another country?
Not having the right contacts as I was foreign to everything. Having said that running a business here is way different as opposed to how we run business in my sector in SA.
Do you believe that operating a business in a field you are familiar with / are experienced in would reduce some of these risks to you as a businessman?
I can honestly say that my previous experience in Pizza Parlour and joining a franchise was almost worthless. Simply the franchise expects you to do things entirely their way and therefore train you their way. Obviously it's good to have experience in a field. Needless to say it's easier and proven.
What do you believe are important different risks to the business in Australia to what you experienced in South Africa?
It's very competitive and "cut throat".
The consumers are very price value and online orientated.
Australians support mostly their own brands.
Labour costs are very high here in Australia.
It equates to 30% in my business as opposed to when I was there it was 10-12% although a lot more competent.
With wages being so high, one cannot afford to not work as you will be paying high wages.
I also find employees are very transient – they easily move around to next work and new area.
Bear in mind everything gets paid weekly here like rent and wages etc..
Forces people to budget I guess?
For business protection and insurance – how did you go about getting guidance on who to approach and what to do? Did you consult other businessmen, financial advisors, friends, the internet – or were the franchisor able to provide important advice?
In my case the Franchisor has like a bulk policy for the Franchisees.
Did you also enquire about personal insurance such as life insurance?
Yes, there are quite a few personal companies amazingly even the banks that offer insurances.
Reflecting on how you did everything – is there anything you would have done differently?
I guess in my case I chose to stick with what I known in SA and went that route expecting it to be more or less similar but it's not.
What would be the best advice you would like to offer to a businessman considering to move to Australia and start his business there?
Be prepared to work hard and do his due diligence.
It's not that easy if you not prepared to work hard and obviously have enough capital.