Two suspects manufacturing "black dollars" arrested in Durban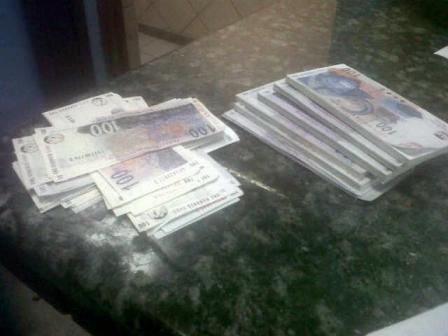 On 23 April 2014, members of the Durban Flying Squad Narcotics task team received the information of people involved in the black dollar scam at Winder Street, Point. The members proceeded to Olwyn Court where they found 84 hundred notes of counterfeit notes, a cannon copy printer and equipment used to produce black dollars. The total value of the recovered money is R9, 500.00.
The members preceded with their operation to Chatsworth where they arrested two suspects aged 39 and 45 for dealing in drugs yesterday 24 April 2014. The members received information of dealing and manufacturing of narcotics at Westcliff Unit 3, Chatsworth.  They found 4951 straws of heroin and equipment used to manufacture heroin sugar straws. The suspects were then arrested and charged with dealing in drugs. The total value of the recovered drugs is R123,  525.00. They are appearing in the Chatsworth Magistrates' Court today 25 April 2014.