Three Kimberley business burglary suspects caught in the act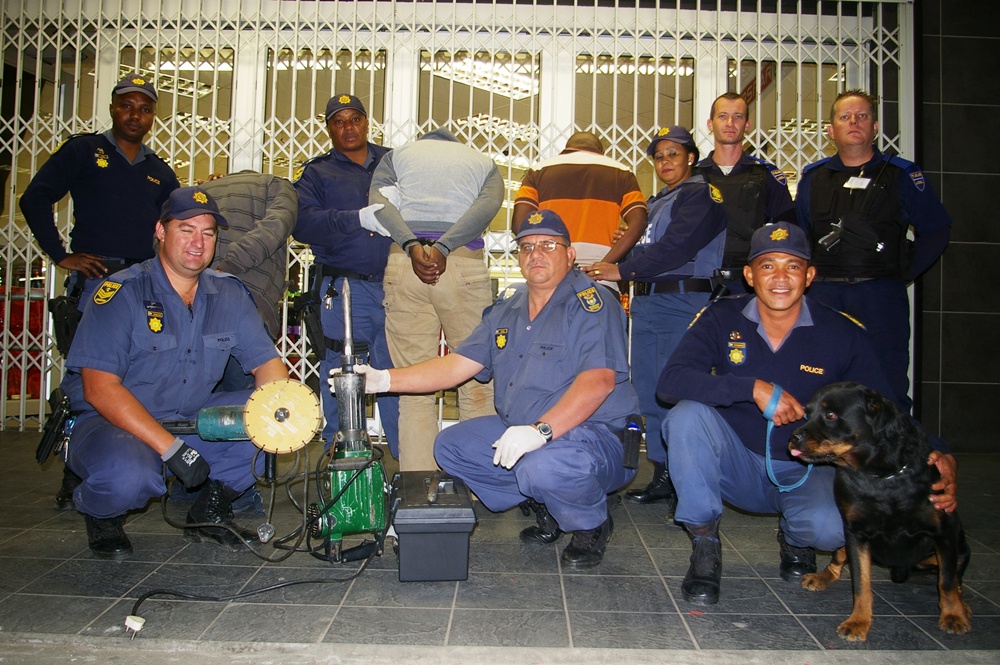 Kimberley Police are investigating a case of business burglary after three men were arrested on Tuesday, 29 April 2014, at a local supermarket in the Kimberley Central Business District.
The Kimberley SAPS B-Relief Members were busy with routine patrols, just after midnight, when they spotted a man carrying a heavy bag. The suspicious looking man dropped the bag containing a jack hammer and fled when he saw the approaching police. The police managed to arrest him after he jumped a fence at a nearby business. Another suspect was arrested on the roof of the premises, with the help of Top Security Systems (TSS) and the SAPS Flying Squad. The SAPS K9 unit were also summoned to the scene with the assistance of a patrol dog (Bushy), arrested a third suspect inside the supermarket. This suspect was caught next to the cash office where the safes are situated with a grinder, grinding discs, extension cords and screw drivers. The three suspects are between the ages of 30 and 50 years old and are from Mamelodi and Soweto in Gauteng.
"The Kimberley Cluster Commander Maj Gen Jean Abrahams lauded the team for a spectacular job done.  Partnership policing is always effective and brings forth great results such as these." The suspects should be appearing in the Kimberley Magistrates' Court soon. The investigation continues.
Also view:
Does your alarm system meet the requirements of business insurance?