Vehicle buyers cautioned to be responsible when taking up vehicle finance facilities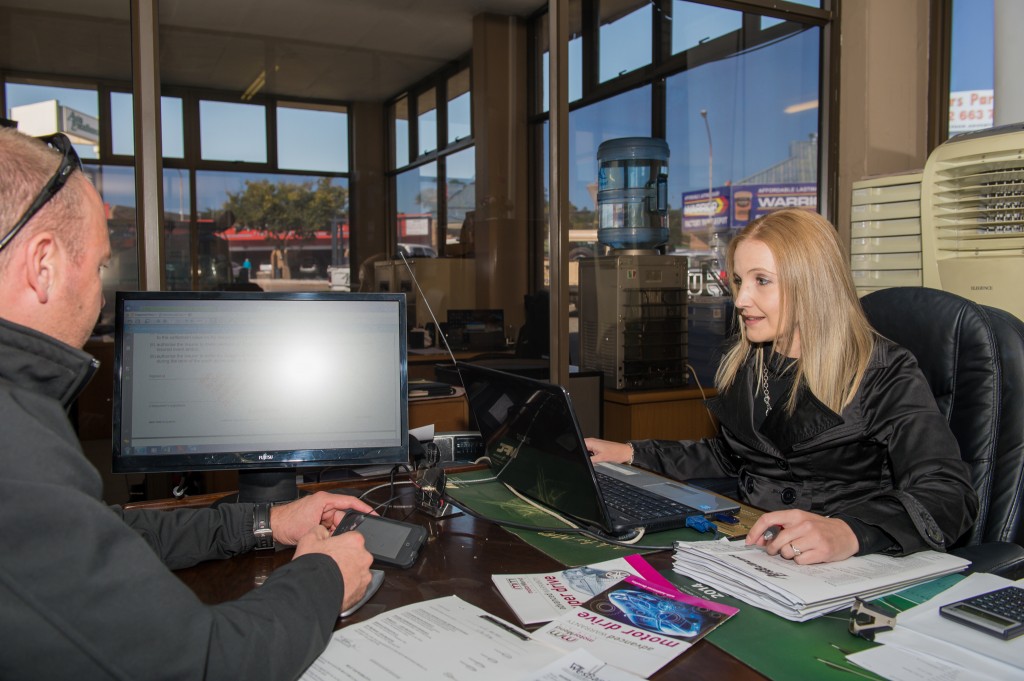 Sales Performance Summary – Total by Market Segment (NAAMSA flash includes Namibia, Lesotho, Swaziland & Botswana):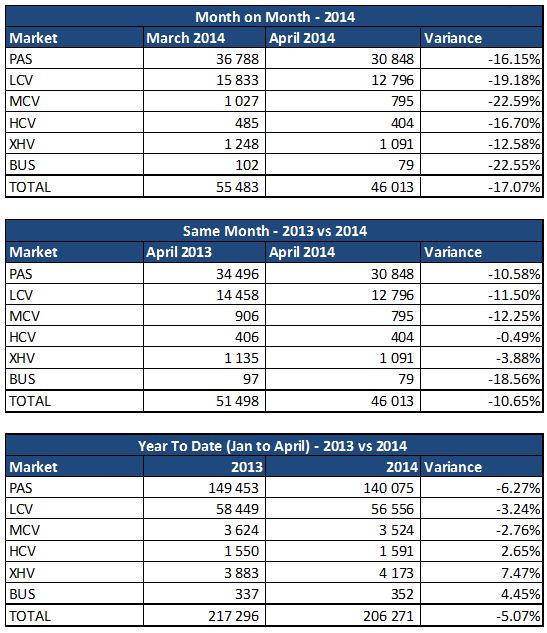 Sales Performance Summary – Exports: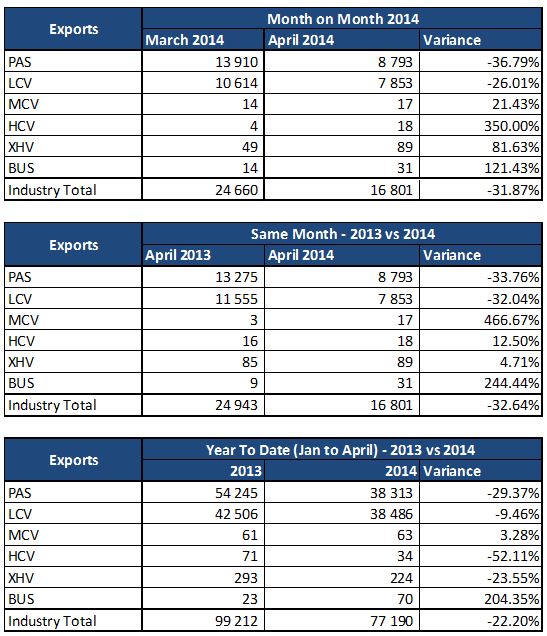 Sales Performance Summary – AMH:
General Comments on April 2014 NAAMSA sales:
The month of April 2014 experienced a -17.07% decline in sales compared to March 2014.
Month on Month and Year on Year all goods types experienced negative growth.
Year on Year monthly comparison shows a decrease of -10.65% in April 2014 compared to April 2013. The average sales per day in April 2014 were less than April 2013.
Year to date (January – March 2014) comparisons shows that vehicle sales are down by -5.07% in the first four month months of year when compared to last year.
The month of April has experienced a very disruptive month due to the number of public holidays and the effect this has on the actual number of business days.  Once again resulting in experiencing the lowest volume in 2014.
Month on month Exports dropped significantly in April (-31.86%) with Passenger and Light Commercial Vehicles being the main contributors.
AMH & AAD saw a decline in April, although at a slightly lower percentage of -11.06%.
General Macro and Industry Comments:
At the last MPC meeting held at the end of March the governor of the reserve bank chose not raise the repo rate. SA consumers have already seen a 0.50 bps rate hike in the beginning of the year (end of January), while economists are still forecasting another rate hike at the next meeting which will be held in the third week of May.
Headline annual inflation rate (CPI) increased from 5.9% y/y in February 2014 to 6.0% y/y in March 2014. On average, prices increased by 1.3% between February 2014 and March 2014. Transport index increased by 1.6% of a percent point between February 2014 and March 2014, this was mainly due to a 36c per litre increase in petrol price. The annual rate decreased to 6.9% in March 2014 from 8.0% in February 2014.
Standard Bank research forecast that inflation peaks in Q2:2014 at 6.2% and averaging at 5.8% for the year.
Fuel prices have risen by 35.8% in petrol (inland) and risen by 29.4% in diesel (inland) since Jan 2012 to April 2014. Further, the price of fuel in the country has gone up by 274.6% in petrol and up by 296.5% in diesel since Jan 2004. Fuel prices have risen by 84.6% in petrol (inland) and risen by 92.9% in diesel (inland) since Jan 2010 to April 2014. Further, the price of fuel in the country has gone up by 291.2% in petrol and up by 429.2% in diesel since Jan 2001.
The rand has strengthened slightly against the dollar after averaging around R10.98 to the dollar in February to R10.76 in March 2014. The rand traded between a low of R10.73 and a high of R10.85.
Standard Bank VAF data:
The Average Contract Term continues to rise as consumers search for affordability, from 66 months to 66.7 months (March 2013 to March 2014). The Average Term that a deal remains at book is currently at 38.24 months for the month of March.
The percentage of Applications with Deposits to Total Applications is now remaining relatively flat month on month, while the percentage of Applications with Residual Values to Total Applications trend is increasing consistently over the past two years, but remaining within a set banding over the last couple of months.
The % of Applications with Deposit has decreased from 37.5% to 31.8% and the % of Applications with RV's has increased from 9.7% to 15.2% (March 2012 to March 2014).
Affordability is one of the biggest factors when it comes to consumers looking to buy cars. These statistics highlight the fact that the consumer has become savvier in order to stretch their affordability and purchase vehicles that they have aspired to own.
The general advice for consumers is to be cautious and responsible when taking up lending facilities, this remains increasingly relevant today, as has been the past. Consumers are advised to take up lending facilities that suit their pockets and for which their repayments/instalments still leave room, or cushion for unforeseen cost increases. Lengthening of finance terms and building of higher residual values into vehicle finance contracts aimed at reducing instalments need to be approached by consumers with utmost caution – the structuring of deals in this way may resolve affordability in the short term, but do not necessarily alleviate long term debt commitments that may be impacted by changing economic conditions. 
Factors that will inhibit growth include the following:
Low level of economic growth is expected in 2014, 2.1% for 2014 (Standard Bank Research).
High level of unemployment (24.1%) is expected to persist.
Rising inflationary pressures will remain a challenge. Food, fuel, above inflation wage settlements, as well as Exchange Rate fluctuations will pose risks to the inflationary outlook.
Exchange Rate fluctuations will also have an impact on vehicle pricing. With two thirds of vehicles sold in RSA being imported (NAAMSA) pricing will be vulnerable to a depreciating Rand.
The Bureau of Economic Research's Retail Survey shows Retail business confidence decreased by 9 index points to a level of 40 in Quarter 4 of 2013.
The vehicle replacement cycle may have reached its peak, putting further dampening pressure on sales growth.
Factors that may assist growth in 2014:
Even with the recent 50 bps increase in the repo rate, the interest rate environment remains favorable for financing of vehicles. However, with the increasing likelihood of upward movement of interest rates in the course of the year this could put more pressure on consumers buying power.
We have seen an increase in new vehicle prices due to the pressure of exchange rate fluctuations. However, prices of vehicles have grown at a lower rate than that of Consumer Price Inflation. New Vehicle Prices have grown by 3.79% for 2013.
There is still demand in the second hand market. This bodes well for the new car market as it enables trade-in to be feasible.  2013 experienced a negative growth in used car pricing, ending the year 2.2% down from 2012.
The South African vehicle market remains competitive – with South Africans crazy about cars, manufacturers are pushing creative marketing and incentive programmes as they fight for market share.
New model introductions, extended warranties, service plans and sales incentive schemes will remain prevalent in a consumer friendly sales environment.
The steady growth of the middle class will continue to drive sales growth in the market.
[Comments on NAAMSA New Vehicle Sales Report – April 2014 by Nicholas Nkosi – Head of Standard Bank Vehicle and Asset Finance – Personal Markets]
Also view:
Buying a Vehicle Vehicle Finance and Road Safety