Fourth successive podium for Castrol Team Toyota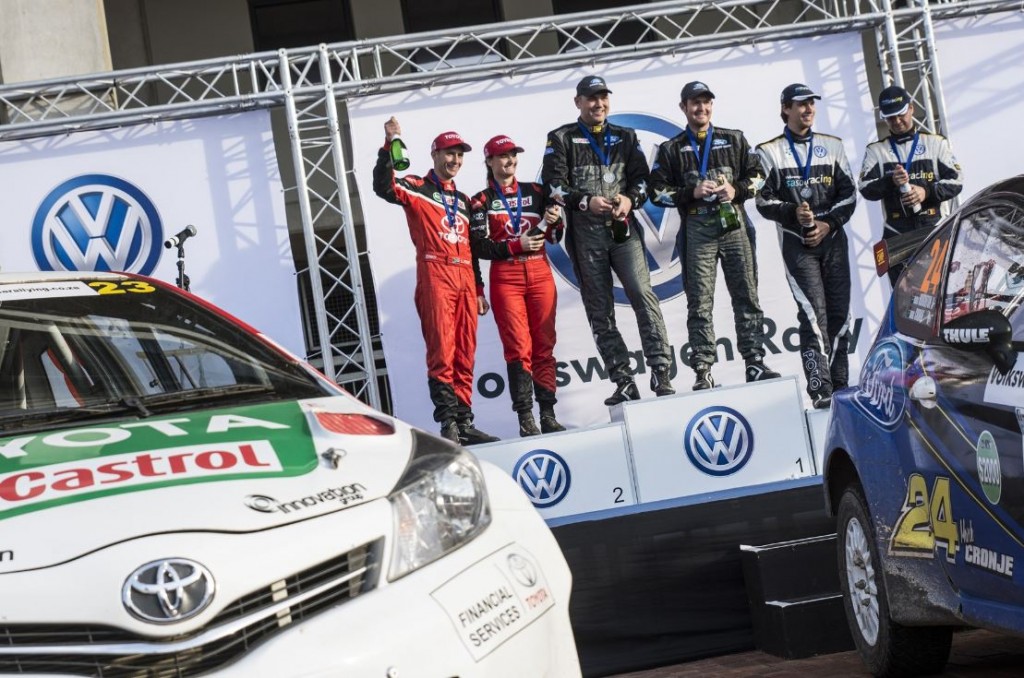 Second overall for Leeroy Poulter/Elvéne Coetzee
Poulter extends overall lead in championship
Fourth successive Class S1600 win for Guy Botterill/Simon Vacy-Lyle
It was a weekend of mixed results for Toyota Motorsport on the Volkswagen Rally, which took place in and around Port Elizabeth on 11 and 12 July, 2014. The event saw championship leader Leeroy Poulter and navigator Elvéne Coetzee extend their lead, thanks to a stunning second place finish, despite a tough start to their rally.
"We had a lot of problems with dust at the start," explains Poulter. "Stage One was a twisty affair near the Oval, and we ended up driving into our own dust a couple of times. To make matters worse, we had a lot of dust coming into the car, and it cost us a lot of time."
The pair battled on despite the dust, and managed to slot into second place behind the eventual winners, Ford Fiesta driver Mark Cronje and navigator Robin Houghton. Poulter/Coetzee traded blows with the Ford pairing throughout the event's 15 stages, but eventually had to settle for second overall.
"Of course we would have preferred a win," reckons Team Principal Glyn Hall, "but a second place on the VW Rally is always welcome. And this performance puts Leeroy comfortably in the lead of the championship, with four events to go."
Poulter started the weekend tied for the championship with his Castrol Team Toyota teammate Hergen Fekken. Unfortunately a severe misfire put paid to Fekken's effort shortly after the start of rally, preventing him from taking further part in the event.
Giniel de Villiers and navigator Greg Godrich, in the Imperial-supported Toyota Yaris S2000 started the event exceptionally well. They posted competitive stage times throughout Day One, and was in an exciting dice for third place with the Dutch and Belgian Volkswagen pairing of Hans Weijs and Björn Degandt.
"I reckon this was Giniel's best rally so far," says Hall. "Such a pity that their great run was cut short first by a misfire, followed by other engine problems – they really showed their true pace this weekend, and I'm certain we'll see some great results from Giniel and Greg before the season is over. We'll be investigating the cause of both Giniel's and Hergen's misfires, and put a fix in place before the Cullinan Rally."
De Villiers/Godrich's race time when they exited the event was good enough to bag 7.5 points under Super Rally rules.
In Class S1600, for front-wheel drive cars with engines up to 1600 cc, it was the young Durbanite Guy Botterill who again drove his Yato-sponsored Toyota Etios R2 to the top step of the podium. Botterill, with navigator Simon Vacy-Lyle beside him, started with a bang, taking the early lead on Day One. But a suspension problem cost the pair some time right at the end of the day, and they started Day Two with a deficit of 18 seconds.
Day Two turned into a massive effort for Botterill/Vacy-Lyle, as they proceeded to chip away at lead of Chad van Beurden and Nico Swartz in a Volkswagen Polo. By the penultimate stage Botterill was still 18 seconds behind Van Beurden, but with just a short tarmac stage to follow, the Durbanite went into the final gravel stage with all guns blazing. The result was one of the most impressive stage wins in the history of Class S1600, as Botterill took 26.3 seconds from Van Beurden – and the top step of the podium in the process. He also finished a highly credible 5th in the overall standings.
This makes it four wins from four starts for Botterill and Vacy-Lyle, showing not only the class of the driver, but also the reliability of his locally-built Toyota Etios R2. The latest victory places Botterill very comfortably in the lead of the Class S1600 championship, with his nearest competitor more than 40 points behind.
Volkswagen won the manufacturer's prize of the new-look Volkswagen Rally. Four entirely new stages were contested over the course of the event, though the core of the rally was still based in the fearsome Longmore Forest.
Toyota Motorsport South Africa Acknowledges Its Sponsors and Specialist Official Supplier and Technical Partners
Toyota enjoys a mutually beneficial relationship with Castrol, Toyota Financial Services, Imperial Toyota Group, Innovation Group, Bosch, DeWalt, Donaldson, Edgecam, Ferodo, 4×4 Mega World, FreeM, NGK, Robor, SKF and Spanjaard.
Also view: