Kwaito star Heavy K – DRUMBOSS to perform to home crowds at Mandela Month Celebrations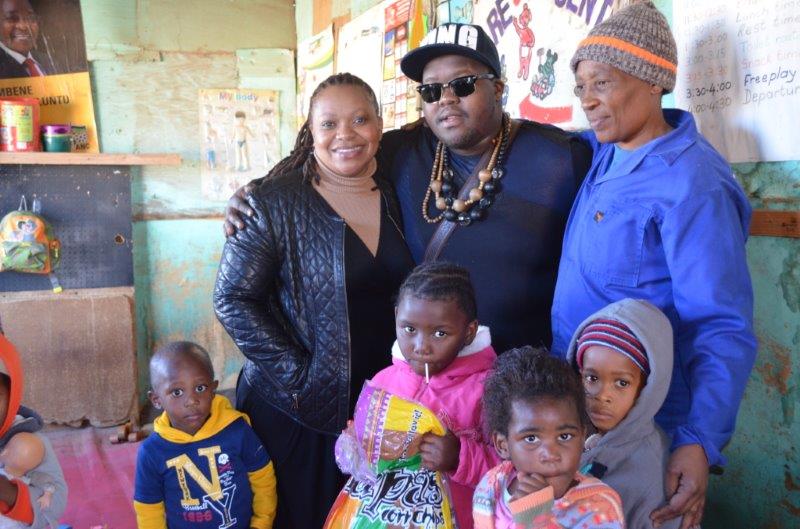 13 July 2014 saw popular kwaito star Heavy K – DRUMBOSS return to his roots to perform to home crowds in order to kick of Mandela Month Celebrations. Together with the support of the Mandela Bay Development Agency (MBDA) and Nelson Mandela Bay Tourism (NMBT) national and local artists took to the stage at Ezinyoka Community Hall to raise funds for community projects.
Masande Edu-care Centre in Ezinyoka became the beneficiary of goods donated by the group of artists who decided to donate a portion of the door collections to the centre.  The centre provides shelter and care for up to 46 children on a daily basis from Monday to Friday with minimum supplies and space.
The lineup of artists that joined in to perform to participate in Madiba's legacy of a "time to share" included Sdudla Mathousand, Rice Ravern Ortega – with Cresta X, Babyjoe with Kingjade and local DJ's Skuru and Youngmoney.
Heavy K who originates from Veeplaas, NMB shared, "It is so important for us as artists to remember where our stories started and return there to lift up the communities in order to give them the hope to achieve dreams like we have."
This was just one of many projects that will be supported and taken on by institutions such as the Mandela Bay Development Agency and Nelson Mandela Bay Tourism during Mandela Month. Other projects include solar panel installations and painting at SAMREC on the 18 July, vegetable garden project to be launched on Monday 21st July in Kwanobuhle and a party for children from a development centre on the Donkin and Route 67 with the MBDA on Friday, 18 July.
Addressing the MBDA's involvement, Chief Executive Officer, Dr Pierre Voges says "Although the agency is predominantly focused in Tourism Real Estate development, we recognize our strategic role is in the broader socio economic development of the Bay, that includes the people side of our work. No infrastructure development can work without touching lives and impacting people first and that is why we are excited to be associated with this initiative, it compliments all the social interventions in areas such as Walmer township, Central, Singaphi street in New Brighton, Helenvale and Veeplaas"
Nelson Mandela Bay (Port Elizabeth Uitenhage and Despatch) the only destination privileged to bear the name of Madiba will unite through the implementation of a variety of service  projects throughout the Bay and show the world why it is known as the city of Freedom.
NMBT CEO, Ms  Mandlakazi Skefile encourages all citizens to participate even if it is only for just one day, saying" Mr Mandela dedicated 67 years of his life for the democracy of our country, let us return the favour to honour his legacy of 67 minutes of service to create not only a better place to visit but to live."