Safe tyres can save lives this Easter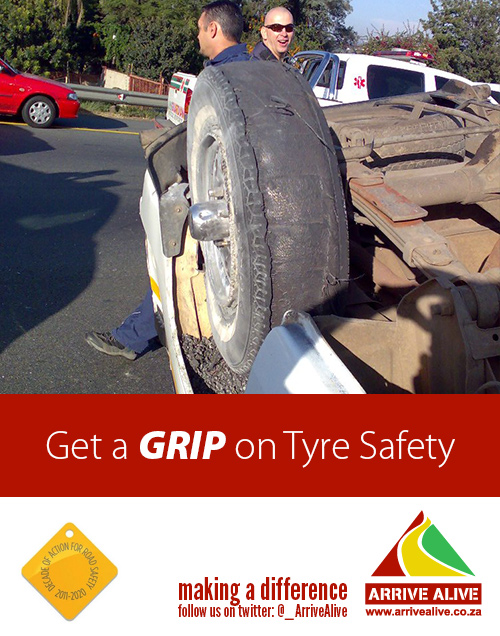 The South African Tyre Manufacturer's Conference (SATMC) is urging all road users to give priority to the safety of their vehicle's tyres before they set off on their holidays and long-distance travelling this Easter.
Well maintained tyres are often an overlooked aspect of road safety, yet tyres are the only parts of the car in contact with the road.  "At any given time only about the size of a person's palm makes contact.   Having the right tyres, in good condition and correctly inflated is extremely important to your safety," says Nobuzwe Mangcu, SATMC Managing Executive.
South Africa has a high road accident rate, particularly around the Easter holidays with a recorded 148 crashes nationally during this period in 2014, and 193 fatalities*.  While this represents a 2.5% reduction since 2013, this number is still unacceptably high.
"We believe that tyre failure is a significant contributor in many road accidents and that improved tyre safety could reduce the likelihood that tyres do not perform as they should.  Tyre safety on South African roads is a major concern for us," said Mangcu. "As road users we all need to commit to routine checks on our tyres, especially during the peak seasons when our roads are extremely busy.  Tyres are one of the most important safety features on any vehicle."
Tyres manufactured in South Africa are specifically designed with South African road and climate conditions in mind. Mangcu warns against using inferior tyres, "such tyres do not hold to the same performance levels."  In addition to compromising safety, they generally have a shorter lifespan and inferior road performance.
Quality tyres perform significantly better in terms of gripping the road, cornering, distributing heat evenly, reducing rolling and improving braking when in excellent condition; resulting in a more comfortable ride, increased overall safety and reduced fuel costs.
SATMC is a representative body consisting of the four local tyre manufactures including Bridgestone, Continental, Sumitomo and Goodyear. These four companies manufacture tyres according to strict SABS standards, which are regulated by the National Regulator for Compulsory Specifications (NRCS) and are in line with international safety standards.  Together these four manufacturers produced a total of 8,6 million tyres in 2014, and are committed to both safety and comfort on our roads.
"We recommended that all tyres are replaced at least every seven years," says Mangcu. "Tyres are exposed to weather conditions and aging that degrades the integrity of the tyre.  Caravan and trailer tyres need to be replaced regularly as well, even if they are only used once or twice a year and whether they appear to be damaged."
Before setting off for a long trip, check your vehicle thoroughly, ensure fluid levels are correct, that brakes are in an excellent condition and that all the tyres are roadworthy in every way. A good fitment centre will check your tread, rotate your tyres if necessary, advise you on which tyres need to be replaced and ensure that all the tyres are correctly inflated, including the spare.
For more information on tyre safety or the tyre industry, contact SATMC at info@satmc.co.za.
Also view: