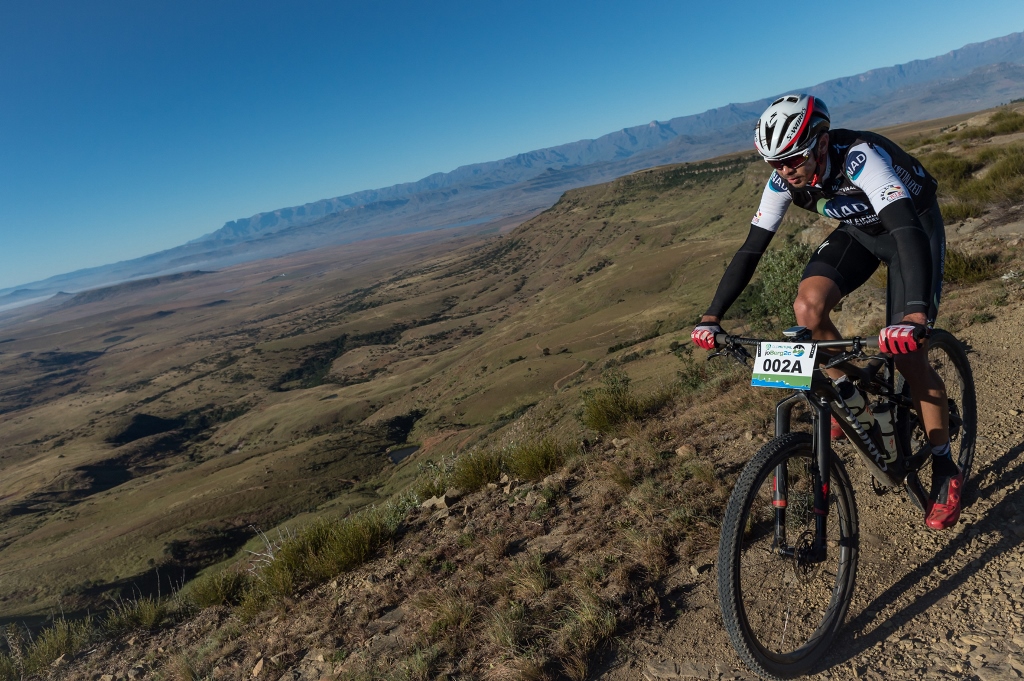 Elite rider Nico Bell is racing at the Old Mutual joBerg2c. So is his mom, his dad, aunt, cousin and sister. It's a family gathering with a difference.
The Old Mutual joBerg2c is a race or a ride, depending on your motivations, that is often underestimated by participants. The days are long, dry and dusty, or long, wet and muddy. The hills are tough on Day 4, tougher on Day 6 when the legs are hammered. The terrain and tents take a toll on the body. It's a true feat of endurance when you cross the line on Day 9.
That being said, perhaps unique about the event is the camaraderie in the race villages. Friends and family loiter around, enjoying the open fires and warm hospitality. The organisers go out of their way to make everyone feel welcome, even dragging their own families along for the ride. That's how incidents occur like the Great Haircut Scandal of 2015, where race director Craig Wapnick's son gave himself and his brother a new hair style with some scissors he found lying around. It's riders, fun and family at joBerg2c. Which might explain why elite rider Nico Bell brought along his entire family to the 2016 event.
None of the Bell family can remember why they decided to enter the 2016 Old Mutual joBerg2c. Of course, Nico knows why he's here, and that's to win. But dad George, mom Sharon, sister Vanessa, cousin Nadine Pretorius and aunt Susan Pretorius can't quite remember a single instant where it was decided that the larger Bell contingent would descend on South Africa's longest mountain bike stage race.
"Sharon, Nadine and Susan have all done sani2c or Berg and Bush," says George Bell, "and I've done the Cape Pioneer Trek with Vanessa and the Cape Epic with Nico many years ago. I think we all just came to the conclusion that it was time to take on the longer, tougher challenge of joBerg2c."
George is riding with his daughter Vanessa, Nico is racing alongside 2015 joBerg2c champion Gawie Combrinck, Nadine has teamed up with friend Heila Meintjies and Sharon Bell is riding with aunt Susan. After five days of racing or riding, all the Bells are still in high spirits, particularly Nico, who had just taken a five-minute lead at the front of the field.
"Obviously I don't see anyone when I ride, but it's great having the whole family here," says Nico. "Nine days is tough, but the atmosphere at the event is very relaxed. I'm usually all over the country racing, so this has been a great way to spend time with family. I've really enjoyed getting to the finish line to see everyone finish and to hear their stories from the day." Mom Sharon chimes in that the rest of the family is at the event acting as Nico's backup team. "But I can't wait four hours for a spare wheel, mom," is his studied response, before confirming that this year's joBerg2c is a nice twist on the family holiday – just with less arguing over the dishes.
All the Bells (and Nadine and Susan) - no whistles - are in agreement that joBerg2c is one of the most hospitable races they've participated in. "I'm enjoying it, but I'm very tired," says Susan. "My friends talked me into it and it's been a good challenge... I heard it was flat and that hasn't really been the case!" Sharon adds that the hospitality at the various race villages 'has been amazing'. "The water points are magnificent and everywhere you go you can feel the positive vibe."
George, a farmer, has particular praise for the three organisers of the event – Wapnick, Glen Haw and Gary Green. "The riding is fun. It takes a lot of effort to make a ride like this enjoyable. As a farmer I can see how much effort the guys have put into making the land ride-able. It's actually really impressive what they have done, incredible work."
Naturally, it wouldn't be a true family gathering without some sort of controversy. Vanessa has accused Nadine of trying to fatten up her partner ahead of the event. "Nadine is evil. She kept sending my dad cakes and sweets and chocolates," says Vanessa. "My dad and I just wanted to beat Nadine and Heila, but they instituted a diabolical dirty tricks campaign this year. It's just not on." With Vanessa and George lying 96 overall after six days and Nadie and Heila 143rd, it appears the sweet temptations failed to do their job.
"We just wanted to beat George and Van!" says Nadine with a big laugh. "This is a new challenge for me. I've done shorter stage races and triathlons, so this is very different, but it's a great way to spend nine days away from work and to hang out with the family."
For racing snake Nico, it's all part of the plan. "In January Gawie and I look at the year ahead and try to choose races that suit our strengths. I had an injury at the Epic, so things didn't go so well. But so far it's been good at joBerg2c. The calendar is pretty packed. A week after this one we are straight into sani2c and then it's pretty much non-stop racing until the Wines2Whales in November."
Nico might have the final say at joBerg2c come Day 9, but it's Nadine with the final word at this discussion. "Ja, Nico has to ride lots this year, because next year I'm doing joBerg2c with him!"
Also view:
Mountain Bike Safety and Riding the Trail