Using the internet to boast about speeding? Your Insurer will not be impressed!!
Earlier today the Arrive Alive road safety website received an email from a person wishing to report reckless driving in the Western Cape. We would like to quote from this email:
Subject:        250km/h on Cape Town Highway, 180km/h on Constantia Nek.
Message:
——–
"A South African guy named Alexander Hrabar drove his blue Subaru CA 162 699 on the highway in Cape Town at 250KM/H. He had a friend film it and he posted the video onto Youtube.
The link is: http://www.youtube.com/watch?v=7Y3-Qo_j5WI
The link for the 250km/h drive is: http://www.youtube.com/user/alexanderhrabar#p/a/u/0/e70i7P9F-e4
He then drove past Cecilia forest (Constantia Nek) at what appears in the video to be 180km/h (voice in car says so) in what appears to be light traffic. The speed limit along this road is 60km/h.
Here is the link: http://www.youtube.com/watch?v=kgkn4b99EQY
The above is proof of extreme reckless driving, especially on the road past Cecilia forest. These videos should be downloaded and analyzed to work out the speed.
My suggestion is to download these videos off the internet before doing anything as he may delete them if he knows it has been reported.
This type of driving can get someone killed. Someone should contact the traffic department before an accident happens."
We would like to confirm that the videos have been downloaded and will be shared with Enforcement at the RTMC as well as the Western Cape Traffic Authorities.
Reckless Driving and your Insurance
It is rather alarming to view the speed at which the driver is driving on this stretch of road  – and more alarming to see that there are several other vehicles sharing the same road. Irrespective of how skilled the driver is, this remains reckless driving!!
There are other innocent road users who deserve protection from reckless driving!!
Car Insurance companies will not be impressed by the display of skill.They will rather focus on the risks when one of their insured vehicles are driven in this manner!
We will share this with the Crime Insurance Bureau for wider distribution amongst the Car Insurance industry.
[ We have added only 2 "screen grabs" from the videos as we expect they may soon be removed]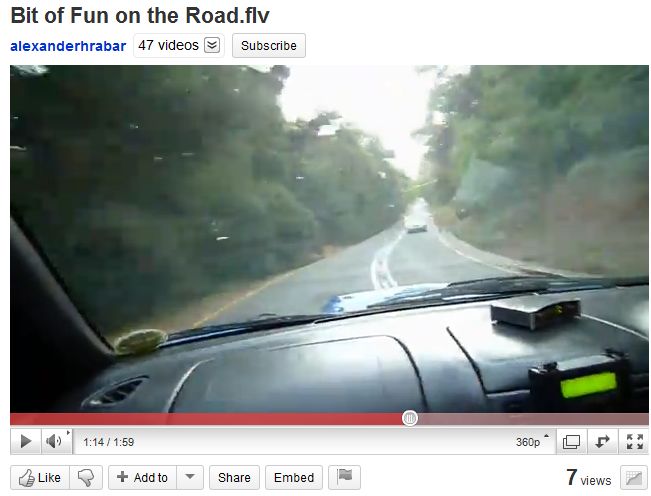 Also view comments on this link: