Potholes and road damage drive demand for tyre insurance in South Africa

Almost every South African would in the past year have referred to the words "pothole" and "pothole damage". It has been revealed that in the "tweets" made to President Zuma the word potholes and the need for attention to potholes have been raised as major concerns.
On the Car Insurance Blog we noticed many have arrived at the website searching for "potholes" and "Can I claim for pothole damage". We have given attention to this topic in a few blog posts – and would like to refer to some of these posts:
Can I claim for pothole damage?
Can you purchase insurance to cover tyre damage from potholes?
There are a few providers of tyre insurance – the most well known perhaps being Tiger Wheel & Tyre with a product underwritten by Hollard Insurance. They claim that with tyre insurance peace-of-mind driving "just got a whole lot better".
I approached Tiger Wheel & Tyre and asked for more information on this unique insurance product.
The following information might be of interest to many vehicle owners driving our pothole ridden road everyday:
Tiger Wheel & Tyre has extended its X-Sure™ Tyre Insurance product to include coverage of used tyres. While X-Sure™ was previously offered on new tyres purchased from Tiger Wheel & Tyre, 'X-Sure™ for used tyres' is the latest addition to this innovative product and is a welcome one to say the least.
Now, Tiger Wheel & Tyre customers have the option of being covered for irreparable tyre damage to the value of R 2500 per tyre, on all their tyres – irrespective of the tyre brand and the tyre outlet of purchase.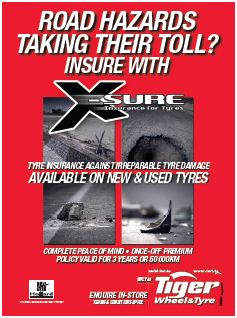 Popularity of Tyre Insurance on the Increase
It appears that an increasing number of South Africans are perceiving tyre insurance to be a necessity.
"X-Sure™ has proved to be an extremely advantageous product among the South African public, where road hazards result in extensive tyre damage. Customer service is a hallmark of the Tiger Wheel & Tyre brand and when our customers indicated an interest in cover for used tyres we were quick to respond," says Joe Du Plooy, Marketing Executive at Tiger Wheel & Tyre.
X-Sure™ Tyre Insurance is another one of Tiger Wheel & Tyre's valuable service offerings and has been a popular choice amongst drivers for over four years.
Who provides the cover and what is covered?
The product, underwritten by *Hollard Insurance, provides customers with insurance against tyre damage caused by road hazards like potholes, broken glass, nails and the likes thereof.
"What makes X-Sure™ Tyre Insurance one of the more rewarding choices is the fact that your insurance cover is immediate and your premium is once-off. Added to this is the policy benefit of being covered for up to three years or 50 000 kilometres, whichever comes first," adds Du Plooy
Find more information about tyre insurance
We would like to encourage vehicle owners interested in tyre insurance to visit the websites of the tyre manufacturer and insurer.
For enquiries on the terms and conditions of X-Sure™ Tyre Insurance for New and Used Tyres, contact the Hollard Insurance hotline on 0861 367 400, Monday to Friday 08:00 to 17:00 or on Saturdays between 08:00 and 13:00.