Insurance costs of London riots expected to rocket!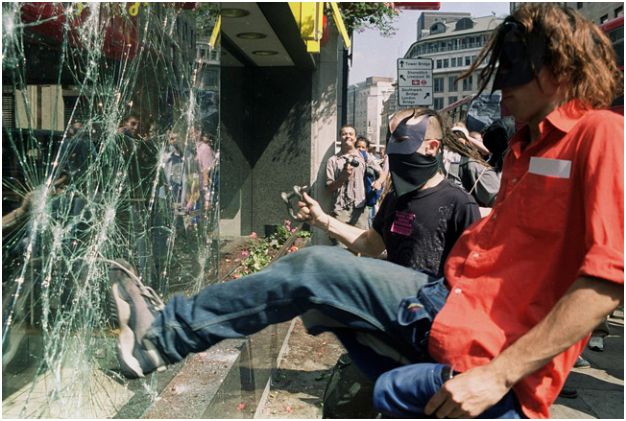 There has never been a worse time for unnecessary damage to property than right now! During the past week on television we did not only witness a very important downgrade in credit rating for the United States , but also extensive damage caused by riots and plundering in London!
In this challenging time for the global economy many small business owners are trying to keep head above water and are cutting down on unnecessary expenditure. We can only hope that they did not neglect to maintain their business insurance policies and remained protected from these unforeseen risks!
British insurers will face a bill for "tens of millions of pounds" after three nights of rioting destroyed vehicles, homes and businesses in at least six London boroughs and three other cities.
"Most commercial insurance policies will cover businesses for damage to their premises, including the interruption to their business as a result," Nick Starling, director of general insurance at the Association of British Insurers, said in an e- mailed statement to Bloomberg.
On Twitter well known restaurateur and food expert Jamie Oliver tweeted the following "sadly my restaurant in Birmingham got smashed up windows all gone whole area closed, can't open staff and customers all safe! Thankfully jox"
It has been reported that shop and homeowners in the London boroughs of Lambeth, Hackney, Lewisham, Newham, Tower Hamlets and Croydon, as well as the cities of Liverpool, Birmingham and Bristol were among those who suffered damages from the riots
"It is too early for us to have an accurate picture of total costs, especially business interruption costs, but insurers are working hard to deal with claims coming in," Nick Starling, director of general insurance at the Association of British Insurers, said. Starling also commented that home insurance policies should cover customers for fire, looting and damage to property.
Aviva Plc (AV/), Allianz SE (ALV), Axa SA (CS), RSA Insurance Group Plc (RSA) and Zurich Financial Services AG (ZURN) are the U.K.'s five biggest commercial property insurers, according to the ABI. Typically policies cover fire and damage to property, said Bill Gloyn, a real estate insurance broker at Jardine Lloyd Thompson Group Plc. (JLT)
"Almost all commercial property is insured on an all-risk basis, so it doesn't matter one way or the other what the cause of the damage was," he said.
Smaller business may not be covered for looting as often insurers ask them to pay extra for theft insurance, according to Gloyn. Insurers may also question how well protected unoccupied properties were during the riots, he said.
What do business owners need to know about damage from riots?
Uninsured business and homeowners may be able to claim for damages if the events of the last three days are classed as a riot under the Riot (Damages) Act of 1886. Insurers may also be able to recover money under the legislation, the ABI said. As part of the Riot Damages Act, insurers need to take action within a certain period of time in order to claim back costs themselves so it is important to notify them as soon as possible.
Business owners should contact their insurers without delay to ascertain the correct processes to follow and to make a claim.
"A claim must be made to the police force within 14 days, so it is important that all business owners act promptly," according to Daniel Barnett, a barrister at Outer Temple Chambers in London.
Some insurers will have a list of companies you should use to carry out repair work. Alternatively they may give you a cash advance to help cover costs, so it's worth informing them of damage before you start paying for new windows or locks.
In terms of contents insurance, you will need to quantify your losses: list everything you've lost or that's been damaged and how much it's worth.
With all insurance types you will need to get a crime reference number. Understandably, this may be difficult to get immediately from the police so contact your insurer in the first instance.
The consequences of riot action and damages will unfortunately include increased pressure on affordability of insurance premiums. Insurance rates in affected areas may increase and insurers may require businesses to add extra protection and security measures such as metal shutters etc
[Information with credit to info from Bloomberg and Moneywise]
Also view:
What is SASRIA insurance and how does it help protect from riots?