Citadel Art Price Index to provide accurate information about value trends in South African art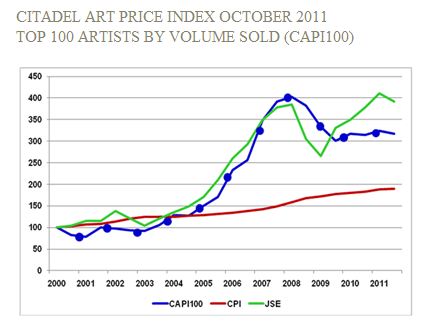 Citadel Art Price Index developed with robust model
The Citadel Art Price Index will, for the first time in South Africa, provide accurate information about value trends in South African art – beyond the headlines about record sale prices achieved for prominent works sold at auctions locally and abroad. Various art price indices are published internationally, with the Mei Moses Art Index, Art Market Research and Artprice.com being the established benchmarks.
Due to the heightened interest in art as an investment amongst its client base and in line with its philosophy of really understanding the various asset classes, private client wealth manager Citadel today launched the Index. It is constructed from detailed hammer prices achieved at auction in South Africa and captures pricing or value changes over the last yen years. The Index provides a historical review of art's investment value over the last ten years and because it will be updated twice a year, will measure trends going forward.
Citadel partnered with Econex, a leading independent economics consultancy, to develop a robust model for the Index which will provide accurate information over time. Econex used data collected by art assessment company AuctionVault since 2000. The Index is based on sales by the most prominent auction houses in SA and one international acution house and will track sales by the top 100 artists as ranked by volume of pieces sold. The list of artists may change over time as preferences change.
"Artworks are heterogeneous assets, with a variety of physical and non-physical characteristics that make an artwork unique, including artists' reputation, the material used, the period during which it was produced and subjective traits like painting styles. The price of an artwork, to some extent, depends on these characteristics. The hedonic price index model approach, which we used for the Citadel Art Price Index, estimates (econometrically) the value attached to each one of the characteristics that are deemed to be significant in the determination of the price," says Cobus Venter, Director at Econex.
He noted that artworks as assets are difficult to quantify and compare over time. "As a consequence, indices of art prices are always controversial and susceptible to biases. The hedonic approach, a particular statistical model, is the preferred methodology and accepted practice internationally as it provides the most robust results," Venter said.
"This model allows us to take as many of the underlying characteristics of an artwork into account as possible, which helps to ensure that we are not comparing apples to oranges," he said.
This first publication of the Citadel Art Price Index was finalised with the most current auction data at the end of September 2011.
[Information from Citadel]
View: Citadel Art Price Index
Also view: