Know your rights and responsibilities as a Learner Driver!!
The Arrive Alive road safety website regularly receives requests pertaining to the Rights of Learner drivers. These include where they may drive, whether they may carry passengers etc.
Example: Can i drive with my learners on the highway and must the L sign be visible?
Answer: Yes. Be sure to maintain any minimum speed requirements, as well as all other freeway rules and the requirement to have a person with you who holds a valid driving licence for that class of vehicle.
There is nothing in the legislation concerning L-Plates. They are not a requirement and are purely optional. So A5 size would be fine.
We have answered many of these also on the Car Insurance Blog and the Arrive Alive road safety website. From an Insurance perspective it is important to know that your insurer should only be expected to settle a claim if the vehicle was driven within the Rules of the Road. If the driver was not operating the vehicle within these Rules at the time, the insurers may reject the insurance claim!
So what are the Rules of the Road pertaining to Learner Drivers?
For more comprehensive info on the Learner's License view:
K53 The Learner's Licence Test -Also note the Forum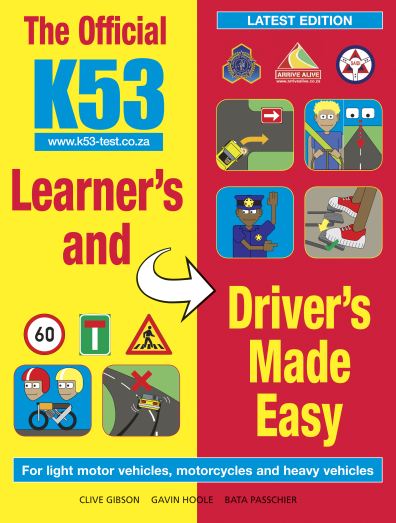 The Official K53 Learner's and Driver's Made Easy
THE BOOK
This best-seller continues to provide novice drivers with a thorough grounding in everything they need to know to prepare for their learner's licence and K53 driving tests. The text has been revised and updated to take account of changes in road traffic legislation and the practical requirements for the official K53 Defensive Driving system.
This well-presented, user-friendly book combines all the elements needed to pass the written tests, yard test and road tests for motor vehicles, motor cycles and heavy motor vehicles, and is the only manual that illustrates every rule of the road.
Taken together, the text, illustrations and self-tests are designed to reinforce the learning process and make it easier to pass the learner's or driver's test first time
THE AUTHORS
Clive Gibson, Gavin Hoole and Bata Passchier are the team behind a series of successful learner's and driver's manuals.
They are supported in their efforts to promote safe and correct driving habits by the SA Institute for Advanced Drivers, the Arrive Alive road safety campaign and the Department of Justice.
Conclusion:
It is always best to contact your insurer to inform them that the vehicle will also be operated by a Learner driver. It is best to ensure that there are no hidden exclusions in your policy. Always ensure that the Learner driver is accompanied by a fully licensed driver of that same class of vehicle.