Do you have a certificate to prove your basic off-road and 4×4 vehicle driving skills?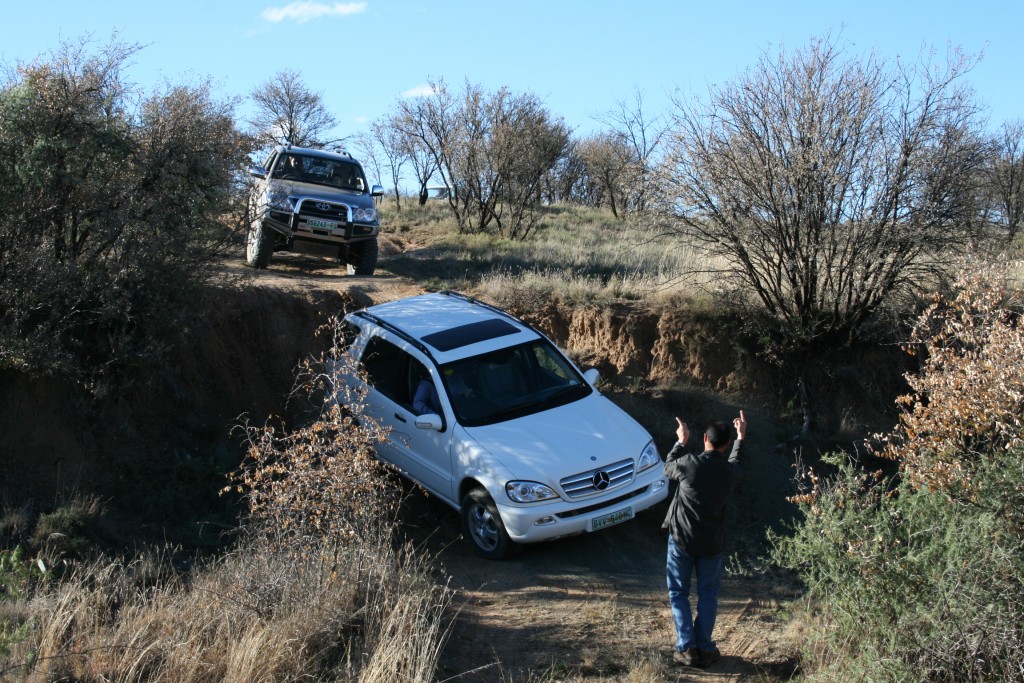 On Insurance Chat we have made reference to the importance of 4×4 Vehicle Safety. This topic has also been discussed in details on the Arrive Alive website. But how can I improve my 4×4 driving skills in an efforts to enhance safety and avoid insurance claims? We would like to share content from our 4×4 driving specialist that appeared in the magazines Drive Out/Weg Ry.
Get the right training with Drive Out
Did you know that you get certificates for off-road driving? Did you know future legislation may require you to have a basic qualification if you want to drive in an ecologically safe area on your own? You can now get this training at the Drive Out 4×4 Academy, in conjunction with African Off-Road Academy.
You just bought your first 4×4, but you are not sure how to use it. Or you have already completed some tough trails, but have never got a certificate to prove your basic off-road driving skills.
From this month onwards the new Drive Out 4×4 Academy will be presenting a basic off-road driving course in conjunction with African Off-Road Academy (AOA).
The AOA is the first group of off-road driving instructors in South Africa that got proper qualification. To put it the right way – they received accreditation from the Transport Education Training Authority (Teta).
The most important thing is that your certificate will be worth a bit more than a wrestling belt – it will be accredited, which means that the same people who put their seal of approval on matric certificates and trades (Saqa – South African Qualification Authority), will also approve your qualification.
What does training entail?
The basic course (US 254135) will be presented over two days. On the first day you go back to school. A whole heap of interesting theory surrounding off-road driving and 4×4 vehicles gets discussed – from the difference between a 4×4 bakkie and a all wheel drive sedan to when you need to engage a difflock and how you would choose the right tyre pressure for the right terrain.
You are also taught how important it is not to drive like a palooka and damage the entire eco-system.
It is important to understand that this is a course for beginners. If you bought your Pajero last week and you do the course this week, you will not be able to tackle the Congo in the rain season. The idea is to introduce you to ideas and concepts and basic techniques of the off-road driving world.
You will also learn how your vehicle fits together which means things like, approach-, departure- and break over angles and also how you measure them on your vehicle.
On the second day of training you go off-road in your own vehicle.
When Drive Out's staff did the course, we drove the Klein-Helderberg 4×4 Trail near Stellenbosch. The assessors and instructors are constantly busy evaluating drivers and giving them advice to see whether you understand the basic training.
After completing the trail you have to write a final test before receiving your certificate. This test your comprehension of the learning material.
If you were fed off-road driving together with your mielie-pap and you listened to the instructors, the test should not give you restless nights. And even if it is your first 4×4 experience and you pay attention in class, the test should be a cakewalk.
What does accreditation mean?
When the erstwhile minister of environmental affairs, Marthinus "Kortbroek" van Schalkwyk, said to the 4×4 community that he will ban 4×4's from ecologically sensitive areas like beaches, the National Off-Road Workgroup (NOW) was started from within the community.
The idea was to eventually moderate 4×4 driving from within the community itself. A set of rules named the Concept Norms and Standards was drawn up and parts of it is included in the so-called accredited training.
This means that training will be of the same standard all-over the country. Before the establishment of NOW anyone who felt that he had the knowledge and time could open an off-road driving school and teach you everything he knows.
If you completed a course like this, it does not necessarily mean that you have less knowledge than someone with an accredited course behind their name, but you do not have certificate that is recognized by everyone, like a matric certificate.
The accreditation is equivalent to three credits on Level 3 of the National Qualification Framework. That is for the basic training (Unit Standard 254135). As soon as you have completed the basic training, you can also complete the advanced off-road training (Unit Standard 254154) through the Drive Out 4×4 Academy.
How do you know somebody is accredited?
Accredited providers will have a Teta number. African Off-Road Academy's Teta number is TETA 09 201. The numbers means that AOA received their accreditation in 2009 (09) and that they were the 201st (201) supplier in that year that received their accreditation from Teta.
If you come across a number like that, Tinus Botha, owner of AOA, recommends that you Google it. Then you can determine to whom the number belongs and also which Unit Standard courses they offer.
Then, there needs to be at least two accredited people present to present a course. The one will be an assessor and he will have a Teta-ASSR number. The other will be a instructor with a Teta-MOD number. The moderator can also help as an instructor, but sometimes there is a separate instructor.
AOA also requires at least one of their staff members to be trained to level 1 first aid.
Any supplier that gives training, must also be part of SANOTA (the South African National Off-Road Trainers Association).
What is the African Off-Road Academy?
Tinus established African Off-Road Academy in 2008. The AOA has 24 training districts with 11 centres all over South Africa. There are 70 instructors with 42 professional 4×4 and tour guides.
Groete
Andre Botha (4×4 Overland Tour Operators GP3431 & 4×4 Assessor)
Just 4×4 Adventures
Bloemfontein
South Africa
Approved Member of African Off-Road Academy
AFRICAN OFF-ROAD ACADEMY is an accredited training provider under TETA (TETA09-201)
to train, assess and issue an official Off-Road Driver Certificate
in relation to the unit standards US254135/254154 for 4×4 & off-road driving}
Tel: 0825766058
Fax: 0866121810
For 4×4 Vehicles and Car Insurance also view:
Protect yourself when on driving on safari Out-In Africa
"Guide to safety and driving on safari / driving in the nature reserve"
Road Safety for foreigners travelling in South Africa
4×4 Vehicle Safety and Driving off-road
High performance shock absorber could reduce accident risk for 4×4 vehicles